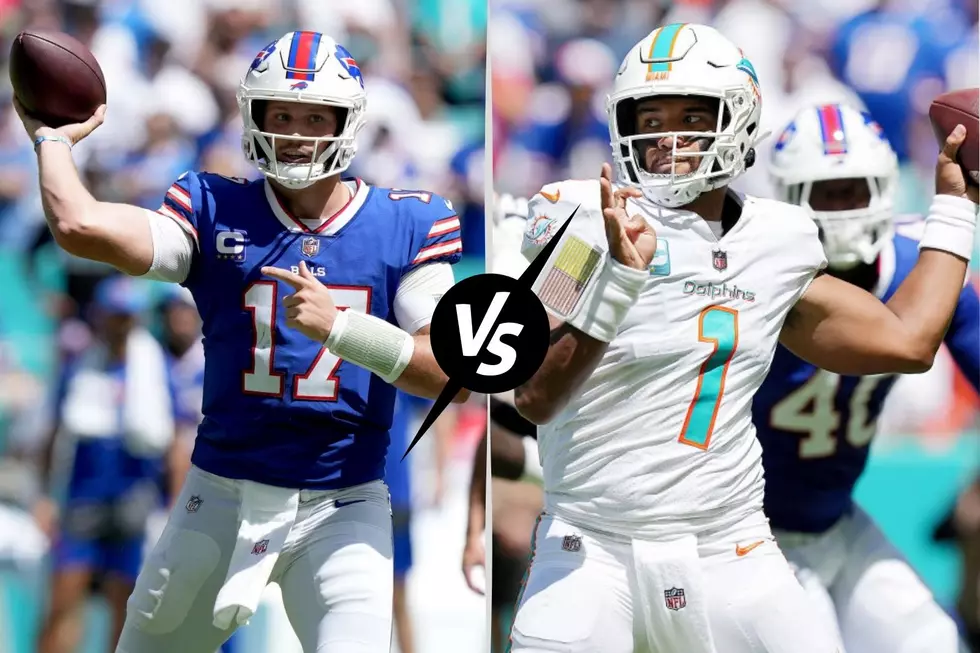 Has The Rivalry Between The Dolphins & Bills Been Rekindled?
Canva / Getty Images
Football in Buffalo is back in a major way and it was seen clear as day inside of the Hard Rock Stadium in Miami Gardens, Florida on Sunday, September 25, 2022, when the Bills traveled to Miami to take on the Dolphins.
To be hoenst, it's been quite a few years since the rivalry between the Bills and Dolphins had any real heat to it.
We Buffalonians always enjoy a good game between the two teams, but the energy that we used to feel during the 90s just hasn't been there. That is until the week 3 matchup between the AFC East foes.
It was a tough loss for the Bills, dropping the game 19 - 21 to the Dolphins as the final seconds expired.
However, the energy between the two teams on the field. It's almost as if you could feel the animosity building between the players. That seemed especially so after a few plays that were borderline dirty.
That is of course in addition to the questionable call to allow the Dolphins quarterback to reenter the game after going into the concussion protocol.
If the on-field drama wasn't enough, then you add to the mix quite a few Miami fans acting very uncouth in the stands and concourse of Hard Rock Stadium.
Given these factors, plus the fact that the Bills were left in the hot sun all game, I totally understand Ken Dorsey's outbreak. I actually almost threw my phone myself, so I get it.
I along with the rest of the Bills Mafia eagerly awaits NFL Week 15 when the Dolphins travel north to the warm and balmy confines of Highmark Stadium in the middle of December.
Payback will be given!
The Top Folding Tables For The Bills Mafia To Jump On
In order to have the best tailgates this year, you have to be ready with the highest quality equipment
22 Famous Buffalo Sports Phrases Every Die-Hard Bills and Sabres Fan Knows
Being a sports fan in Buffalo is sometimes like knowing a different language. Here are 22 of our favorite Buffalo sports phrases you already know if you're a huge fan! And if you're new here, here's how to catch up.
15 Things You Should Never Do at a Bills Home Game
Things that are a no-no to do at a Buffalo Bills home game.