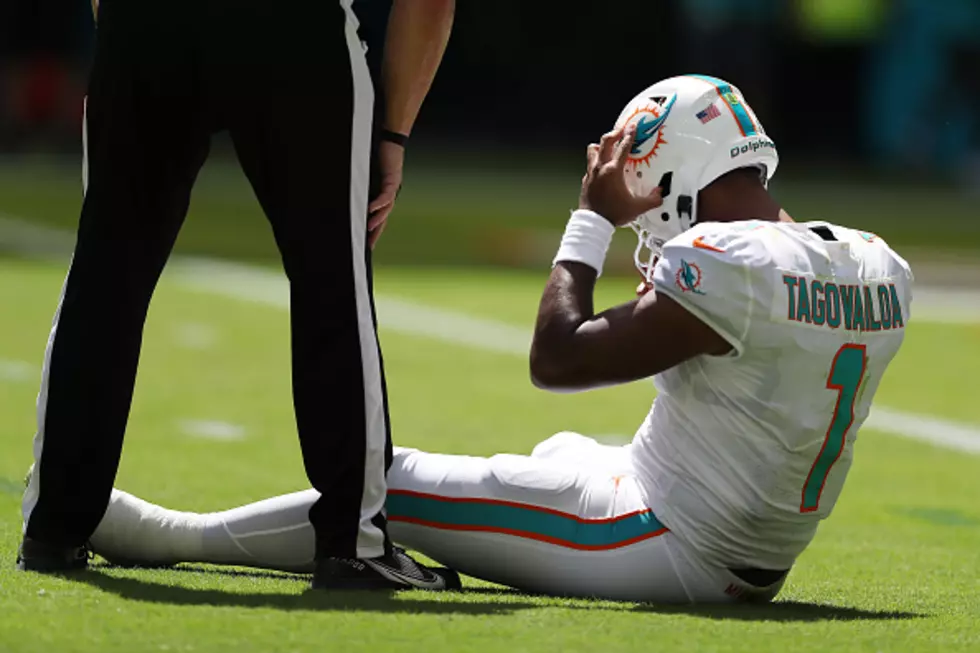 Bills Fans Don't Buy NFL's Explanation at Why Tua Was Allowed Back
Getty Images
The Buffalo Bills lost a heartbreaker against the Miami Dolphins on Sunday afternoon, by a score of 21-19 at Hard Rock Stadium.
The Bills should have won this game. They dominated the time of possession by 40 minutes to 20, outgained Miami by 200 yards, and still only lost by 2 points.
The Bills had six starters out for this game (not including Tre'Davious White), and had eight more players leave the game due to injury or left for a period of time due to cramping. Josh Allen one-hopped a sure TD to Isaiah McKenzie that would have given the Bills the lead, the play-calling from OC Ken Dorsey was questionable on the goal line sequence, Gabe Davis dropped a TD pass in the first half, and Matt Milano dropped a sure pick-six.
Miami quarterback Tua Tagovailoa was good in the first half but didn't do much in the second half. The big story on Tua was him getting knocked down by Milano towards the end of the first half and slamming his head on the grass.
Tua got up and almost fell down as he wobbled. He had to be helped by teammates. He left the game to be evaluated for a concussion but was somehow allowed back in the game at the start of the second half.
NFL Network's senior inside Ian Rapoport said from what he understood, Tua tweaked his back in the first quarter. That was made worse by the Milano hit and "that's why" he wobbled. Tua was given a concussion protocol, which he somehow passed and was cleared to go back in.
It's extremely evident that Tua should not have been allowed back in the game.
The NFLPA wants to launch an investigation into how Tua was allowed to come back into the game, according to ESPN's Adam Schefter.
Former NFL linebacker Emmanuel Acho, who now is an analyst for Fox Sports 1, says that he also passed concussion protocol once but after he flew home, could not even locate his own home.
I have a feeling the NFL and Miami Dolphins will have some explaining to do to the NFLPA as to why Tua was allowed back, despite that video making its way across social media...
22 Famous Buffalo Sports Phrases Every Die-Hard Bills and Sabres Fan Knows
Being a sports fan in Buffalo is sometimes like knowing a different language. Here are 22 of our favorite Buffalo sports phrases you already know if you're a huge fan! And if you're new here, here's how to catch up.
Gameday Rules For Buffalo Bills Fans That Watch From Home
17 Recipes They Have To Put In The Bills New Cookbook