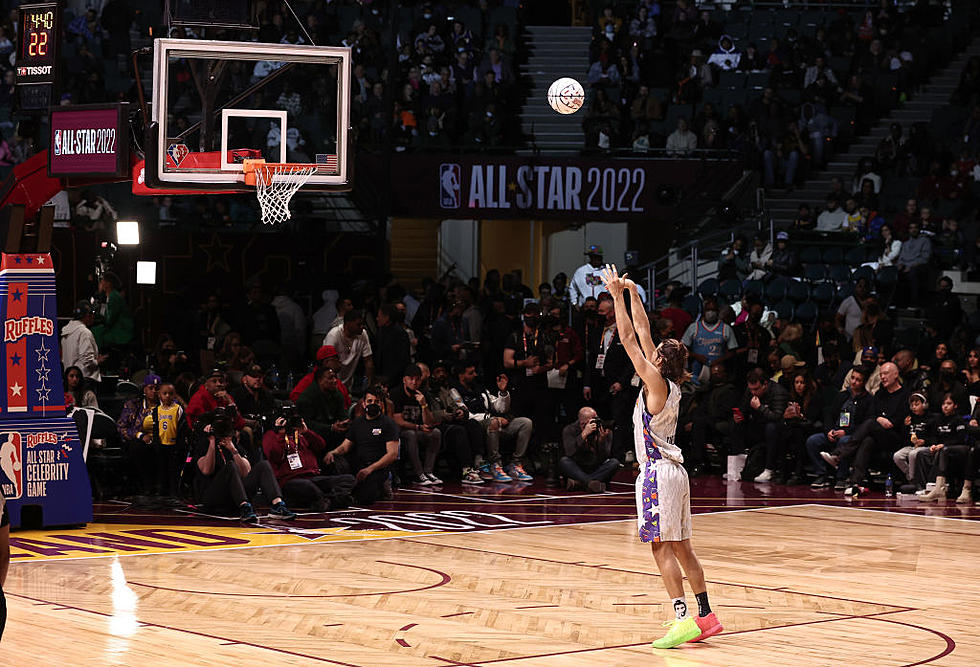 Behind the Scenes at the 2022 NBA All Star Weekend
Arturo Holmes / Getty Images
I had the opportunity to be in Cleveland, Oh for the NBA All-Star Weekend and celebration of the NBA 75th Anniversary. It was an amazing experience and I know you saw a lot of the activities on TV.
But have you ever wondered what is it like to be there in person, and to see what happens behind the scenes? Well, I have an opportunity for you to peek into what happens during All-Star Weekding for the NBA.
Friday, February 18th
I left Buffalo right at the end of the Shut Em Down Mix with Yasmin Young and zoomed on down to Buffalo. I got to Cleveland right after the start of the Ruffles NBA All-Star Celebrity Game. After spending way too much money to park my car in Downtown Cleveland, I pick up my media credentials and head into the Wolstein Center to catch this game. It was pretty fun, but also interesting to watch from the stands. You see all of the coordination that goes into an event of this magnitude. Oh, and the celebrities were really playing some hardcore basketball.
After the Ruffles NBA All-Star Celebrity Game ended, I walked a couple of blocks to the Rocket Mortgage Fieldhouse for the Clorox Rising Stars Game and hung out courtside for a little bit before heading up to my seats. This was an intense game with some of the best young talent in the NBA. There was some good balling going on.
Afterward, I headed up to a private party hosted by Def Jam and just hung out for a while before turning in.
Saturday, February 19th
Early in the morning, I headed down to the Cleveland Public Auditorium to check out the NBA Crossover, a fun and interactive event for fans to really get neck-deep into the NBA and how it influences the culture. This was absolutely fun and I hope everyone got to check this out.
After leaving NBA Crossover, I check out a little bit of the NBA All-Star Practice before checking in for Media Day. During Media Day, at my table, I had to opportunity to chat and interact with all sorts of stars, artists, coaches, athletes, etc. The best way I can describe Media Day is a whole lot of hurry up and wait. There'd be a rush of people in and out of the 'radio room', and then we'd all be staring at ourselves. Once Media Day wrapped up, I headed back to my hotel for a while before the start of the State Farm All-Star Saturday Night events, which included the Taco Bell Skills Challenge, the MTN DEW 3-Point Contest, and the AT&T Slam Dunk Contest.
After all of the NBA festivities, I stopped by another provide party hosted by 300 Ent and Columbia Records, and also by a rap showcase that had Moneybagg Yo headlining.
Sunday, February 20th
I broadcasted the #NicestRadioShowPeriodT from the Media Room had had a chance to check in with some new friends I met during All-Star Weekend. After my radio show ended, I was able to catch the tail end of the NBA G League Next Gen Game between the G League Ignite and the Cleveland Charge, before I packed everything up and got ready to leave Cleveland. I watched the NBA All-Star Game from the Media Room before hopping back in the car and driving back to Buffalo.
I just want to thank my friends from the NBA, Def Jam Records, 300 Entertainment, Columbia Records, and Capital Structure Records for inviting me to All-Star Weekend, it was an event.
See ya next year.
Top People from Buffalo to Play in the NBA
Western New York has had its share of great athletes go into the NBA, here are some of the most popular ones
Top 13 NBA Players from New York State
The great state of New York has produced some of the greatest basketball players to ever play in the NBA. Here are 13 of them.
Top 10 Basketball Courts in Buffalo
If you're looking for a good game of basketball, these are the courts you want to check out