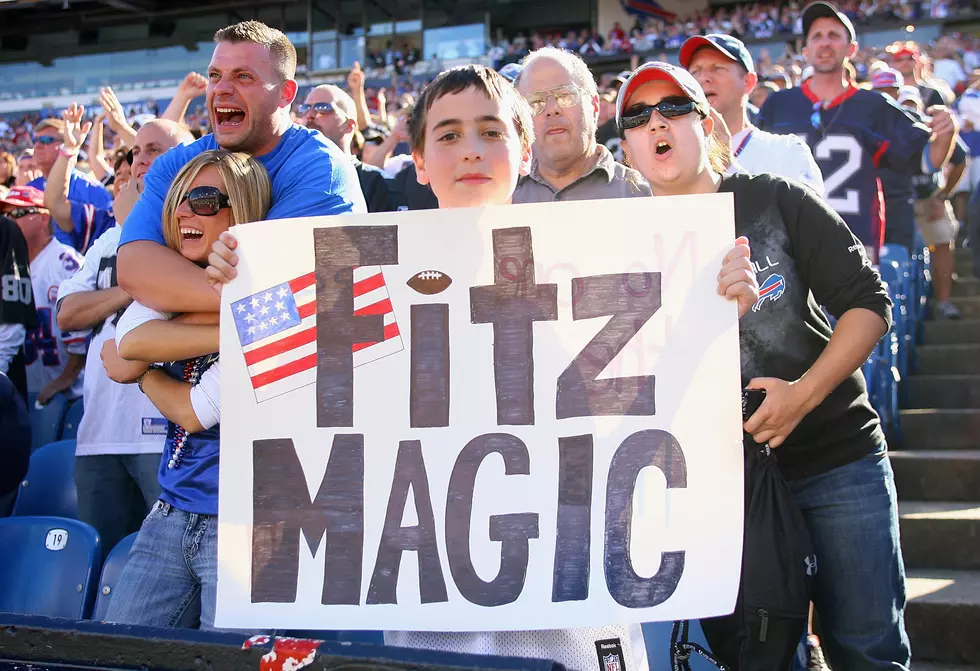 Ryan Fitzpatrick Goes Shirtless Again In Buffalo
Getty Images
Thursday Night Football rolled into Buffalo this week as the Bills played host to the Tampa Bay Buccaneers for a nationally televised prime-time football in front of a sold-out crowd at Highmark Stadium.
The Bills seemed to fix some of the problems they've had over the last few weeks and were able to eke out a victory over the Bucs, defeating Tampa Bay 18-24.
While most traditional fans would think that would be the highlight of the night, here in Buffalo, we celebrate differently, and one of the most key moments of the game was the return of Ryan Fitzpatrick to Buffalo.
Read More: Top 5 Ryan Fitzpatrick Moments In The NFL
Fitzpatrick, who's better known around these parts at Fitzmagic, is currently part of the Amazon Sports coverage team and traveled to Buffalo to provide pregame, halftime, and postgame analysis along with Terry McAulay, Michael Smith, Taylor Rooks, Andrew Whitworth, Richard Sherman, Tony Gonzalez, and Charissa Thompson.
Fitzmagic return to Buffalo was filled with more than his providing expertise on the game's progress; before the match, Fitz did some tailgating, and after the game, he did something that he became famous for a few years ago.
Fitzmagic Goes Shirtless In Highmark Stadium, Again
It was a frigidly cold night in 2022 when Fitzmagic was in the stands for the Buffalo Bills playoff game against the New England Patriots when Ryan showed he's a true-blue member of the Bills Mafia and went shirtless in the stands.
If you missed that event or need another glimpse of the magic, you'll be happy to know that the good times have returned because Fitz barred it all again towards the end of the Amazon Sports TNF Postgame show.
As Josh Allen was coming out to the field for a post-game interview, Fitz stepped down from the stage to greet him and, in classic Fitzmagic fashion - shirtless - after being encouraged by the crowd.
Like Marv Levy used to say, where would you rather be than right here right now?
Let's go Buffalo!
Ryan Fitzpatrick, Through The Years
FitzMagic has been felt throughout the NFL for 17 years
Gallery Credit: Ed Nice
22 Famous Buffalo Sports Phrases Every Die-Hard Bills and Sabres Fan Knows
Being a sports fan in Buffalo is sometimes like knowing a different language. Here are 22 of our favorite Buffalo sports phrases you already know if you're a huge fan! And if you're new here, here's how to catch up.
Gallery Credit: Clay Moden