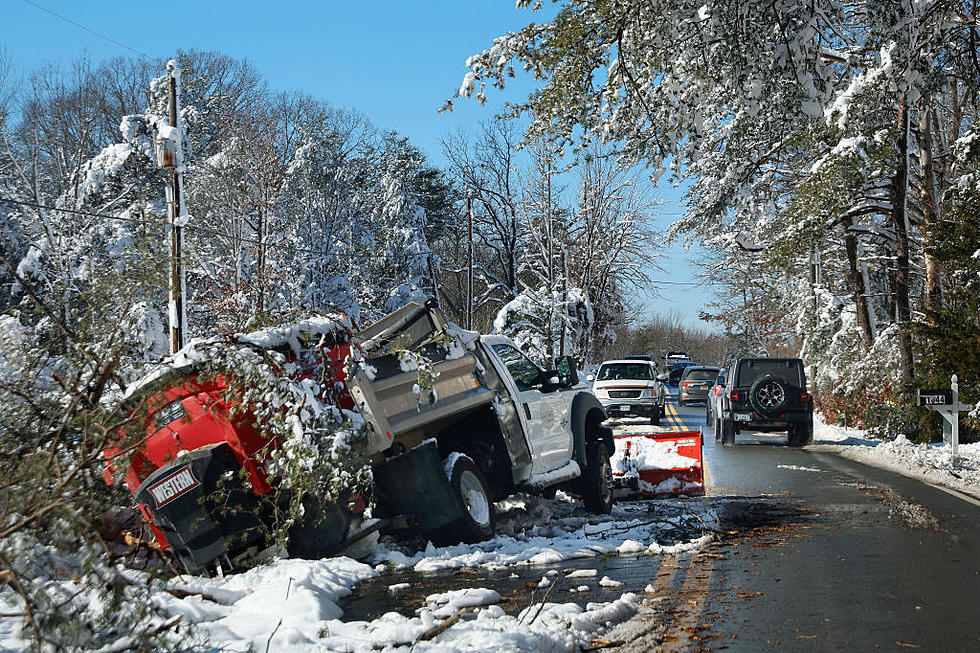 Drunk Driver Causes Plow Truck To Overturn in Niagara Falls
Getty Images
Private and public plow services in Western New York are essential in the wintertime. You don't have to look any further than the weird winter we've had so far this year to know the importance of having snow removal services operating at a high capacity.
Unfortunately, that does not seem to be the case for one plow truck and driver in Niagara Falls, New York.
According to reporting by WKBW-TV, an intoxicated snowplow driver lost control of his truck on Hyde Park Boulevard in the city of Niagara Falls.
Investigators from the Niagara Falls Police Department have said that the truck was speeding while heading west on Porter Road when it tried to turn north onto Hyde Park when it tipped over, spilling its load of rock salt on the road, along with diesel fuel that started to leak from the truck's gas tank. It appears that the truck's driver wasn't able to negotiate the turn at the speed it was traveling.
While police officials investigated, the Niagara Falls Fire Department had to be called to clean up the fuel spill, as diesel fuel is a hazardous material.
The truck driver, who was later identified as 53-year-old Robert McClain, was taken by emergency services to Niagara Falls Memorial Medical Center where he allegedly failed a field sobriety test that was given by officers. He was subsequently arrested and charged with drunk driving, along with other charges.
Winter Isn't Done With Us Yet
Winter weather is still making its presence felt all over the state. Some parts of New York are under a State of Emergency due to a Nor'easter that's hitting the eastern end of the Empire State. That Nor'easter is also due to drop several inches of snow on Western New York.
Because we're still dealing with winter weather, it's essential that you don't rush to take these things out of your car or truck.
Best Rated Snow Plow Services In Western New York
Now is the time to plan for snow in Western New York. Check out the best-rated snow removal services in Western New York according to Yelp!
Buffalo Resident's Rate Local Governments Snow Removal Performance
According to residents of the city of Buffalo, snow removal during the Buffalo winter season of 2021-2022 is not being handled well by city officials. Here is what some of them had to say