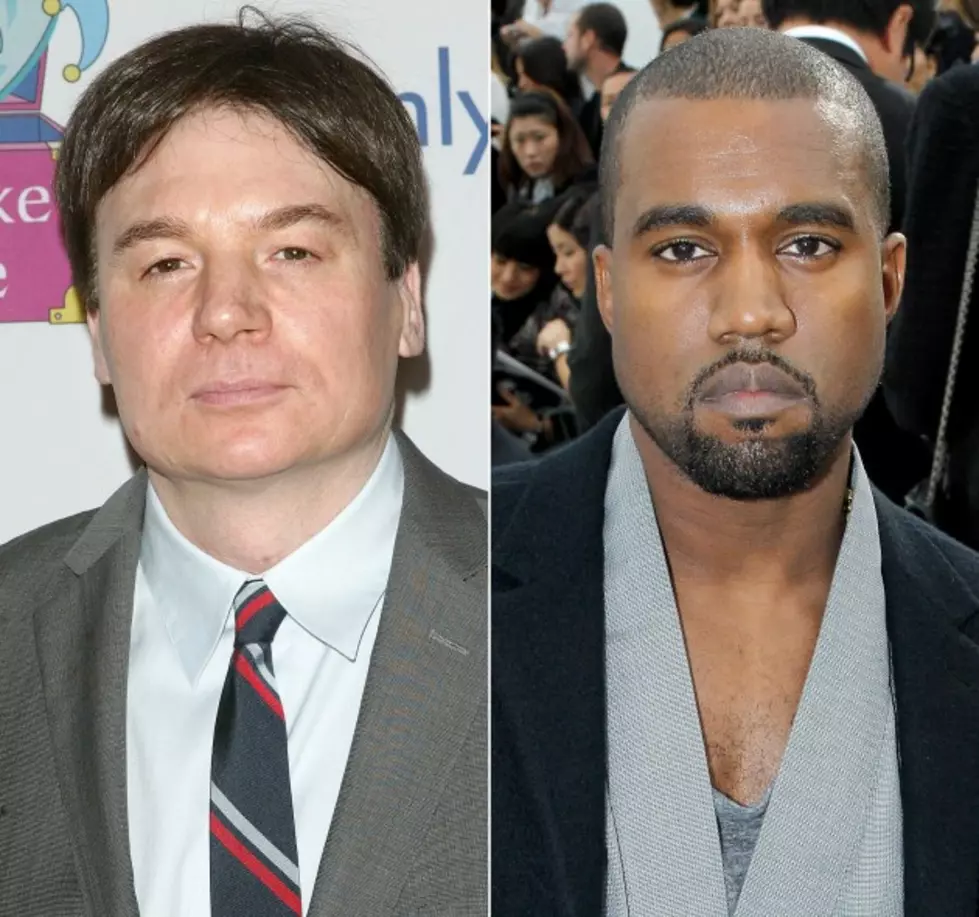 Mike Myers Says Kanye Told the Truth; George Bush Doesn't Care About Black People
Getty Images
Do you remember when Hurricane Katrina struck NOLA and the lack of government aid to a city in need? Around that same time, Kanye West made his first claim to political fame by stating on live television, that the President (At that current time) George Bush doesn't care about black people. It was the statement that was heard across the world and stirred up major controversy in media.
On that day during that broadcast, West was not alone and camera and he was standing next to one of the most influential people in the film industry, Mike Myers. Myer's made headlines nearly 10 years after the incident took place, after suggesting that Kanye West told the truth about our former President and his lack of care for the African American race.
It's weird to think that for a certain generation the moment they may most readily associate you with in recent years is when Kanye West said "George Bush doesn't care about black people" on the Katrina telethon while you were standing next to him looking a little…well, I don't know how to describe you.
And a bit uncomfortable, maybe?
Do you remember what you were thinking as he said it?
I don't do many things. And I remember watching the television and seeing, because I'm a citizen now, my fellow citizens on the roofs of buildings dying. And I turned into my father, where my dad would shout at the TV. My dad hated injustice. I've been called for many, many telethons, hither and yon, and I remember just being so upset and feeling, ironically, that if this was white people on roofs, the army would be there in five seconds. And these are my fellow citizens, who just happen to be people of color, sitting on roofs for multiple days. So when they called me I said, "Yeah, I'll do it." I went there specifically because I wanted to help the Red Cross. I was supposed to be by myself, and I was, like, "fine", then they said "Do you mind doing it with somebody else?" And I always remembered that Live Aid thing of "leave your egos at the door", so I said, "Sure, of course." And they said, "Would you do it with Kanye West?" and I said, "Uh, sure." I actually wasn't familiar with his work. And then he said he was going to take some liberties with the thing.
So he gave you kind of a warning.
Yes, but I didn't know that the liberty would be calling out the president.
If you watch the footage, I don't think he knew.
I don't think so either. But the question itself is a little beside the point of what actually went down in New Orleans. For me it isn't about the look of embarrassment on my face, it is truly about the injustice that was happening in New Orleans. I don't mind answering the question but the emphasis of it being that I'm the guy next to the guy who spoke a truth. I assume that George Bush does care about black people—I mean I don't know him, I'm going to make that assumption—but I can definitively say that it appeared to me watching television that had that been white people, the government would have been there faster. And so to me that's really the point—the look on my face is, to me, almost insulting to the true essence of what went down in New Orleans. You know, there's a great line by the great Northern English poet Elvis Costello, as sung by Nick Lowe: "What's so funny 'bout peace love and understanding?" [Myers seems both dubious and slightly irked when I tell him that it was the other way round—the song was written by Nick Lowe but made famous by Costello.] The point being that. What is so funny about peace, love, and understanding? To have the emphasis on the look on my face versus the fact that somebody spoke truth to power at a time when somebody needed to speak? I'm very proud to have been next to him. Do you know what I mean?
I'm, like, super proud to have been next to him. The look on my face is…to be honest with you, I thought I handled it well. I was like "This is what's happening…" Because live TV is my milieu, and improv is my training, you know. It has been painful that the culture has at times meditated on my surprise, when it's really the message, dude. The message, the message, the message, you know. There's a world of fail culture, and it's hardly a fail on my part to be next to the guy that spoke truth to power at a time when horrific injustices… [he trails off, point made]
Here is the video in case you forgot:
Do you remember that day? Kanye spoke his mind about the President and you have to wonder, was he telling the truth? I was too young at the time to really care (15 y/o) but in retrospect, I wonder if Bush really didn't show any interest in helping black people?