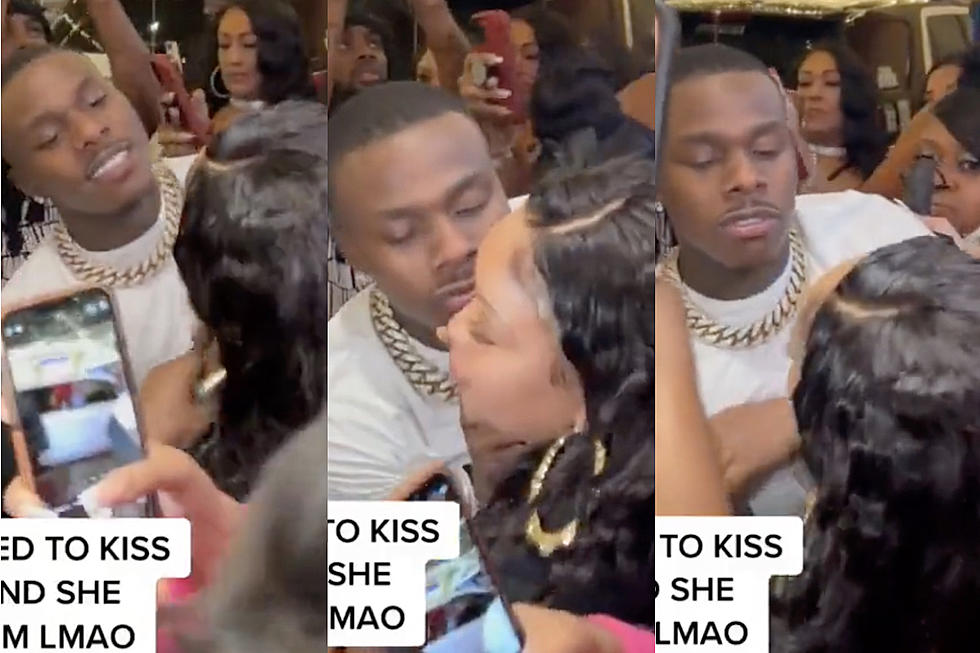 DaBaby Tries to Kiss Fan, She Doesn't Let Him – Watch
XXL via Twitter
UPDATE (April 7):
DaBaby has denied trying to kiss a fan in a now-viral video. The Charlotte, N.C. rapper responded on his Instagram Story, reposting the video along with a caption that said, "Y'all Go head on man," adding a laughing emoji.
He also wrote, Me & my booboos love each other to death but ain't no kissin goin on." He finished off the response with an emoji of a man putting his arms in the form of an X.
DaBaby hopped in The Shade Room's comment section to address the video as well. He typed, "I'm sorry bae." Followed by another message, which said, "Bae was upset that I blew a kiss at her lil buddy first."
ORIGINAL STORY:
DaBaby recently had an awkward moment when he tried to kiss a fan and she wouldn't let him.
On Thursday (April 7), a video surfaced of the DaBaby interacting with his fans outside of a venue. In the clip, the Billion Dollar Baby Entertainment honcho spots a young woman and proceeds to grab her head so he can land a kiss. When the DaBaby tries to plant one, the fan curves him, much to his surprise. He also looks like he stumbled afterward before the clip cuts off.
Some fans on social media found the embarrassing moment hilarious, while others offered a cautionary warning to DaBaby when it comes to greeting his fans.
"DaBaby getting curved by his own fan has been top tier comedy for me this morning," tweeted one person.
Another fan wrote, "DaBaby so you do know that's sexual assault right?"
DaBaby's past interactions with fans are usually not that abrasive. Back in 2019, DaBaby bumped into a fan at a gas station and gave her free tickets. In a viral video of the interaction, the North Carolina rapper surprised Alexandria Coleman at a gas station's convenience store and jumped on her to give her a big hug. Later, according to TMZ, DaBaby gave her and her friends free tickets to a make up show. You can watch the video below.
In another highly-viewed clip, a fan actually hopped onstage and mounted DaBaby during a concert performance in Boston on his Live Show Killa Tour back in January. According to Page Six, the "Suge" rapper was lying on a bed during his rendition of the song "Nasty," when a woman jumped on top of him and started grinding on his body. It's unclear how the woman got on stage in the first place. Peep the video below.
Overall, DaBaby doesn't mind getting up close and personal with his fans.
Read 10 Wild Stories That Took Place During Hip-Hop Tours