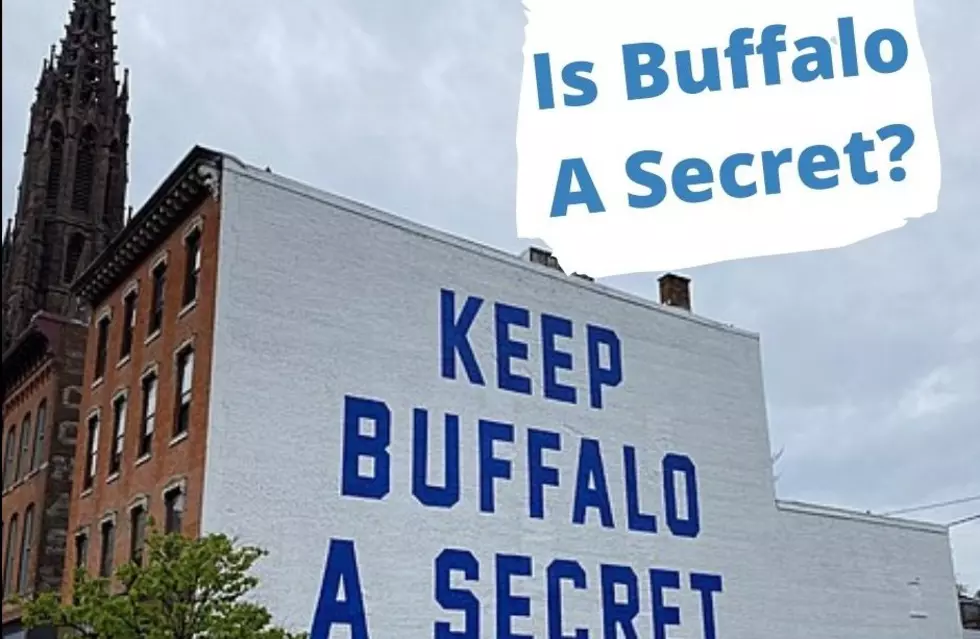 Buffalo No Longer A Secret Says This Western New Yorker
Photo Credit: TSM Staff, Canva Image
One of the most famous murals in Western New York has a saying on it that is under fire  after one Western New Yorker posted on social media, denouncing the popular Buffalo slogan.
The mural was done by Ian DeBeers, Oxford Pennant Company, and Jake Sign Guy back in 2019, and it took about 12 hours to complete. The meaning behind the artwork was a sentiment to keep the city a secret so Buffalo should stay keep its originality and its roots.
The mural is located at 812 Main Street in Buffalo, but at least one person wants the mural to come down after denouncing the saying as a thing of the past.
One person from Western New York posted on social media, calling the slogan "very stupid."
You can see the post below. 
"What is the secret? Is it a good secret? If it's a good secret, shouldn't we let it be known to encourage people to move here and tourism (things that would be good for the city's economy)? Is it a bad secret? If it's a bad secret, shouldn't we expose the secret so it can be fixed? Is there something I'm missing? I'm convinced people like it because it's catchy and mysterious, but if you spend a second to think about it, it is D - U - M - B."
Honestly, I do see their point. Wouldn't we want more people to come to Buffalo?
The "secret" part of the saying does give Buffalo a sense of wonder. "Keep Buffalo A Secret" makes you wonder what the city has to hold and what secrets there are to be discovered. 
But now I think we are all overthinking it, because I doubt you would paint a secret in giant bold letters on a forty foot tall wall.
Most cities have some kind of catchy slogan that sticks…Hershey, PA is known as "The Sweetest Place On Earth," New York City is called "The City That Never Sleeps," and perhaps the most famous, "What Happens in Vegas, Stays in Vegas."
Maybe "Keep Buffalo A Secret" is our saying?
For years, Buffalo has been a hidden gem, with architecture and world class art within many city walls, and not to mention – everyone who lives in Buffalo is a bit of a foodie because our city has excellent food in every town in Western New York. 
Buffalo has been a growing city in recent years, and while it's great to have Buffalo transplants, I understand that there are some cons to having more and more people move to Buffalo.
And we've seen some of those cons.
With more people moving to Buffalo, you may see a higher cost of living, a more costly price tag on a Buffalo home, losing some of the historic buildings that have made our city what it is due to gentrification.
We can't forget the things that make Buffalo great. 
If you still don't understand why we "Keep Buffalo A Secret," maybe it is a secret from you, too.
57 Fun Facts You Might Not Know About Buffalo
You might know a lot of these, but there is no way you know all 57 things. If you did, I would be impressed.
Here's a list of 57 fun facts that single Buffalo out from the rest of the country.
Buffalo Country Music Concerts in 2022
Concerts in Buffalo, NY? Here is a list of the shows coming to the Buffalo and Rochester area, such as Morgan Wallen, Keith Urban, Thomas Rhett and Luke Bryan.
22 Famous Buffalo Sports Phrases Every Die-Hard Bills and Sabres Fan Knows
Being a sports fan in Buffalo is sometimes like knowing a different language. Here are 22 of our favorite Buffalo sports phrases you already know if you're a huge fan! And if you're new here, here's how to catch up.