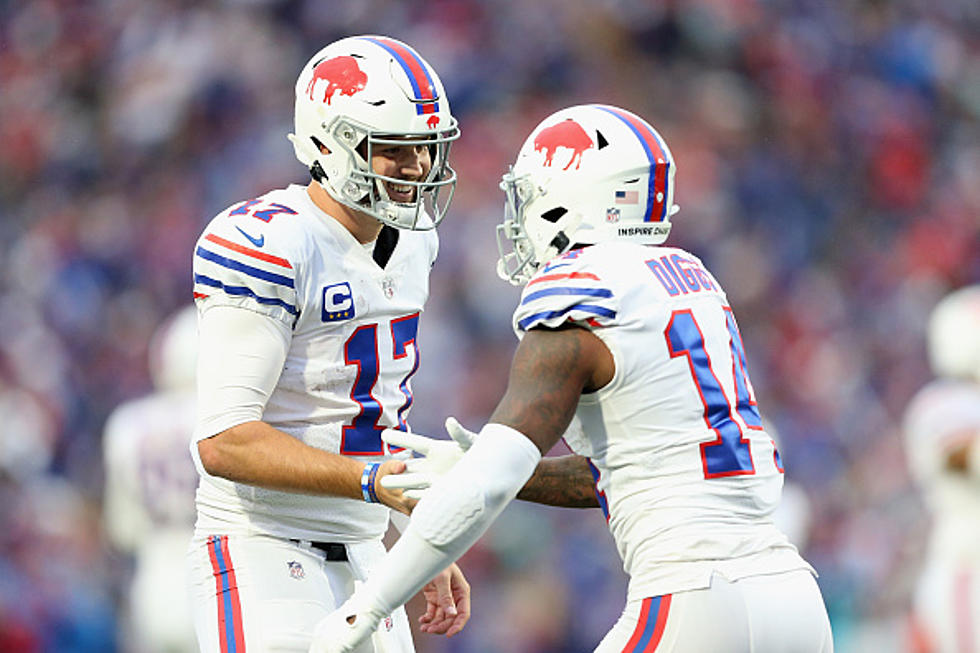 The Bills Have New Super Bowl Odds; Buffalo Loves It
Getty Images
The Buffalo Bills are now 5-2 after their 26-11 win over the Miami Dolphins on Sunday afternoon. The win, while not perfect, extends the Bills lead in the AFC East standings, while keeping them in the jumbled pile of AFC teams with two losses.
Even though the Bills don't currently have the best record in the NFL, there's no doubt they're a Super Bowl contender and arguably, the best and most complete team in football.
The odds makers think the Bills are great, and so much so that they have updated the Super Bowl favorite odds, and Bills Mafia is loving it.
The Bills are now the odds-on favorite to win the Super Bowl this season.
The Bills are slightly ahead of both the Tampa Bay Buccaneers and Los Angeles Rams. The Bills are +500, while the Bucs are +600 and the Rams are +650.
There's a considerably large gap between the Rams at number three and the Green Bay Packers at number four, who is +1000.
I think that Vegas has it right here, with the entire top three. The Bills are still the most complete team in football and even though the offense struggled during the first half against the Dolphins, the fact the game was tied by the start of the second half and the Bills still beat Miami by 15 points shows just how good they are.
The Bucs are still a great team, even with the close loss to the New Orleans Saints, and the Rams might be the hottest team in football. They also traded for linebacker Von Miller from the Denver Broncos. Matthew Stafford and Cooper Kupp has been the best QB-WR tandem this season.
Bills-Rams Super Bowl?
The Value Of NFL Teams
Forbes ranked the value of every NFL team.
Bills Mafia Want To Host A Super Bowl
The NFL announced that they will open a bidding process to host the NFL Draft, NFL Combine, and the Super Bowl. Overwhelmingly, Bills Fans want to host a Super Bowl.
15 Red Flags For People in Western New York
Here are 15 red flags that indicate whether or not someone grew up in Buffalo.
57 Fun Facts You Might Not Know About Buffalo
You might know a lot of these, but there is no way you know all 57 things. If you did, I would be impressed.
Here's a list of 57 fun facts that single Buffalo out from the rest of the country.