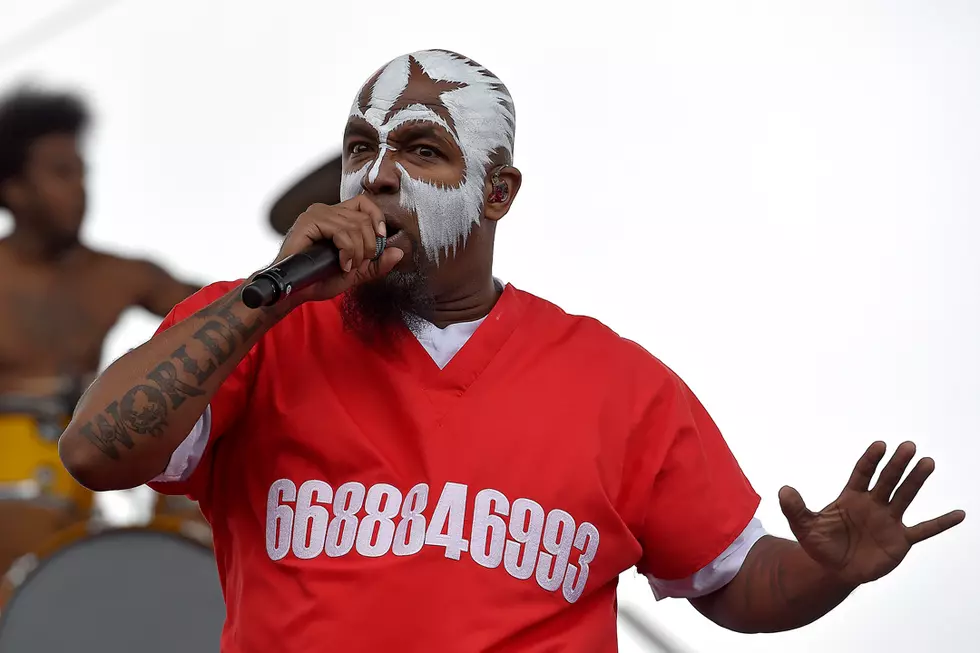 Tech N9ne Shares Planet Tour Dates
Kansas City Star, Getty Images
After releasing Strange Reign in 2017, Tech N9ne is gearing up to hit the road in 2018.
The hip-hop veteran has announced the dates for his upcoming Tech N9ne's Planet Tour. Scheduled to run from April 17 through June 23, the Planet Tour will make stops in more than 60 cities including shows in Seattle, Los Angeles, Houston and Atlanta.
Kicking off in Cedar Rapids, Iowa, Tech N9ne will be joined by rappers Krizz Kaliko, Just Juice, Joey Cool and King Iso. Details about tickets and VIP fan club packages can be found here.
While Tech hasn't put out a new album since October's Strange Reign, the upcoming tour will begin a month after the rapper drops his forthcoming project, Planet. Set for a March 2 release, the album will include features from Mackenzie Nicole, Krizz Kaliko, Darrien Safron and Joey Cool.
Check out the tour dates below
Tech N9ne's Planet Tour Dates
April 17–Cedar Rapids, Iowa–Cedar Rapids Ice Arena
April 18–Clive, Iowa–Seven Flags LN
April 19–Omaha, Neb.–Slowdown Sokol
April 20–Madison, Wis.–Orpheum Theater
April 21–Minneapolis, Minn.–Minneapolis Armory
April 22–Sioux Falls, S.D.–The District
April 23–Fargo, N.D.–Scheels Arena
April 24–Billings, Mont.–Pub Station
April 25–Missoula, Mont.–The Wilma
April 26–Spokane, Wash.–Knitting Factory
April 27–Seattle, Wash.–Showbox Sodo
April 28–Eugene, Wash.–Cuthbert Amphitheater
April 29–Seattle, Wash.–Showbox Sodo
May 2–Boise, Idaho–Knitting Factory
May 3–Boise, Idaho–Knitting Factory
May 4–Salt Lake City, Utah–Complex
May 5–Las Vegas, Nev.–House Of Blues
May 6–San Luis Obispo, Calif.–Pozo's Saloon
May 8–Santa Cruz, Calif.–Catalyst
May 9–Sacramento, Calif.–Ace Of Spades
May 10–Los Angeles, Calif.–Belasco Theater
May 11 –San Diego, Calif.–House Of Blues
May 12–Riverside, Calif.–RIverside Municipal Auditorium
May 13–Phoenix, Ariz.–Van Buren
May 14–Tucson, Ariz.–Rialto Theatre
May 15–Albuquerque, N.M.–Complex
May 16–Amarillo, Texas–Azteca Music Hall
May 17–Oklahoma City, Okla.–Diamond Ballroom
May 18–Dallas, Texas–House Of Blues
May 20–Houston, Texas–House Of Blues
May 21–New Orleans, La.–House Of Blues
May 23–Nashville, Tenn.–Marathon Music Works
May 24–Knoxville, Tenn.–Mill And Mine
May 25–Atlanta, Ga.–Buckhead Theatre
May 26–Charlotte, N.C.–Fillmore
May 27–Myrtle Beach, S.C.–House Of Blues
May 29–Norfolk, Va.–Norva
May 30–Washington, D.C.–Fillmore
May 31–Philadelphia, Pa.–Fillmore
June 1–Boston, Mass.–House Of Blues
June 2–Buffalo, N.Y.–Town Ballroom
June 3–Detroit, Mich.–Fillmore
June 5–Pittsburgh, Pa.–Stage Ae
June 6–Allentown, Pa.–Chameleon Club
June 7–Cleveland, Ohio–House Of Blues
June 8–Grand Rapids, Mich.–20 Monroe Live
June 9–Chicago, Ill.–House Of Blues
June 10–Milwaukee, Wis.–Eagles Ballroom
June 12–Cincinnati, Ohio–Bogarts
June 13–Indianapolis, Ind.–Egyptian
June 14–St. Louis, Mo–Pageant
June 16–Tulsa, Okla.–Cains
June 18–Springfield, Mo–Complex
June 19–Wichita, Kan.–Cotillion
June 21–Colorado Springs, Colo.–Black Sheep
June 22–Grand Junction, Colo.–Mesa Theater
June 23–Denver, Colo.–Fillmore
See New Music Releases for January 2018