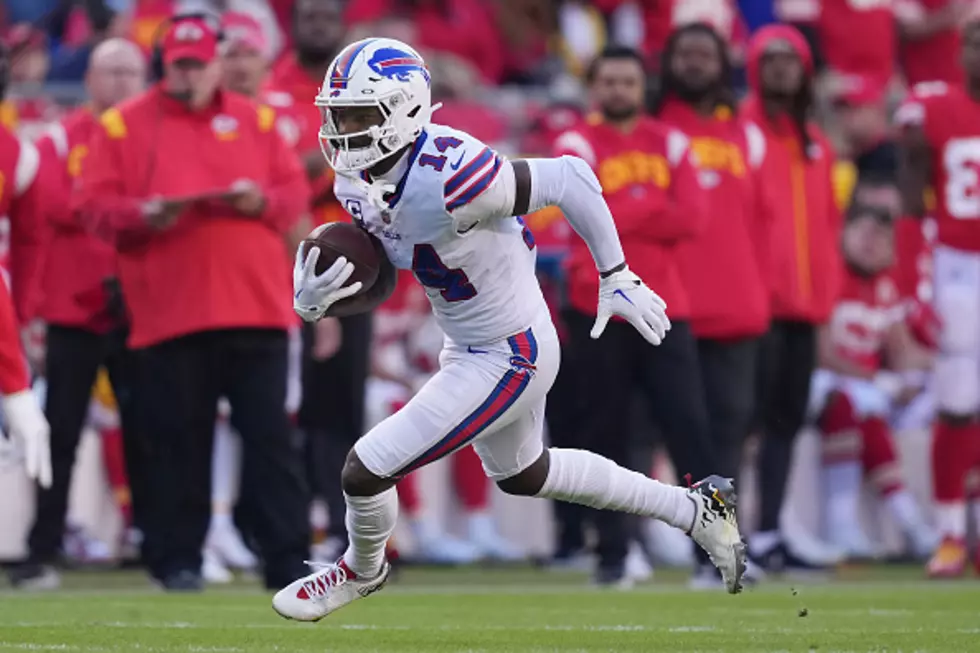 Stefon Diggs Crashes Sean McDermott's Press Conference
Getty Images
This feeling feels great for Buffalo Bills fans everywhere right now.
The Bills improved to 5-1 with a victory over the Kansas City Chiefs on Sunday at Arrowhead Stadium.
The 24-20 final score may have been a bit lower than what we imagined earlier in the week, but the game being close and being intense was…this game lived up to the hype.
Bills quarterback Josh Allen completed 27 of 40 passes for 329 yards and three touchdowns; the first to Gabe Davis, the second to Stefon Diggs and the last one to Dawson Knox (game-winner).
Diggs had a big day, catching 10 passes for 148 yards and that previously mentioned touchdown.
This was really the first game Diggs has played against the Chiefs that he went off for stats, as Kansas City has limited him in their matchups with the Bills since 2020.
Diggs decides to have some fun with head coach Sean McDermott after the game.
During McDermott's press conference after the game, Diggs decides to crash it by pretending to be a reporter and asked McDermott, "what are your plans for the bye week?"
McDermott joked that everyone had off except for him and Stefon.
The game was sealed with a Taron Johnson interception of Chiefs quarterback Patrick Mahomes; which by the way, was caused by Von Miller's pressure of Mahomes.
The Bills head into the bye week 5-1. They're the top seed in the AFC standings and will next play the Green Bay Packers on Sunday Night Football at Highmark Stadium.
8 Reasons 1pm Games Are Better For The Buffalo Bills
22 Famous Buffalo Sports Phrases Every Die-Hard Bills and Sabres Fan Knows
Being a sports fan in Buffalo is sometimes like knowing a different language. Here are 22 of our favorite Buffalo sports phrases you already know if you're a huge fan! And if you're new here, here's how to catch up.
16 Buffalo Bills With Some Of The Best And Worst Nicknames