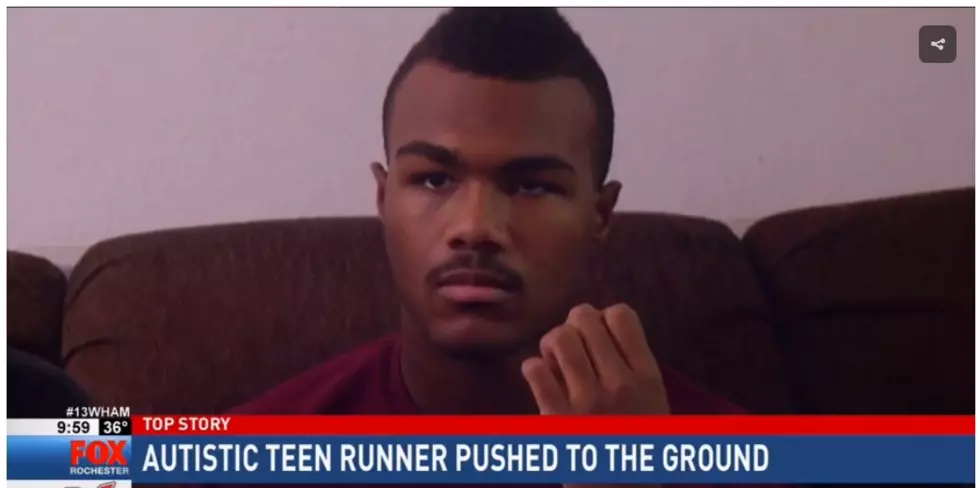 Rochester (Pittsford) Man Mistakes Black Autistic Boy as a Predator and Attacks Him While The Boy Runs a Cross-Country Race! [NEWS VIDEO] [COMMENTARY]
13 WHAM News
Racism comes in many forms...the most disturbing, unhealthy and frightening form of it is when the person carrying it out doesn't even realize they're racist,
If you're not from Rochester, NY (which I happen to be) and you're reading this, you're probably not familiar with Pittsford, NY.  Pittsford is the equivalent of Amherst, NY in Buffalo...or maybe even more appropriately Orchard Park, Lewiston..or the likes...predominately Wealthy & White.  Nothing wrong with that ... but there is something DIFFERENT about it...there's a personal unknown NAIVETY among the residents in these places (my opinion of course).
Having gone to a Private School in Pittsford, NY and then travelling back to the "HOOD" daily from the 5th to 12th Grade at Allendale-Columbia, I became accustomed to the FACT that the people I went to school with never, have never, and may NEVER see the people I grew up around DAILY ....oooops....not true...they did see "US" on THE NEWS!!!!!
FAST-FORWARD (with no further need for explanation)!
Recently a Black Autistic Youth from Syracuse travelled to Rochester with his Mom to participate in a Cross- Country Event at Cobbs Hill in Rochester ( a popular place for walkers and runners).
While running this race that this Autistic Boy was NOT interested in WINNING  ...he just enjoyed RUNNING ... he was attacked by a Pittsford, NY Man.
15-year-old Chase T. Coleman's Mom was keen enough to expose him to this Omega Psi Phi organized event whenever it, or other running events such as this, came up.  According to the organizers of the event, Chase had participated before and would always be in last place....but it was ok...he wasn't competing per se ... he was just enjoying running!!!!
On this particular day, according to News Reports, Chase apparently got lost on the way. Well, I believe a NAIVE (my opinion) Pittsford Man saw something DIFFERENT other than a 15 Year-old Boy Running...LOST.  He apparently saw a 15 Year-Old BLACK TRAYVON MARTIN LOOKING CHARACTER... READY TO MUG HIS WIFE!!!!!! (pure speculation and my opinion).  So he promptly exited his vehicle and approached the boy, pushing him to the ground to avoid the imminent assault on his wife!   You'll believe all of this once you click on the video below...because at this point it's gotta be the most unbelievable STORY and EXCUSE you've EVER HEARD!!!!!!!!
...but before we get there...let's also examine the Rochester Police Department's alleged response ... they wanted the guy ARRESTED!!!!  Sounds very reasonable to me since the boy was obviously NOT trying to MUG ANYONE!!!!!  HOWEVER, when trying to obtain the necessary means to arrest the PITTSFORD MAN ...a Rochester Judge "allegedly" (according to News Reports) said ...NO ARREST!!!!
*a Footnote of fair speculation on behalf of Judge Caroline Morrison's decision to deny the arrest of the Pittsford man and having had past personal experience caring for someone's  Autistic child; a person with Autism can have a tendency to "charge" someone for no apparent reason.  Taking that into account, coupled with Chase being lost (which fear, confusion, and being distraught could lead to aggressive behavior in an autistic person), the Pittsford man could have witnessed Chase running towards he and his wife...or just his wife...and determined that this was an attack.  If this were the case I also will contend that Chase's Race could have heightened or prompted fear within the husband,
Well I'm done ... JUDGE FOR YOURSELF IN THIS NEWS COVERAGE VIDEO...actual incident not shown! ...
After watching ...TAKE THE POLL :
Video of Judge Caroline Morrison:
(My personal views and opinions regarding this incident are my own and do not necessarily reflect those of this radio station or TownSquare Media)