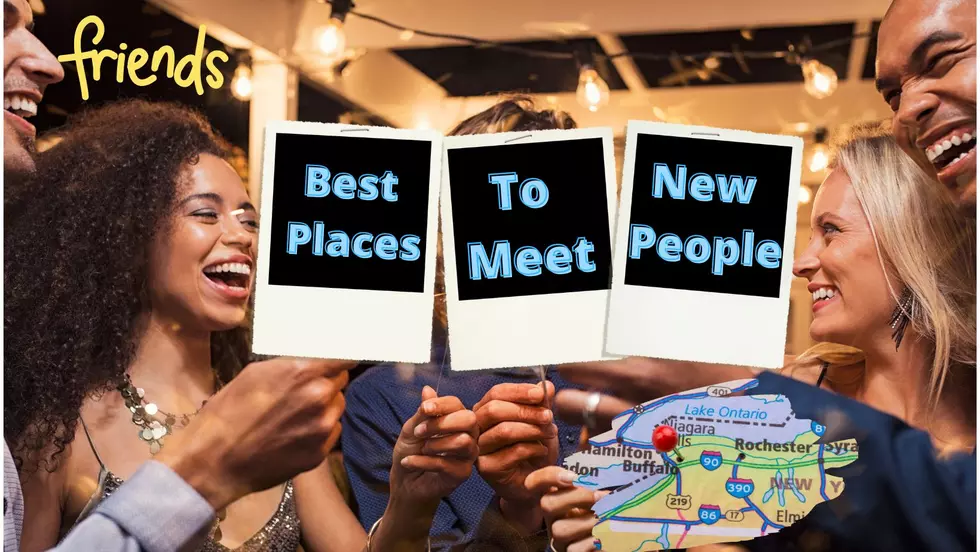 Best Places To Meet New People In Buffalo, New York
Photo Credit: Canva Image
Whether your friends have moved away after graduation or you have recently moved here, there are plenty of places to meet new people and make new friends in Buffalo, New York. 
Listen To Clay & Company On 106.5 WYRK
If anyone understands how difficult it is to make friends in adulthood, it's me. When I moved to Buffalo, I didn't know anyone at all, but I made some good friends pretty quick just by going out to events in the area and talking to new people. 
So if you're ready to leave that all-too familiar solo barstool and meet some new people, here are some of the best places to do just that in Western New York. 
Buffalo Bills Tailgate

Everyone talks to everyone and tailgates seem to have a way of merging together. 

Concerts

Whether that be at Darien Lake, Artpark, the Backlot, Town Ballroom, or Buffalo Riverworks, concerts are always a good place to meet new people who have similar interests as you.

Volunteer

Volunteering at some place that interests you, like an animal shelter, can pave the path to finding some new friends – all while helping out an important cause. 

Line Dancing

There are plenty of places to line dance in the area, including East Eden Tavern, Sole @ Woodlawn Beach, and the Stage, and all three of those locations are great for meeting new people. 

Intramural Athletic Leagues

There are always a few going on!

Dyngus Day

On Dyngus Day, everyone is Polish, and although that only comes once a year, it's a big opportunity to meet people you otherwise would have never met. 

Festivals 

The WYRK Toyota Taste of Country is the biggest country festival in Western New York, but there's also the Polka Festival, the Buffalo Wing Festival, and so much more. 

5K Races

The running community is huge in Buffalo! After all, we even have our own marathon…. 

Whether you're in the 5k range, the 10k, half marathon, or marathon zone, you always meet someone new at a race in Western New York, Plus, each one usually benefits a non profit or an organization in the community. 
Of course, there are other places you can meet people, too. If these 8 places don't work for you, there are ways to find other places that may be a better fit to your interests. 
Ask yourself these questions: 
What kind of people are you looking to meet?

What do you want out of this friendship? A friend to go places with, grab a coffee with?

Where do you think you would find people like this?
Sometimes you can find people just by going on a walk at Letchworth, Devil's Hole, or in your neighborhood can help you find a long-lasting friend! 
The Best Trails To Hike With Kids In WNY
Need great places to take the family to hike or walk in Western New York? We found a few of the best according to WYRK listeners!
The Absolute Best 20 Fall Date Ideas in Buffalo
The best place to be for the season is in Western New York, and these 20 fall fun date ideas will prove it.
The 25 Perfect Fall Restaurants in Western New York
The best restaurants during the fall in Buffalo and Western New York.