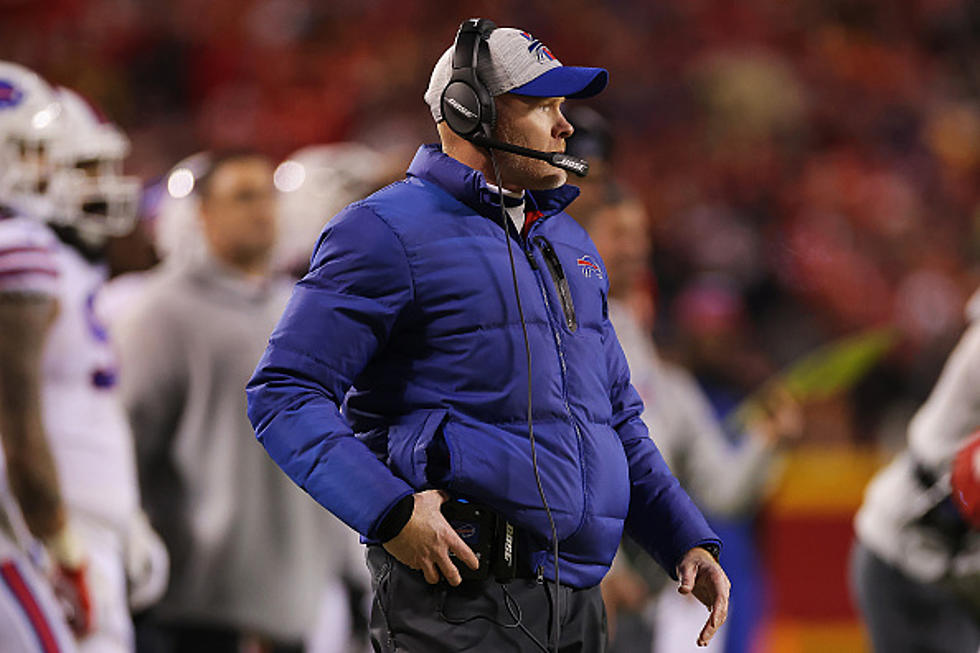 Police Department Trolls The Buffalo Bills With Viral Tweet
Getty Images
This is most definitely a week that most Bills fans have stayed away from ESPN, The NFL Network, Fox Sports, CBS Sports, and any other national sports show or TV network.
That's understandable after the Buffalo Bills lost in brutal fashion to the Kansas City Chiefs, 42-36 in overtime this past Sunday night in the AFC Divisional Round.
Many hyped it up as the greatest NFL playoff game of all-time, and maybe in the discussion for the greatest and most entertaining NFL game, period. The sad part is the Bills were on the losing end, and the fact their superstar quarterback was not the reason. Josh Allen played amazing, and led two unbelievable drives that should have ended the game in the 4th quarter.
Unfortunately, after the Bills took the lead36-33, with 13 seconds left, the Bills coaching staff inexplicably decided to play off wide receiver Tyreek Hill and tight end Travis Kelce, including the last offensive snap by Patrick Mahomes in regulation, which allowed Kelce to run down the middle of the field for a 25-yard gain that set up the game-tying field goal.
Fans are demanding answers or why the Bills decided to play the defensive scheme they did, but there was one police department who decided to troll the Bills in a viral social media post.
The Lakewood Police Department in Lakewood, Colorado poked fun at the Bills for their defense in a tweet about the snowfall this week. Give the same amount of room to fellow drivers, that the Bills gave to the Kelce...
Former Bills offensive lineman and current broadcaster and analyst, Ross Tucker, even took notice of the tweet.
It was a pretty creative tweet. You have to give credit to someone when it's due.
15 Things You Should Never Do at a Bills Home Game
Things that are a no-no to do at a Buffalo Bills home game.
11 Pictures of Why We Love Josh Allen
Have These Free Agents Played Their Last Game As Bills?
TACKLE THESE: Check Out the Best Uniforms In Each NFL Team's History
LOOK: Things from the year you were born that don't exist anymore
The iconic (and at times silly) toys, technologies, and electronics have been usurped since their grand entrance, either by advances in technology or breakthroughs in common sense.
See how many things on this list
trigger childhood memories—and which ones were here and gone so fast you missed them entirely.
LOOK: What major laws were passed the year you were born?
Data for this list was acquired from trusted online sources and news outlets. Read on to discover what major law was passed the year you were born and learn its name, the vote count (where relevant), and its impact and significance.
LOOK: Here are the best lake towns to live in
Many of the included towns jump out at the casual observer as popular summer-rental spots--the Ozarks' Branson, Missouri, or Arizona's Lake Havasu--it might surprise you to dive deeper into some quality-of-life offerings beyond the beach and vacation homes. You'll likely pick up some knowledge from a wide range of Americana: one of the last remaining 1950s-style drive-ins in the Midwest; a Florida town that started as a Civil War veteran retirement area; an island boasting some of the country's top public schools and wealth-earners right in the middle of a lake between Seattle and Bellevue; and even a California town containing much more than Johnny Cash's prison blues.
RANKED: Here Are the 63 Smartest Dog Breeds
Does your loyal pup's breed make the list? Read on to see if you'll be bragging to the neighbors about your dog's intellectual prowess the next time you take your fur baby out for a walk. Don't worry: Even if your dog's breed doesn't land on the list, that doesn't mean he's not a good boy--some traits simply can't be measured.
Inside Amazon: A Detailed History of America's Biggest Online Retailer
Stacker
compiled a list of key moments in Amazon's history and its current business from a variety of sources. Here's a look at the events that turned an online bookstore into a global conglomerate and a self-made entrepreneur into the world's second-richest man.