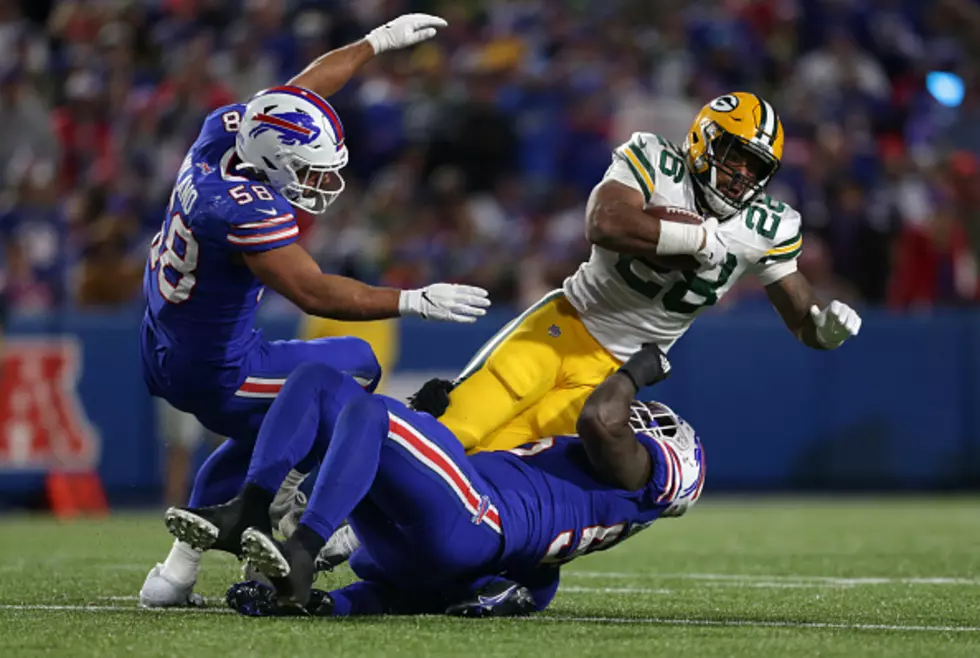 Buffalo Bills Now Dealing With Injuries to Two Key Players
Getty Images
The Buffalo Bills were back at practice on Wednesday, in preparation for their week 9 road game at the division rival, New York Jets.
The Bills are 6-1 and still in sole possession of the top seed in the AFC standings.
On Tuesday, the Bills made two trades.
The first was acquiring running back Nyheim Hines from the Indianapolis Colts in exchange for running back Zack Moss and a conditional sixth round draft pick.
The second trade was bringing back safety Dean Marlowe, as Buffalo sent the Atlanta Falcons a seventh round pick for Marlowe.
The Bills acquired Marlowe because he knows the system run by Sean McDermott and Leslie Frazier, plus it's depth they needed.
Micah Hyde was lost for the season with a neck injury and Jordan Poyer is now dealing with an elbow injury, which kept Poyer limited at practice.
McDermott said Poyer is day-to-day, which is good news but his status for Sunday is uncertain. Poyer said he felt a pop when he was injured against Green Bay, but it's not a serious injury.
Linebacker Matt Milano is also dealing with an injury, as he's listed as day-to-day with an oblique.
Milano's status is also unclear for Sunday.
The Bills will be facing a 5-3 Jets team who is coming off a loss to the New England Patriots. The Jets offense has struggled, particularly the passing game, but their defense has been very good this season and will provide a test to the Bills high-octane offense.
We have to wait and see if Hines and Marlowe play but considering Christian McCaffrey was traded to the 49ers and he played three days later, I'm guessing Hines and Marlowe plays on Sunday.
Best Free Agents Signed By The Buffalo Bills
The Buffalo Bills are gearing up for a run at the Super Bowl next season and some big-time free agents are already reaching out to the Bills looking to join the team. Check out some of the best free agents the Bills have signed in the past.
15 Hilarious Buffalo-Themed Coffee Mugs For Bills Fans And More
In honor of National Coffee Day, here are fifteen sweet mugs to hold your hot cup of joe while proclaiming your love for Bufflalo.
16 Buffalo Bills With Some Of The Best And Worst Nicknames