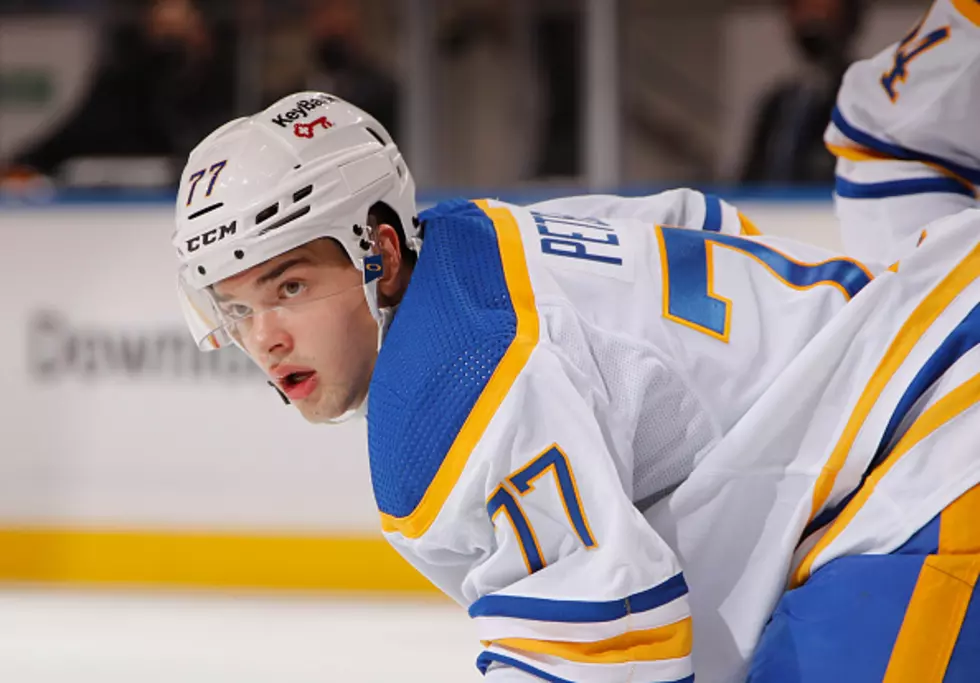 Prediction: This Prospect Will Be The Sabres Best Player in 5 Years
Getty Images
The Buffalo Sabres have the most promise we have seen in a few years. In fact, the 2021-2022 Sabres were the most likable team in the last decade -- not since the days of the roster including Ryan Miller, Thomas Vanek, Jason Pominville and Derek Roy.
The Sabres finished the year on a high note, as they were on a playoff pace the past 2-3 months of the season.
Tage Thompson scored 38 goals in a breakout season. Rasmus Dahlin showed that he is a number one defenseman who is ungodly skilled.
Alex Tuch was fantastic when he returned from his upper-body injury. Peyton Krebs played well, as did defenseman Mattias Samuelsson on the blueline.
Goaltender is still an issue, but Buffalo has two of the top goalie prospects in college -- Devon Levi (Northeastern) and Erik Portillo (Michigan).
The Rochester Americans are in the North Division Final in the AHL playoffs, as they will face the Laval Rocket. Their two top players are Jack Quinn and JJ Peterka.
Quinn scored 26 goals and 61 points in just 45 games. He was the most dominant scorer in the AHL when healthy. Peterka scored 28 goals and 68 points in 70 games.
While Quinn is projected to to be a top-flight scorer in Buffalo, as soon as next season, it's Peterka who might be the Sabres fans favorite soon.
Peterka was the 34th overall pick in the 2020 NHL Entry Draft. General manager Kevyn Adams traded up to pick Peterka, since the Sabres had a first-round grade on him. He's a player who can play in any situation and has the hands to be a consistent scorer.
The thing that sets Peterka apart from other players is his instincts, He knows where to be at all times on the ice. He played like he had been in the AHL for years when he first got to Rochester.
While Quinn could be a 40 goal scorer with the Sabres and could be their top offensive player in the future, Peterka might be Buffalo's all-around best player in five years.
Get ready Sabres fans, the future is bright as can be.
Rochester Americans vs Utica Comets Playoff Series
The 2021-2022 Rochester Amerks (the Buffalo Sabres AHL affiliate) had a Cinderella-esque playoff run. Let's check out some of the best moments.
Rasmus Ristolainen Selling Waterfront Buffalo Home
Former Sabres defenseman Rasmus Ristolainen selling Buffalo home.
Price Drop On Jack Eichel's Former Buffalo Home
Price drops on former Sabres captain Jack Eichel's
Buffalo home
.