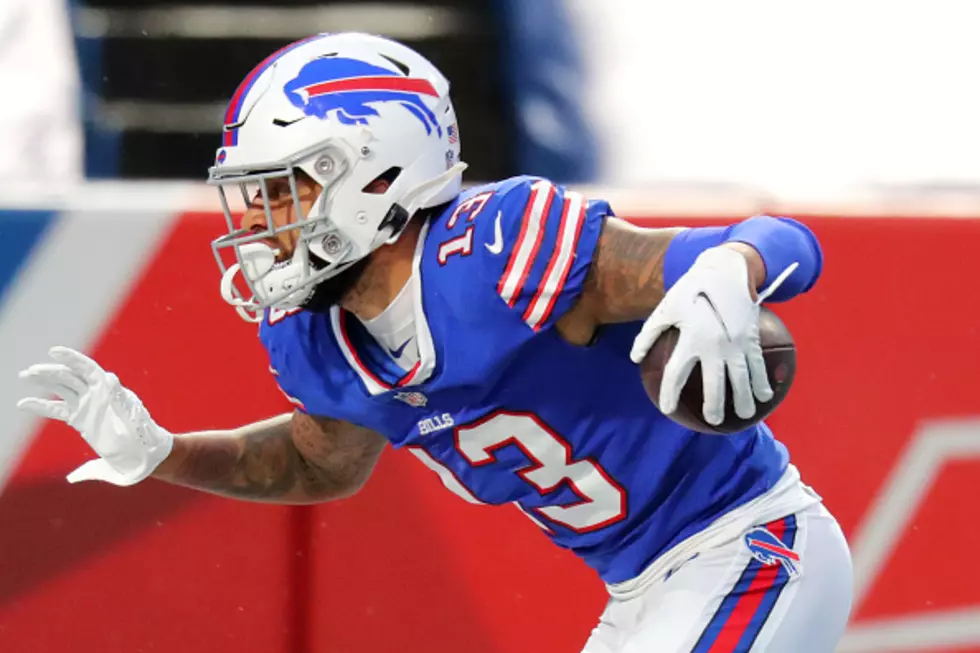 Big Change For Gabriel Davis This Buffalo Bills Season
Getty Images
The countdown is officially on. The Buffalo Bills veterans will report to St. John Fisher College in Rochester in just 10 days, July 23rd. The rookies will report in five days on July 18th.
You're hard-pressed to find any Bills fan who doesn't have high expectations, as the Bills are the odds-on favorites to win the Super Bowl this season.
They already had one of the best rosters in football and the core stayed together, while adding star edge rusher Von Miller to the defense as the last missing piece of what they hope is a championship caliber team.
The wide receivers are also loaded with talent, led by Stefon Diggs, who is entering his third season in  Buffalo.
This will be the first season we get to see third-year pro Gabriel Davis as the unquestioned number two receiver in the offense, as he will play opposite Diggs.
Davis was not a super well-known commodity entering last year's postseason, but the four-touchdown game in Kansas City opened eyes to his talent.
Davis will have a change to his physique as Doug Kyed of PFF reports that Davis is up to 227 pounds headlong into training camp, which is nearly 20 pounds more than his listed 210 pounds.
Hopefully, this doesn't mean any quickness will be taken away from Davis but he clearly has gotten even stronger, which should help with contested catches.
Veteran signing Jamison Crowder will fill the role left vacated by Cole Beasley, as he will be the primary slot receiver. Isaiah McKenzie will likely be the number four wide out, while  Khalil Shakir (rookie)), Tavon Austin and Jake Kumerow also compete on the depth chart.
Jerseys You Should Never Wear At A Buffalo Game
You should never be caught wearing these jerseys.
Predicting How Many Wins For The Buffalo Bills
The Buffalo Bills schedule has been officially released and how is the perfect time to predict how well the team will do this upcoming season.
Top 50 Summer Restaurants in Buffalo and Western New York
Check out some of the best spots for food and drinks this spring and summer across Western New York!