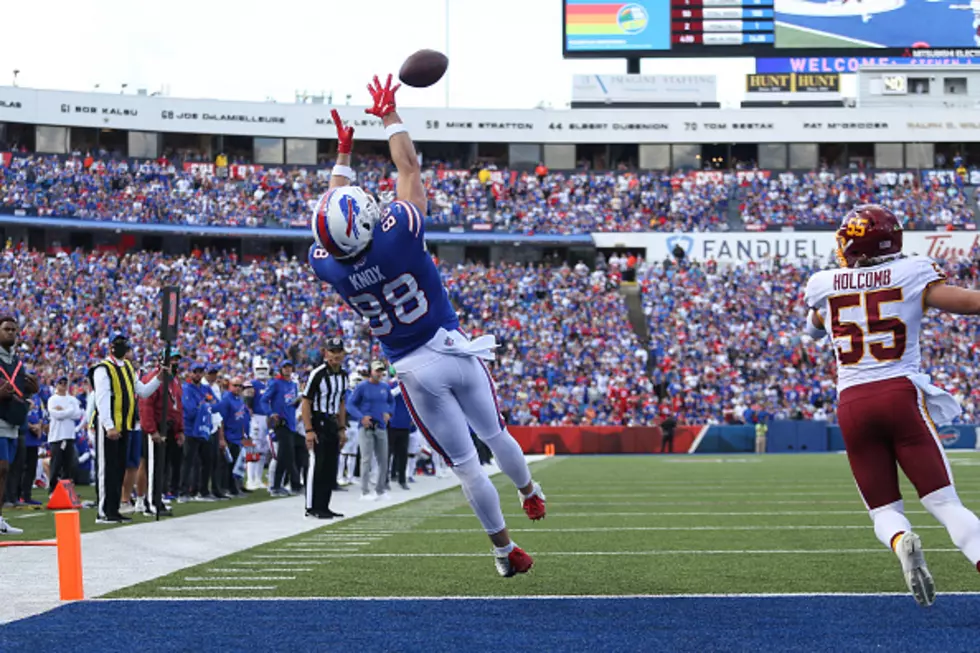 Will Dawson Knox Leave the Buffalo Bills After 2022?
Getty Images
The Buffalo Bills have who many consider, the best roster in the NFL. They are the favorites to win the Super Bowl and it all starts with their quarterback, Josh Allen.
General manager Brandon Beane has been arguably the best general manager over the last several seasons, as he not only has put together a talented and deep roster, but as found a way to keep every single core piece up to this point.
Allen got a massive contract extension in the summer of 2021, which carries an annual salary of $43 million and $150 million guaranteed.
Matt Milano, Tre'Davious White, Dion Dawkins and Von Miller all saw big contract extensions in the last two years, with Miller's being brand new in free agency.
The Bills are in a win now mode, but how likely is it that the Bills will be able to keep all of their pieces in place by the spring of 2023?
Tremaine Edmunds, Dawson Knox and Jordan Poyer are all going into the final year of their contract. Edmunds is playing under his fifth year option, while Knox is on the last year of his rookie contract.
Poyer's agent Drew Rosenhaus was in Rochester this week, so those negotiations with the Bills are ongoing (we presume).
There's also Ed Oliver, who is signed through 2023, as the Bills picked up his fifth year option.
According to Spotrac, the Bills adjusted salary cap space will be negative $12.5 million and that does not include new contracts for Poyer, Edmunds and Knox.
The Bills will likely have to make a choice for who to keep and who not to keep. But who would leave?
Ed Oliver is an important piece to the defensive line. If I'm Beane, he's a priority to sign to an extension. Poyer, by the sounds of it, will sign an extension to stay in Buffalo. Spotrac has their market value as $14.9 million (Oliver) and $10.7 million (Poyer).
That leaves Edmunds and Knox. I think it's safe to say one of them is gone if Poyer and Oliver get new contracts, but both might be in this scenario.
Knox has become a valued part of the Bills offense and with the Buffalo community. It would be tough to see him leave via free agency but Beane will have his work cut out to sign him long-term, with all the other contracts on the roster.
Spotrac has Knox's market value at $12.3 million.
If I had to guess right now, Oliver and Poyer stay. Edmunds leaves in free agency and Knox is roughly a 50/50 chance to stay. It all depends on what contracts are negated off the roster in 2023 and how many restructurings Beane does with current players.
Bills Players Who Could Be Surprise Training Camp Cuts
Here are five players who could be "surprise" training camp releases in 2022.
22 Famous Buffalo Sports Phrases Every Die-Hard Bills and Sabres Fan Knows
Being a sports fan in Buffalo is sometimes like knowing a different language. Here are 22 of our favorite Buffalo sports phrases you already know if you're a huge fan! And if you're new here, here's how to catch up.
Bills Lover's Dream House For Sale & It's Not Even In Buffalo