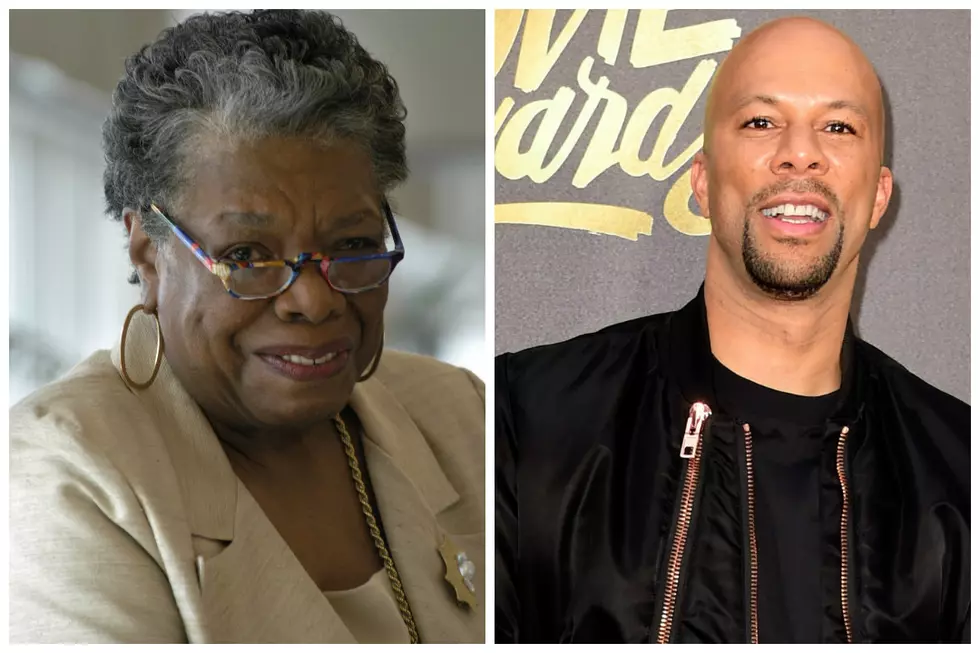 Common Salutes Maya Angelou: 'Three Years Ago We Lost This Beautiful Human…'
Frazer Harrison, Getty Images
Dr. Maya Angelou died on May 28, 2014, leaving behind a tremendous legacy as a towering figure in American literature. One of the many lives she touched was the rapper Common, who posted a tribute to Dr. Angelou on Instagram.
Common posted a photo of him and Dr. Angelou hugging on Instagram, with the caption: "Three years ago we lost this beautiful human but heaven added an angel. #drmayaangelo."
Common interviewed Angelou for the Common Grounds Foundation, and she was featured on his 2011 album The Dreamer/The Believer. But Dr. Angelou famously scolded Common for his use of the N-word on the album.
"I had no idea that Common was using the piece we had done together on [a track] in which he also used the N-word numerous times," she told the NY Post in 2011. "I'm surprised and disappointed. I don't know why he chose to do that. I had never heard him use that [word] before. I admired him so because he wasn't singing the line of least resistance."
Dr. Angelou later softened her stance a bit. "I don't think the word 'disappointment' quite makes it. I was surprised," Angelou said during a call-in interview with BET's 106 & Park. "I know that Common is brilliant -- he may, in fact, be close enough to be called a genius, I'm not sure. I know we're all in process, and young artists are in process."
"Like a mother to me in many ways," Common said of his bond with Angelou. "Through artistry, through just love and her spirit."
Writing about Dr. Angelou in 2014, Common delved into their friendship.
"She and I would go on to build a bond that not only would have us spreading love at events in Harlem, Chicago, and DC, but I would be blessed to go visit her at her home in Winston-Salem, NC, and celebrate several birthdays with her where we had great times and I got to know her lovely family," he wrote. "It was always an honor to be in her presence and though she did feel like my mother, my grandma, and my friend. I would always Thank God for being there with her."
Listen to Common's "The Dreamer" With Dr. Maya Angelou
Worst to Best: Every Common Album Ranked