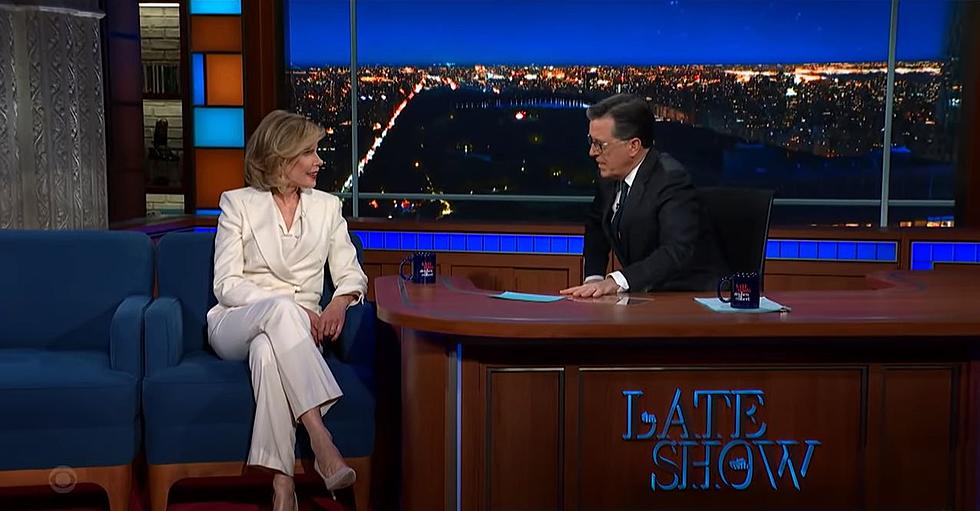 Hollywood Celebrity Gives a Buffalo Bills Goodbye On National TV [WATCH]
Credit: The Late Show With Stephen Colbert YouTube
The Buffalo Bills are gearing up for a Divisional Round playoff game in Arrowhead Stadium against the Kansas City Chiefs this Sunday evening, which will close out the divisional round.
The game is a rematch of last year's AFC Championship game, which the Chiefs won, 38-24. The Bills beat the Chiefs in Kansas City this past October, 38-20, while the Chiefs beat the Bills in Orchard Park in October of 2020.
It will be the fourth meeting between the two teams in just over 15 months.
The Bills fever is at an all-time high here in Western New York. Three consecutive playoff appearances will do that for a community, and back-to-back AFC East titles too, but it's also sparked fan support from celebrities who are from Buffalo.
Christina Baranski is an actress from Buffalo. She's been in films such as The Ref, Bowfinger, Welcome to Mooseport, Mamma Mia! and Trolls.
Baranski was a guest this week on The Late Show with Stephen Colbert and talked about growing up in Buffalo and the pain of being a Bills fan.
But she mentioned the huge win over the New England Patriots this past weekend, and gave a standard Buffalo Bills goodbye on network television!
"Go Bills!"
My favorite part of Colbert taking a step back, because he's definitely way in over his head with all this Buffalo Bills talk, but Baranski didn't hold back and went on about the Bills and Buffalo pride.
Baranski is one of many celebrity Bills fans, like William Fichtner, Wolf Blitzer, Christopher McDonald, and Chad Michael Murray.
Famous People Who Are Bills Fans
57 Fun Facts You Might Not Know About Buffalo
You might know a lot of these, but there is no way you know all 57 things. If you did, I would be impressed.
Here's a list of 57 fun facts that single Buffalo out from the rest of the country.
20 Amazing Old-School Restaurants in Buffalo
The 20 best old-school restaurants and bars in Western New York.
LOOK: The most famous actress born the same year as you
Many of the actresses in this story not only made a name for themselves through their collection of iconic performances, but also through the selfless, philanthropic nature with which many of them approached their stardom. In an age of flipping the script on societal norms, many of these actresses are using their voices and platforms to be advocates for those who are otherwise unheard.
LOOK: The Most Famous Actor Born Every Year