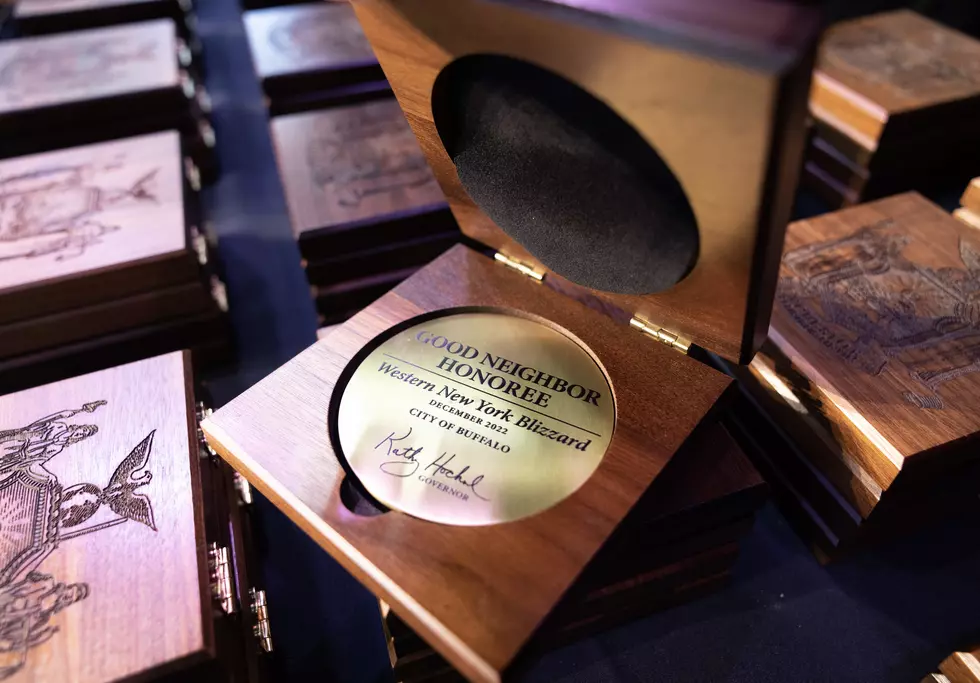 New York State Honors Buffalo Blizzard Heroes
Mike Groll/Office of Governor Kathy Hochul
We're still dealing with the aftermath of the massive winter storm that ravaged large parts of the country and left a tremendous impact on Buffalo and Western New York.
That storm, which was named Winter Storm Elliott in national weather coverage, left more than 60 people dead and caused millions of dollars in damage across the country also left a huge mark on our area. When it was all said and done, the hurricane-force winds that fed the Buffalo Blizzard of 2022 dumped a few feet of snow on Western New York, left thousands without power for several days, and took at least 47 lives in Western New York.
The storm was a tragic reminder of how dangerous winter weather can be, especially for a community that found itself unprepared to deal with the intensity of mother nature.
While the storm left a huge mark on the Buffalo area, there were many instances of extreme heroism that showed itself during the entire storm. For years Buffalo has been called the City of Good Neighbors and this was proven by many people in the area during the storm. So much so that New York Governor Kathy Hochul had a ceremony on the campus of Buffalo State University to highlight the great and positive things that were done by everyday people during the storm.
Today we'll focus on heroism and what that means. What does it mean to be a hero? It means knocked down and get up... So, we talk about those, again, we lost, but the stories of those citizens who did the extraordinary, shared their homes, put themselves in danger, shared a meal...
-Kathy Hochul, Governor of New York State
Governor Hochul, who was joined by Buffalo Mayor Byron Brown, Erie County Executive Mark Poloncarz, and several other officials, handed out awards and honored some of the best people we have in the 716.
Congratulations to all of those who were honored. You can watch the entire ceremony below:
Buffalo Blizzard of 2022
Various Photos from around Buffalo and Western New York during and after Winter Storm Elliott brought a cyclone bomb to the area.
LOOK: The most expensive weather and climate disasters in recent decades
Stacker
ranked the most expensive climate disasters by the billions since 1980 by the total cost of all damages, adjusted for inflation, based on
2021 data from the National Oceanic and Atmospheric Administration (NOAA)
. The list starts with Hurricane Sally, which caused $7.3 billion in damages in 2020, and ends with a devastating 2005 hurricane that caused $170 billion in damage and killed at least 1,833 people. Keep reading to discover the 50 of the most expensive climate disasters in recent decades in the U.S.
People In Buffalo Share Ideas Of How To Be Prepared For The Next Winter Storm
Winter Storm Elliott left a huge mark on Western New York. Various residents of Buffalo, NY, share their ideas of what could be done better next time to make sure things aren't as bad.