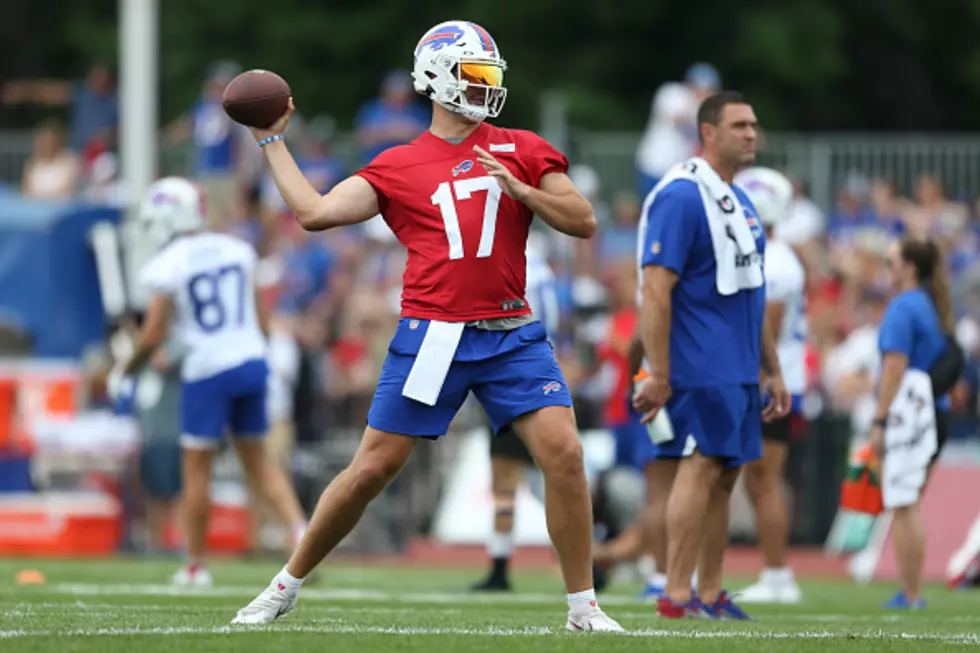 USA TODAY Makes a Bold Prediction on The Buffalo Bills
Getty Images
The Buffalo Bills are on day three of training camp at St. John Fisher University in Rochester.  Today's session is closed off for media video and photos.
The Bills are mostly healthy going into the 2022 season, but eyes are still on cornerback Tre'Davious White and his recovery from a torn ACL back in November. It's still not known whether or not he will be ready by September 8th against the Los Angeles Rams.
The Bills are still the favorites to win the Super Bowl this February, but looking ahead at the schedule and the daunting AFC, it's reasonable to think the Bills won't win more than 12 or 13 games, as great as the roster is -- the AFC is that difficult.
However, don't tell that to the sports predictors at USA TODAY.
On Tuesday, they made their annual prediction of every NFL team's record and they have the Bills finishing with a 15-2 record...yes, 15-2!
There are a couple of things that definitely interest me.
The first is the New England Patriots finishing ahead of the Miami Dolphins in the AFC East. As great as a head coach as Bill Belichick is and as much as they improved last season, I can't see how they end up with a better record than Miami, so while having subpar quarterback play, as a great defense and many offensive weapons (Tyreek Hill, Jaylen Waddle. Mike Gesicki, etc.).
The Cleveland Browns having a 6-11 record would be mildly surprising, but that all depends on how many games starting quarterback Deshaun Watson gets suspended for.
Kadie's Kalendar - 05/27-05/30
How is it already Memorial Day weekend in Buffalo? There are plenty of events going on this weekend in Western New York, and here are just 10 of the things going on.
Von Miller's $4 Million Dollar Mansion Up For Sale
Von Miller has listed his "Club 58" mansion, which is named after the number that he wore while with the Denver Broncos, for $4,125,000 dollars.
Price Drop On Jack Eichel's Former Buffalo Home
Price drops on former Sabres captain Jack Eichel's
Buffalo home
.