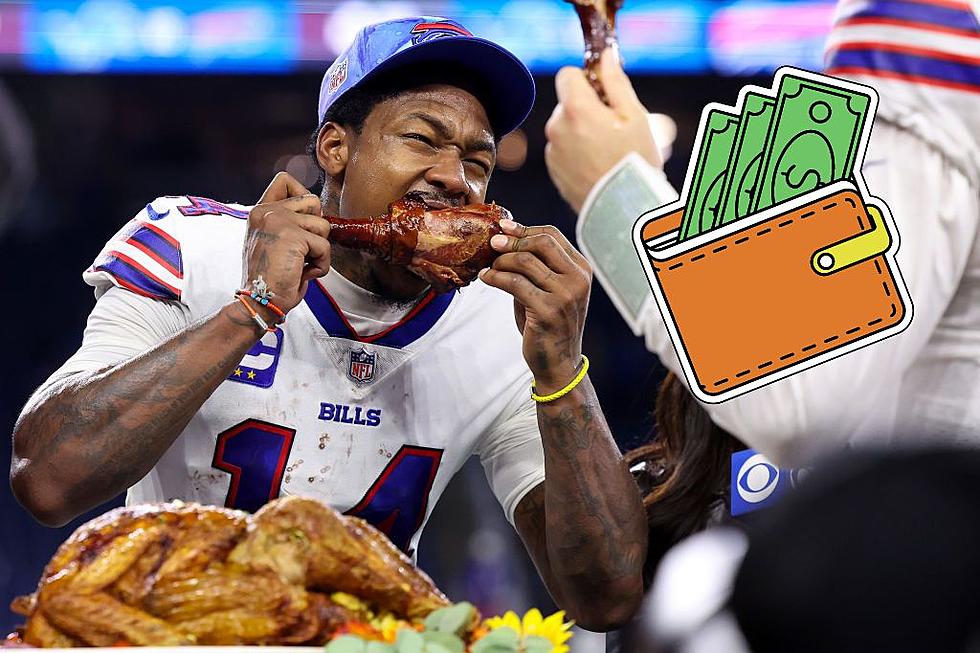 The Buffalo Bills Have Some Of The Most Expensive Food In The NFL
Getty Images / Canva
So many people are beyond excited to get back to football. Now that the NFL is back and football stadiums all over the country are starting to come back to life, there is one thing that we need to make sure we're paying attention to: the cost of attending an NFL game.
Between the price of tickets, parking, and food, it takes nearly a mini fortune to spend the day watching football live at the stadium.
Luckily for us in Buffalo, the Bills have one of the most affordable ticket prices in the entire league. According to Finance Buzz, the Bills have the 4th most affordable tickets among the league's 32 teams. Buffalo sits just behind the Houston Texans, Jacksonville Jaguars, and Detroit Lions.
This of course is a big difference between the teams that are at the top of this list. The Las Vegas Raiders top the league with the most expensive tickets, followed by the New England Patriots, Tampa Bay Buccaneers, and Kansas City Chiefs.
Now while this may sound like great news for the average Buffalo football fan, it's really not. While Buffalo has a very affordable ticket price, there is one category that the Bills are right at the top.
Buffalo Has The 2nd Most Expensive Concession Prices In The NFL
While you can get inside Highmark Stadium for a relatively inexpensive price, the savings stop there. Especially if you're looking to get a glizzy hot dog and a beer.
According to Betting.com, who took a look at the cost of refreshments at all 30 NFL Stadiums, found that Buffalo has the 2nd most expensive costs in the whole league.
If you want to grab 1 hotdog and a beer at Highmark Stadium, it will cost you $18.75, which is just $.25 less than the two most expensive stadiums in the league, SoFi Stadium in Los Angeles and Raymond James Stadium in Tampa Bay. Believe it or not, the most affordable stadium in the league is Mercedes-Benz Stadium in Atlanta.
According to estimates in the survey, they expect the typical game day experience at Highmark Stadium to cost around $136.24 per person.
10 Easy, Make-Ahead Tailgate Recipes For Bills Games
Here are some easy, make-ahead recipes to bring your tailgate party to a new level.
5 Legendary Food Brands From Western New York
Get ready to have some hometown pride as we take a look at these legendary food brands from right here in the good ol' Buffalo area.