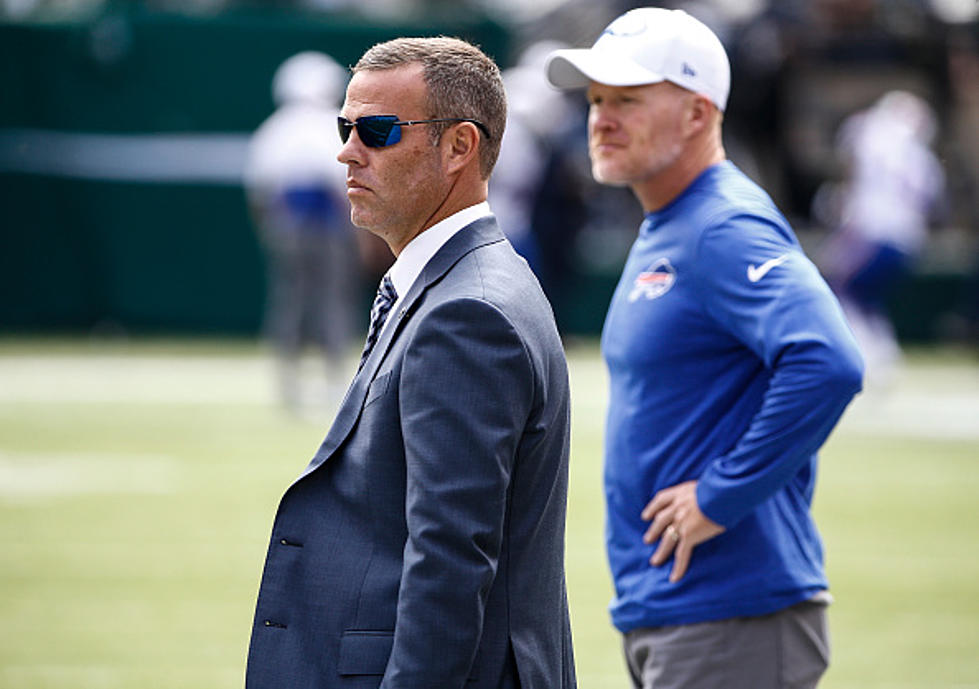 Brandon Beane Emotionally Apologizes To Bills Fans and Buffalo
Getty Images
The past 72 hours has been about as bad a feeling as Bills fans have ever felt. Buffalo sports fans have rarely felt a feeling as bad as the end of Sunday night's AFC Divisional Round game in Kansas City against the Chiefs.
The Bills lost 42-36 in overtime, after seemingly winning the game twice on the back of Josh Allen.
Allen completed 27 of 37 passes for 329 yards and 4 touchdowns, with another 68 yards rushing. He led two touchdown drives at the end of the 4th quarter, both ended with touchdown passes to Gabriel Davis, who caught all four touchdown passes in the game.
Allen had perhaps the best two-game playoff stretch of any QB in NFL history, but because of defense and coaching decisions in thee defensive scheme, the Bills gave up the tying field goal with 13 seconds left, and ultimately lost the game in overtime.
Bills fans are feeling pain and heartbreak, but also a fair share of anger after the way the game ended.
Bills general manager Brandon Beane met with the Buffalo media for the end of season press conference, and Beane started out the press conference with plenty of emotion.
Beane apologized to Bills fans and the City of Buffalo for how the game ended. It was the first thing Beane did.
Beane also said he wants to hug Bills fans after what happened on Sunday night.
Beane added that he hasn't slept much this week, and has not even watched the film of the game, just because it hurts too much.
Beane went on to say that they will learn from the loss and will not be satisfied with how the season ended; but they took a step in the right direction, highlighting the fact the game on Sunday could have gone either way, and last year the Chiefs basically ran away with the game.
Beane talked about the 2021 rookie class in detail and the fact that he is excited about the off-season, which will give them a chance to make the roster even better.
Have These Free Agents Played Their Last Game As Bills?
11 Pictures of Why We Love Josh Allen
The Buffalo Bills 2022 Opponents
The Buffalo Bills 2022 opponents are officially set.
LOOK: 50 famous memes and what they mean
With the infinite number of memes scattered across the internet, it's hard to keep track. Just when you've grasped the meaning of one hilarious meme, it has already become old news and replaced by something equally as enigmatic. Online forums like Tumblr, Twitter, 4chan, and Reddit are responsible for a majority of meme infections, and with the constant posting and sharing, finding the source of an original meme is easier said than done. Stacker hunted through internet resources, pop culture publications, and databases like
Know Your Meme
to find 50 different memes and what they mean. While the almost self-replicating nature of these vague symbols can get exhausting, memes in their essence can also bring people closer together—as long as they have internet access.
LOOK: Things from the year you were born that don't exist anymore
The iconic (and at times silly) toys, technologies, and electronics have been usurped since their grand entrance, either by advances in technology or breakthroughs in common sense.
See how many things on this list
trigger childhood memories—and which ones were here and gone so fast you missed them entirely.
50 Most Popular Chain Restaurants in America
YouGov investigated the most popular dining brands in the country, and Stacker compiled the list to give readers context on the findings. Read on to look through America's vast and divergent variety of restaurants—maybe you'll even find a favorite or two.
LOOK: Best Beers From Every State
To find the best beer in each state and Washington D.C., Stacker
analyzed January 2020 data from BeerAdvocate
, a website that gathers user scores for beer in real-time. BeerAdvocate makes its determinations by compiling consumer ratings for all 50 states and Washington D.C. and applying a weighted rank to each. The weighted rank pulls the beer toward the list's average based on the number of ratings it has and aims to allow lesser-known beers to increase in rank. Only beers with at least 10 rankings to be considered; we took it a step further to only include beers with at least 100 user rankings in our gallery. Keep reading to find out what the best beer is in each of the 50 states and Washington D.C.
LOOK: Here is the richest town in each state
Just saying the names of these towns immediately conjures up images of grand mansions, luxury cars, and ritzy restaurants. Read on to see which town in your home state took the title of the richest location and which place had the highest median income in the country. Who knows—your hometown might even be on this list.
RANKED: Here Are the 63 Smartest Dog Breeds
Does your loyal pup's breed make the list? Read on to see if you'll be bragging to the neighbors about your dog's intellectual prowess the next time you take your fur baby out for a walk. Don't worry: Even if your dog's breed doesn't land on the list, that doesn't mean he's not a good boy--some traits simply can't be measured.
LOOK: Here are the best lake towns to live in
Many of the included towns jump out at the casual observer as popular summer-rental spots--the Ozarks' Branson, Missouri, or Arizona's Lake Havasu--it might surprise you to dive deeper into some quality-of-life offerings beyond the beach and vacation homes. You'll likely pick up some knowledge from a wide range of Americana: one of the last remaining 1950s-style drive-ins in the Midwest; a Florida town that started as a Civil War veteran retirement area; an island boasting some of the country's top public schools and wealth-earners right in the middle of a lake between Seattle and Bellevue; and even a California town containing much more than Johnny Cash's prison blues.