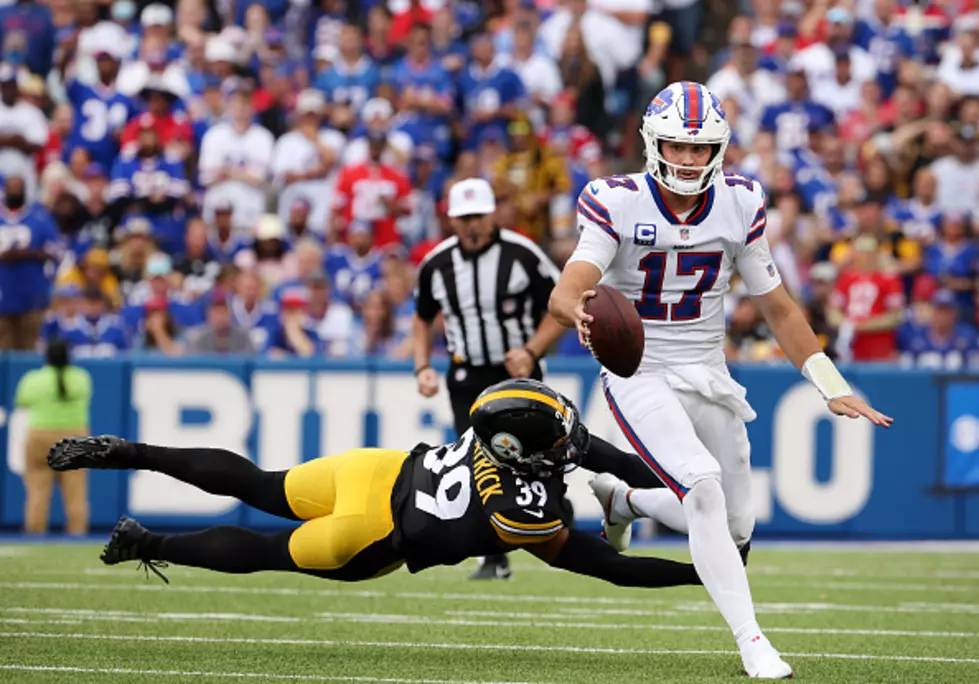 The Bills Are Ridiculous Favorites Over the Steelers on Sunday
Getty Images
The Buffalo Bills are 3-1 after their comeback win over the Baltimore Ravens on Sunday, 23-20.
The 17-point comeback was the second time the Ravens have given up a lead of at least that many points in three weeks, as the Miami Dolphins had a crazy second-half comeback in week 2 as well.
The Bills have dealt with a ton of adversity in the last two weeks, with mounting injuries to key players, along with having to overcome a 17-point deficit on the road against Lamar Jackson.
The Bills appear to be slowly getting healthier, however, and the experts in Las Vegas are expecting them to be a dominate team against the Pittsburgh Steelers in week 5.
The Bills have opened up as 14-point favorites against the Steelers at home on Sunday.
The Steelers are 1-3 after their loss to thee New York Jets yesterday. They pulled quarterback Mitch Trubisky for rookie Kenny Pickett and while Pickett being inserted is not a shock, it's likely he starts for the Steelers at Buffalo and that's a brutal first career start. Against a Leslie Frazier defense on the road in Orchard Park.
Star edge rusher T.J. Watt is also still out with a torn pectoral muscle and the Steelers offense has looked abysmal for the most part.
What's amazing is that the Bills and Steelers will get CBS' top crew on Sunday, as Jim Nantz and Tony Romo will be calling the came at Highmark Stadium.
16 Buffalo Bills With Some Of The Best And Worst Nicknames
The Top 30 Beef on Weck Restaurants In WNY
The 30 best places for beef on weck in Western New York.
35 Celebrities You Did Not Know Are At Chef's
Did you know these 35 celebrities are on the wall at Chef's Restaurant?