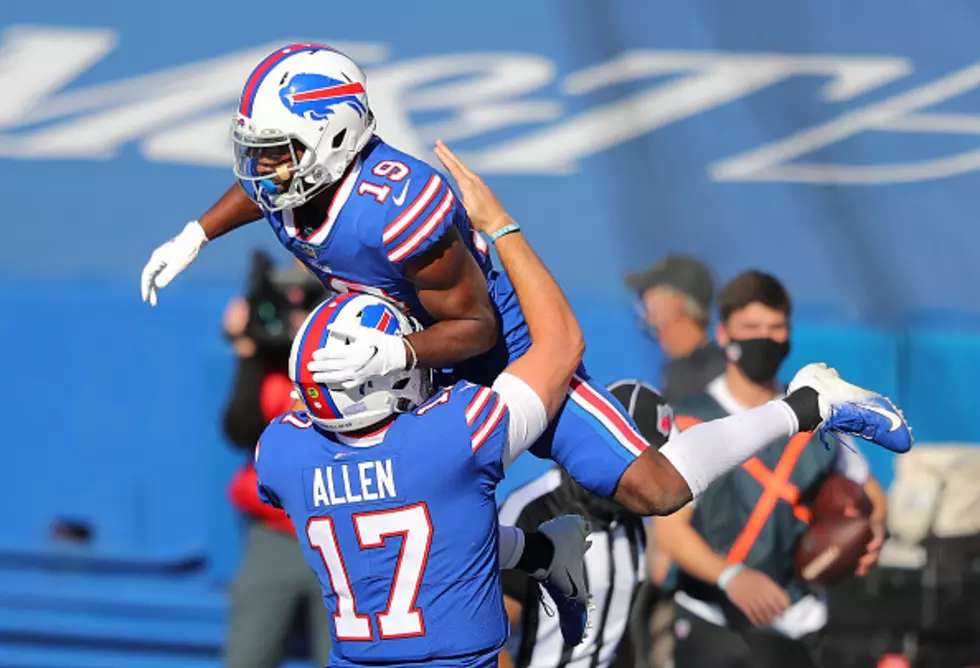 Bills Players Sing Backstreet Boys Song in Hilarious Locker Room Video
Getty Images
The Buffalo Bills are in the midst of their 2022 regular season, as they prepare to play the Baltimore Ravens this Sunday at 1 pm.
The Bills sit at 2-1 -- a half-game back of the Miami Dolphins who lost against the Cincinnati Bengals on Thursday Night Football.
The Bills have been a pleasure to watch on the field since 2019 and while they have brought joy to Western New York residents on the field because of winning, they are also a joy to watch off-the-field.
There has not been a more beloved Bills team than this one, or at least not in a very long time. Even back in the early '90s the Bills had off-the-field drama, which gave them the nickname "the bickering Bills," but the likes of Josh Allen, Stefon Diggs, Dion Dawkins, Tre'Davious White, Isaiah McKenzie, Gabriel Davis, Dawson Knox, Micah Hyde and Jordan Poyer have been a blessing for the region.
A video is making the rounds on social media today, which shows a few of the Bills players singing "I Want It That Way" by the Backstreet Boys in the locker room.
Dion Dawkins, Isaiah McKenzie, among others sing along and announce their quarterback as a special guest. They try and force Allen to sing along by putting the microphone up to him but he doesn't bite.
This is hilarious. Video courtesy of Dion Dawkins' Instagram story.
The choreography is phenomenal.
This team is very easy to root for. You can tell they love one another and that's so endearing to the entire region.
Complete List Of Buffalo Bills Available On Cameo
15 Things You Should Never Do at a Bills Home Game
Things that are a no-no to do at a Buffalo Bills home game.
25 Things You Need To Do in Buffalo This 2022 Fall Season
The best 25 things to do in Western New York this 2022 fall season.