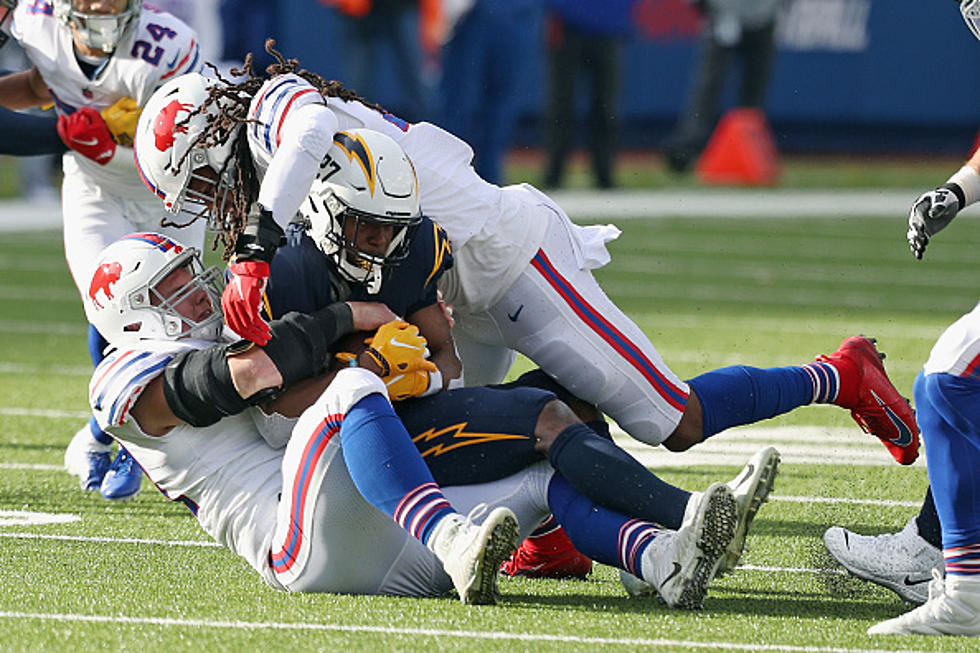 Bills Lose Important Defensive Lineman For The Season
Getty Images
The Buffalo Bills are preparing for their matchup with the New York Jets on Sunday at MetLife Stadium, which will be this season's first matchup with the Jets.
It's been a rough week for the Bills as they try and erase the memory of what happened this past Sunday against the Jacksonville Jaguars, which might have been the most brutal loss under head coach Sean McDermott, although the Los Angeles Chargers and New Orleans Saints games from 2017 have something to say about that.
The Bills are also dealing with a list of injuries, and one of those injuries had landed one of their key defensive lineman on the season-ending injured reserve list.
Defensive tackle Justin Zimmer, who has been dealing with a knee injury, will have season-ending surgery.
The Bills have also signed cornerback Cam Lewis from the practice squad. Cornerback Taron Johnson and safety Jaquan Johnson were both limited at practice on Wednesday.
Quarterback Davis Webb was elevated from the practice squad, and both practice squad quarterback Jake Fromm and wide receiver Tanner Gentry were activated off the reserve-COVID list.
Zimmer has played extremely well over the past two seasons, as he rotated in for Star Lotuleli and Ed Oliver. It's a blow to lose him for the rest of the season, and leaves the Bills thinner on the inside part of the defensive line.
This means that Harrison Phillips and Vernon Butler will be next up to fill in at defensive tackle when Star and Oliver cannot be in there.
Top 10 Running Back In Buffalo Bills History
As we get ready for another season of Buffalo Bills football, check out the Top 10 running backis in Bills history.
Top 10 Receivers In Buffalo Bills History
The Bills have had some amazing wideouts. Here are the Top 10 based on reception yards in Bills history.
Check Out The 11 Most Underrated Bills Defensive Players In The Past 30 Years
I wanted to comb past the amazing defenses the Bills have had over the past 30 years and put the spotlight on some stellar role players who help lead the team to the playoffs and beyond. We are talking about players that maybe didn't get lots of love from the National media or made tons of Pro bowls, but we were still proud that they were part of the team.
Check Out The 11 Most Underrated Bills Offensive Players In The Past 30 Years
The Buffalo Bills have has some amazing players over the years. We all know the superstars so we wanted to put the role players in the spotlight with this list.
25 Important Things You Need To Bring To Your Tailgate