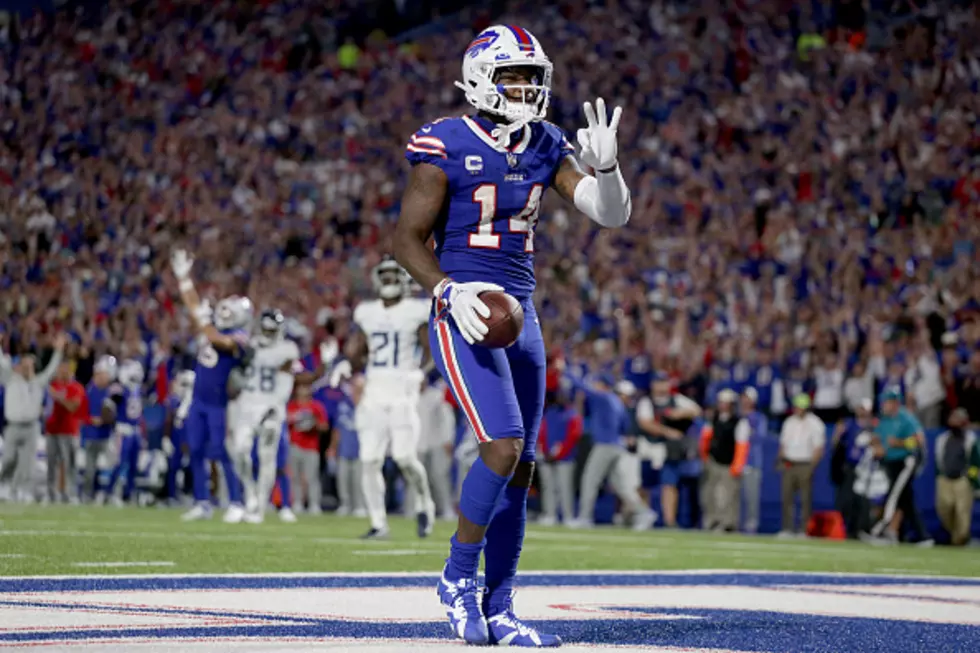 The Buffalo Bills Dominate The Tennessee Titans on National TV
Getty Images
The Buffalo Bills went into their week 2 game against the Tennessee Titans as heavy favorites, but they were dealing with some key injuries to players on defense, including one on offense.
Defensive tackles Ed Oliver and Tim Settle did not play because of leg injuries, while wide receiver Gabe Davis missed because of a sprained ankle he suffered on Saturday.
In the end, those injuries didn't matter. The Bills dominated the Titans, winning by a score of 41-7.
What's amazing is this is the Bills 20th win in a row by double digits, which is the first time a team has done that since the 1941-1942 Chicago Bears, according to Chris Brown of the Bills.
The first half of the game had moments where it appeared the Titans would slow the game down and keep it close (first half riddled by penalties), but the Bills exploded on offense in the third quarter, scoring 24 points.
Bills quarterback Josh Allen completed 26 of 38 passes, for 317 yards and four touchdowns. He was pulled at the end of the third quarter for backup Case Keenum.
The biggest story on offense was wide receiver Stefon Diggs, who caught 12 passes for 148 yards and three touchdowns -- one of which was a 46-yard bomb from Allen.
The Titans defense was playing young cornerbacks and often left Diggs alone on an island, which did not help the Titans in the end.
Tennessee pulled starting quarterback Ryan Tannehill in the third quarter for rookie Malik Willis. It may have been Tannehill's worst game as a Titans quarterback.
A scary moment game in the second quarter, as Bills cornerback Dane Jackson was hurt when teammate Tremaine Edmunds collided on a tackle and Jackson's head and neck was bent back.
Jackson was taken by ambulance to ECMC for X-rays and a CT scan but the Bills say he had full movement in is extremities. There's no further update on Jackson's condition at the moment but we hope to get one from head coach Sean McDermott in postgame and tomorrow.
The Bills also lost safety Micah Hyde with a neck injury, and linebacker Matt Milano and defensive tackle Jordan Phillips left with a hamstring injury. Hopefully, those are all not serious and just a precaution with the game in hand by the time the Bills reported the injuries.
The Bills will next play at the Miami Dolphins and quarterback Tua Tagovailoa, who are also 2-0 after a huge comeback win over the Baltimore Ravens.
The Dolphins are being talked about as a playoff team and with the Bills an absolute buzz-saw on offense and defense, this should be the matchup of the week in the NFL.
Complete List Of Buffalo Bills Available On Cameo
The Top 40 Pizza Places in Western New York
The best pizza spots in Buffalo!