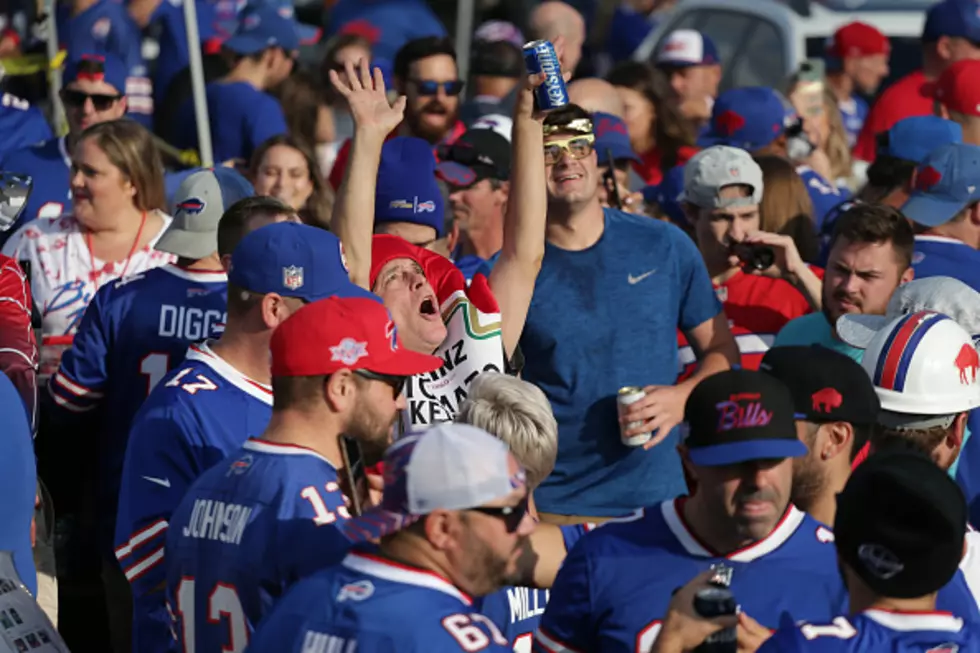 Sabres' Alex Tuch Starts Bills "Shout Song" at Tailgate [VIDEO]
Getty Images
The Buffalo Bills silenced any few (and I do mean few) critics that may be out there, as they destroyed the Tennessee Titans by a score of 41-7 on Monday Night Football.
The offense and defense started a bit shaky in the first part of the first quarter but played much better in the second quarter and then the floodgates opened in the third quarter, as the Bills offense scored 24 points.
The party before the game lasted from noon to kickoff and it also included one of the stars on the Buffalo Sabres.
Sabres forward Alex Tuch, who grew up near Syracuse as a Sabres and Bills fan, attended the Bills home opener and posted a video on his Instagram of him starting the Bills "Shout Song" as he was going into the gates with the rest of Bills Mafia.
I love how Tuch went into the game as a fan. He didn't ask for a special pass or credential. He didn't get there early. He went to the game as a regular fan and got the full experience with Bills Mafia.
Tuch loves everything about Buffalo and he is perfect for this team and community.
The 2-0 Bills will not play the 2-0 Miami Dolphins in what might be the best game on the docket for week 3 in the NFL. Kickoff will be at 1 pm in Miami at Hard Rock Stadium.
The Bills lost cornerback Dane Jackson and Micah Hyde during the game, both with neck injuries.
Jackson was taken by ambulance to ECMC for X-rays and a CT scan but according to head coach Sean McDermott, Jackson has full movement in his extremities.
Buffalo Bills Players Who Had Their Own Cereals
Today is a breakfast lover's dream it is National Cereal Day and if you want to celebrate with some Buffalo Bills players, you will have plenty of choices.
Complete List Of Buffalo Bills Available On Cameo
Top 50 Summer Restaurants in Buffalo and Western New York
Check out some of the best spots for food and drinks this spring and summer across Western New York!