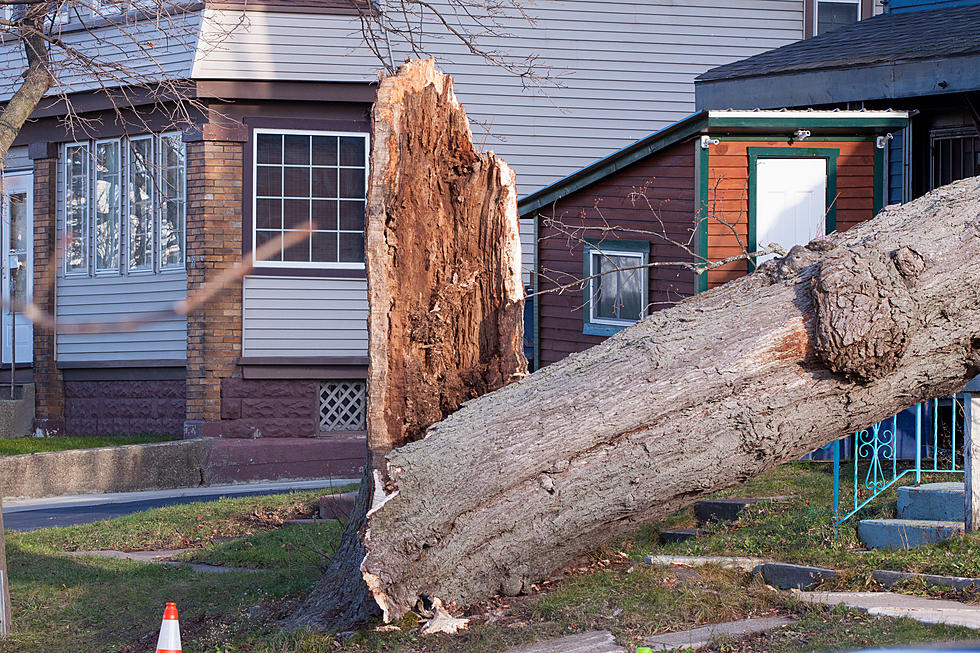 Windstorm Blows In To Buffalo and Wreaks Havoc Across WNY
Ed Nice Jackson / Townsquare Media
Rain with record Warm temperatures was quickly followed by falling temperatures and extremely high wind gusts made for a wild weather ride in Western New York over the last day or so.
According to the National Weather Service, the wind gusts on Saturday, December 11, 2021, peaked at 78 MPH in Hamburg with high winds causing all sorts of damage across the region. The strong winds also caused Lake Erie to surge more than 7 feet above its normal level.
Waves larger than 20 feet battered the Lake Erie shoreline for hours. This has resulted in multiple parks and beings being closed throughout the area, including the Bird Island Pier and LaSalle Park.
In addition to more than 50 emergency calls for downed trees in Buffalo, the windstorm also knocked out power to almost 90,000 people across Western New York that kept crews from National Grid and New York State Electric and Gas busy throughout the night.
New York Governor Kathy Hochul held a press conference in Hamburg, New York to discuss how New York State is going to help those who have been negatively by the storm.
Last night, hundreds of thousands of New Yorkers lost power as a severe weather system swept across the State, bringing hurricane-force winds to several places, especially in Western New York... Thanks to the collaborative efforts of State and local emergency managers and the hard work of utility crews from both the State and several out-of-state locations, more than half of those affected by outages have since been restored. We will keep working to ensure everyone in the affected by this weather system, which caused death and wreaked havoc in other parts of the country this week, will be assisted as soon as possible.
-Kathy Hochul, Governor of New York State
The New York State Department of Public Service is making water and dry ice available to people who have lost power. If you have been impacted, you can visit one of the following locations below for assistance:
JFK Community Center, 114 Hickory Street Buffalo, NY 14204
City of Batavia Fire Department, 18 Evans Street, Batavia, NY 14020
Murphy Training Center, 665 Brigham Road, Dunkirk, NY 14048
Oswego Fire Dept (back parking lot), 35 East Seneca Street, Oswego NY 13126
Jefferson County, Watertown CitiBus Garage, 544 Newell St, Watertown, NY 13601
Western New York Windstorm Storm Damage
A dangerous windstorm blew into Western New York on Saturday, December 11, 2021, and caused significant damage throughout Buffalo and Western New York.
9 Things Every Western New Yorker Needs to Survive Winter
The Most Buffalo Sentence Ever
The 6 Good Neighborhoods of Buffalo
Check out the six good neighborhoods of Buffalo, according to one Western New Yorker.
The Worst Neighborhoods of Buffalo, NY
Check out the neighborhoods that have been deemed the worst in Buffalo, according to one reviewer on Reddit.