Tracy Morgan Leaves Rehab And Sues Walmart Over Crash
Theo Wargo, Getty Images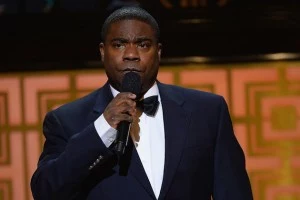 Funny man Tracy Morgan is doing better and is looking to make a full recovery.
A spokesman, Lewis Kay, said on Saturday that the former Saturday Night Live and 30 Rock star will continue his recovery efforts at home, with an "aggressive outpatient programme".
We all know Mr. Morgan was injured last month after his limo bus was in a car accident on the New Jersey turnpike. Morgan suffered a broken leg and broken ribs. The wreck also killed 62-year-old comedian James McNair, who went by the name Jimmy Mack. Comedian Ardley Fuqua and another passenger, Jeffrey Millea, were injured.
Well it turns out the known funny man can get serious when need be, word is he is suing Walmart.
 On Thursday, lawyers for Morgan filed a lawsuit against Walmart in US district court in New Jersey, claiming the retailer was negligent when a driver of one of its tractor-trailers rammed into Morgan's limousine van on the New Jersey Turnpike.
The lawsuit, filed on Thursday in US district court in New Jersey, claims the retail giant should have known its driver had been awake for more than 24 hours, and that his commute of 700 miles from his home in Georgia to work in Delaware was "unreasonable". It also alleges the driver fell asleep at the wheel.
"As a result of Walmart's gross, reckless, wilful, wanton, and intentional conduct, it should be appropriately punished with the imposition of punitive damages," according to the complaint.
I for one, think all the victims involved should be compensated for their injuries. Too often companies push their workers to the limit for the all mighty dollar and someone has to be held responsible for this. I also hope this makes Walmart and other companies change their policies on some of these drivers so this type of tragedy never happens again.
Also stay connected with me @steelboutmoney