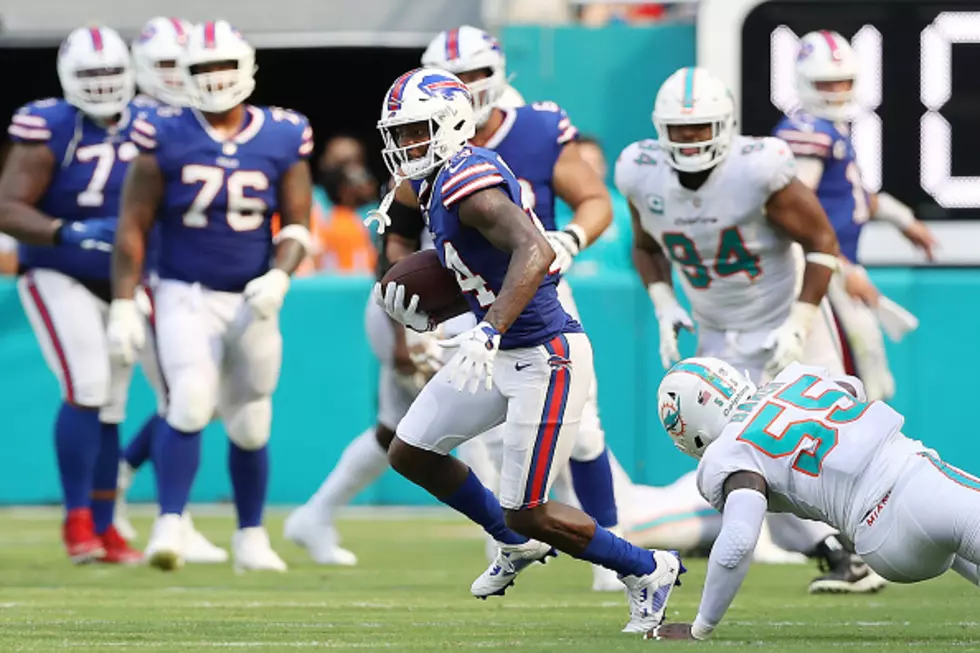 Stefon Diggs Has Shocking Details of What He Went Though in Miami
Getty Images
We're still digesting the aftermath of the Buffalo Bills week 3 loss in Miami against the Dolphins.
It says a lot about how good the Bills are that they had 15 players in total miss the game or leave during the game and still should have won the game, outgaining the Dolphins by nearly 300 yards.
The heat was a huge factor.
We've seen the Bills play in 90-degree heat in South Florida, but we have never seen so many players cramp up and leave the game, some due to a heat illness, like right tackle Spencer Brown.
Wide receiver Stefon Diggs was one of the Bills players who left the game for different plays due to cramping.
Diggs was a guest on The Dan Le Batard Show with Stugotz on Tuesday and shared what his body was going through in the game against Miami.
Diggs said that he had "full body cramps," which included his hamstrings, quads, arms and stomach.
He also had to get IV's into both of his arms due to the heat and loss of fluids.
Diggs said that he has "never been that tired in my life," for any football game.
Getting an IV for a game isn't common but has happened, but IV's in both arms is pretty wild; along with that much cramping for a player who is one of most physically fit in the league. Isaiah McKenzie also had cramping issues during the game, as well as Dolphins cornerback Xavien Howard.
The Bills sideline was completely exposed to the sun and could not use cooling fans because the Dolphins chose not to. Miami's sideline was mostly in the shade, just based off the stadium layout at Hard Rock, which Diggs mentioned.
The weather did play a factor into the game.
6 Buffalo Bills Greats That Didn't Look Right In A Different Uniform
Unfortunately, sometimes your favorite player leaves your team and when you see them it just looks weird. Here are five former Buffalo Bill greats that just look weird wearing a different team's jersey.
Here Are The Buffalo Bills' Toughest Heartbreaking Losses
Here in Buffalo, we know what a heart-breaking loss means.
The Top 30 Beef on Weck Restaurants In WNY
The 30 best places for beef on weck in Western New York.