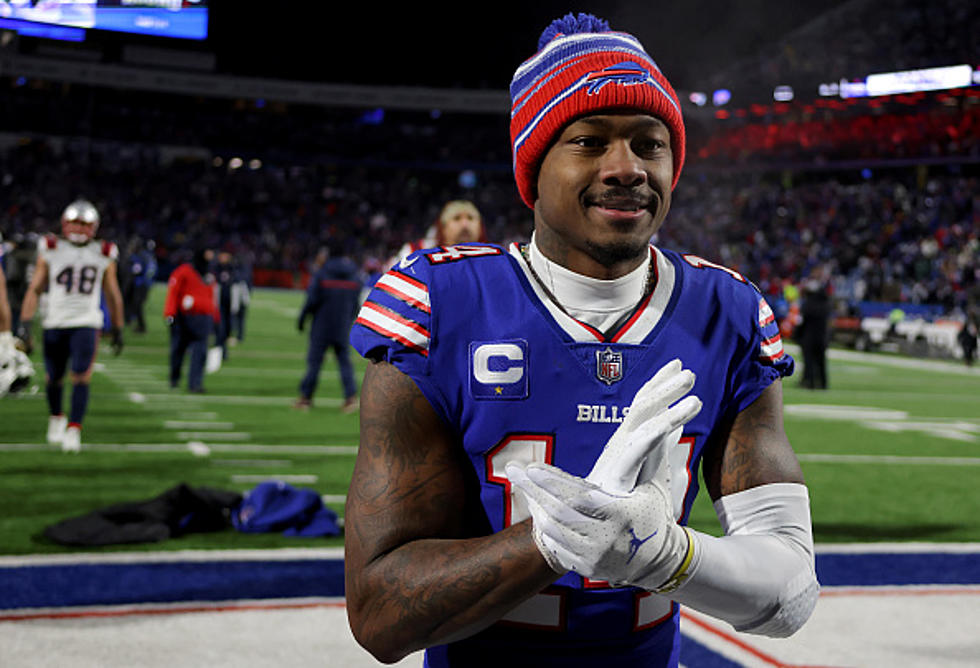 Stefon Diggs 'Girl Scout Cookies' Photo Goes Viral [TWEET]
Getty Images
The Buffalo Bills and Kansas City Chiefs will kick off just over 24 hours from now and it's without a doubt, the most anticipated playoff game of the NFL postseason thus far.
Josh Allen against Patrick Mahomes with two of the top offenses in the entire NFL, and both teams had dominated performances in their Wild Card games.
The non-division rivalry between the Bills and Chiefs has grown in the last calendar year, and it reminds people of the Brady-Patriots/Manning-Colts rivalry for many years. Allen and Mahomes are the two best young quarterbacks in the league.
The Bills traveled today to Kansas City for tomorrow's AFC Divisional Round game, and Bills star wide receiver Stefon Diggs decided to make a statement with one of the best cookie flavors of all-time.
Diggs was captured on photo by the Bills heading to the team plane for Kansas City, but Katherine Fitzgerald of The Buffalo News noticed what Diggs was holding in the photo.
Diggs was carrying a box of Girl Scout Cookies to the team plane, but not just any flavor of Girl Scout Cookies, the criminally underrated Samoas flavor.
The thin mints get all the love when it comes to Girl Scout cookies, but the Samoas are definitely right there for the best flavor.
People took notice in the thread.
Diggs hopes to avenge last year's heartbreaking AFC Championship loss, and the now famous photo of Diggs being the last player left on the field for the Bills watching the Chiefs celebrate.
Kickoff is tomorrow at 6:30 pm on CBS.
8 Remaining QBs Ranked in 2022 NFL Playoffs
Here are the QB rankings as per Cody Benjamin:
Best 20 Bars in Western New York to Watch The Bills' Playoffs Games
If you're looking for the best place to watch the Bills' journey through the playoffs, look no further than this list of the best 20 bars in Western New York that always make Bills game day extra special.
The Buffalo Bills 2022 Opponents
The Buffalo Bills 2022 opponents are officially set.
Last Time The Bills Won The AFC East At Home
LOOK: 50 famous memes and what they mean
With the infinite number of memes scattered across the internet, it's hard to keep track. Just when you've grasped the meaning of one hilarious meme, it has already become old news and replaced by something equally as enigmatic. Online forums like Tumblr, Twitter, 4chan, and Reddit are responsible for a majority of meme infections, and with the constant posting and sharing, finding the source of an original meme is easier said than done. Stacker hunted through internet resources, pop culture publications, and databases like
Know Your Meme
to find 50 different memes and what they mean. While the almost self-replicating nature of these vague symbols can get exhausting, memes in their essence can also bring people closer together—as long as they have internet access.
LOOK: Things from the year you were born that don't exist anymore
The iconic (and at times silly) toys, technologies, and electronics have been usurped since their grand entrance, either by advances in technology or breakthroughs in common sense.
See how many things on this list
trigger childhood memories—and which ones were here and gone so fast you missed them entirely.
RANKED: Here Are the 63 Smartest Dog Breeds
Does your loyal pup's breed make the list? Read on to see if you'll be bragging to the neighbors about your dog's intellectual prowess the next time you take your fur baby out for a walk. Don't worry: Even if your dog's breed doesn't land on the list, that doesn't mean he's not a good boy--some traits simply can't be measured.
50 Most Popular Chain Restaurants in America
YouGov investigated the most popular dining brands in the country, and Stacker compiled the list to give readers context on the findings. Read on to look through America's vast and divergent variety of restaurants—maybe you'll even find a favorite or two.
LOOK: Best Beers From Every State
To find the best beer in each state and Washington D.C., Stacker
analyzed January 2020 data from BeerAdvocate
, a website that gathers user scores for beer in real-time. BeerAdvocate makes its determinations by compiling consumer ratings for all 50 states and Washington D.C. and applying a weighted rank to each. The weighted rank pulls the beer toward the list's average based on the number of ratings it has and aims to allow lesser-known beers to increase in rank. Only beers with at least 10 rankings to be considered; we took it a step further to only include beers with at least 100 user rankings in our gallery. Keep reading to find out what the best beer is in each of the 50 states and Washington D.C.
See How School Cafeteria Meals Have Changed Over the Past 100 Years
Using government and news reports,
Stacker
has traced the history of cafeteria meals from their inception to the present day, with data from news and government reports. Read on to see how various legal acts, food trends, and budget cuts have changed what kids are getting on their trays.