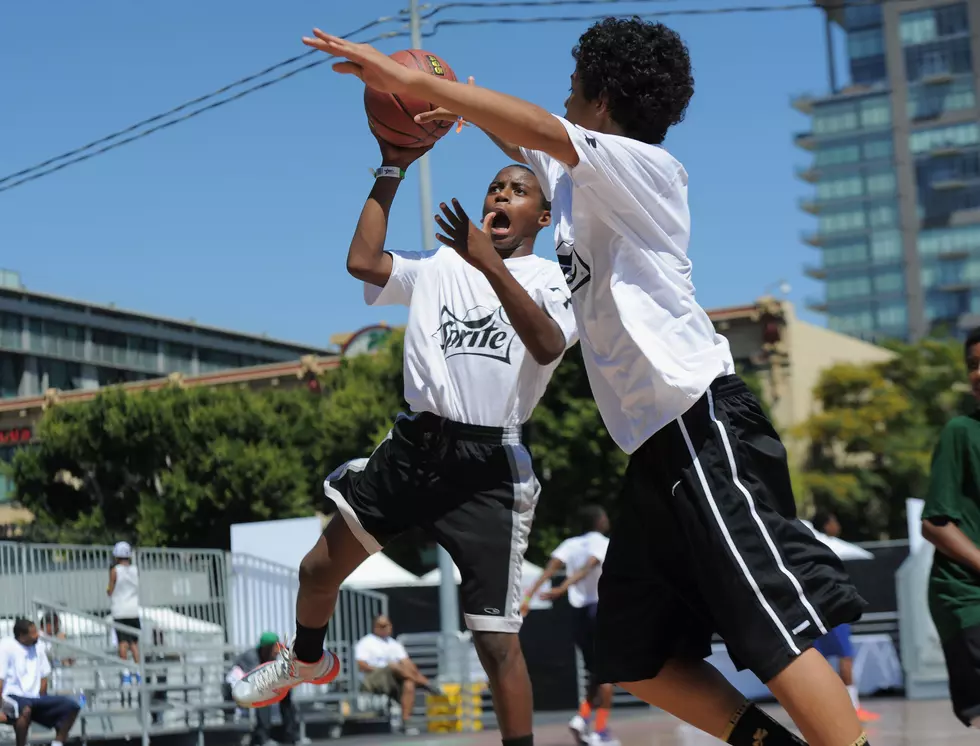 Should Basketball Courts Re-Open in Delaware Park?
Getty Images for BET
According to WGRZ News, there is a local group advocating for the re-opening of the Delaware Park Basketball Courts.  The effort, according to the WGRZ report, is being referred to as the  "Open Up the Courts Rally."
Enter your number to get our free mobile app
I have to say that upon watching the WGRZ News Video Report, I'm scratching my head.  I'm somewhat at a loss as to why the adults and or other advocacy groups may be in favor of opening up the courts at Delaware Park. Jim Ostrowski, an attorney, and former coach. said  this, according to the WGRZ report:
"Stop the madness and open up the basketball courts."   
The bars and restaurants are open, but the ball courts are closed. The restaurants are open where young people are working in hot stuffy kitchens all day long with a mask, and they can't even come out here and play basketball when they're done."
The WGRZ article also mentions that Phase 3 in New York State made provisions for baseball, softball, gymnastics, cross country, and more.   I'm not certain how a physical 'contact sport', such as basketball, in any way, shape, or form, is equivalent to baseball, gymnastics, or cross-country.  There was also a reference in the WGRZ article regarding young people working in hot stuffy kitchens...implying that it's  'being allowed'.  Well, working in a hot stuffy kitchen does not include any constant physical contact.  I'm not understanding how the attorney or any advocates of the basketball courts opening makes sense when across the country, over this past weekend, there are many areas of the country reporting an increase in coronavirus cases.  Do the advocates of opening up the courts at Delaware Park disbelieve that the virus is still an issue?
The WGRZ Report also quotes Valentino Dixon, an artist, and criminal justice reform advocate, as saying this,
"This is the favorite sport of a lot of African American youth. You've got golfing over here. People are riding their bikes. They're jogging. You have the tennis courts open throughout the city but no basketball rims. All of them are ripped down and torn down."
...but again, golf, jogging, and tennis are not contact t sports.  I'm at loss.  Why put African-American youth or any other racer of people, young or older, at risk for contracting the coronavirus simply because it's anyone's favorite sport?   I think it's an irresponsible decision to open any basketball courts.  The debate extends to the claim that there are courts open in the suburbs.  Again, I deem that a mistake.
The University at Buffalo Chief of Infectious Diseases, Dr. Thomas Russo told WGRZ:
"I think the pluses are that it's an outdoor activity and we know that the coronavirus is less infectious outside because it gets readily dispersed in a larger air volume."
"People running up and down the court, breathing heavily, and likely to be in close quarters for a long period of time is gonna certainly increase their risk of getting infected."
Michael Finn, the Buffalo Commissioner of Public Works. offered this comment, according to the WGRZ article:
"Basketball was listed as a high risk for the transmission of COVID-19 by NYS in the recently released guidelines on recreational activities. Limited basketball activities, mainly individual practice and drills, were listed as acceptable however those activities aren't consistent with the typical use of the City basketball courts. The City remains committed to opening recreational activities as they are able to be done safely, however, given that basketball is listed as high risk, the City will be maintaining basketball courts closed until such time as it is is safe to open them for the use that the City typically experiences."
I'm of the opinion that the City of Buffalo 'playing it safe' is a very smart decision, rather than experiment and have a young person contract the virus and take it home to expose someone who is older, or has a condition that makes them more susceptible to infection.,
"Maybe some precautions can be made. There's not even a discussion."
The only discussion or precautions I can think of, with respect to the very competitive and physical game of basketball, would be to restrict gameplay to a game of H.O.R.S.E...but who is willing to be stationed at Delaware park all day to enforce that?
Top 7 Phrases You Hope You'll Never Hear Again After The Pandemic
READ MORE: 10 free apps to help you get fit in our new normal