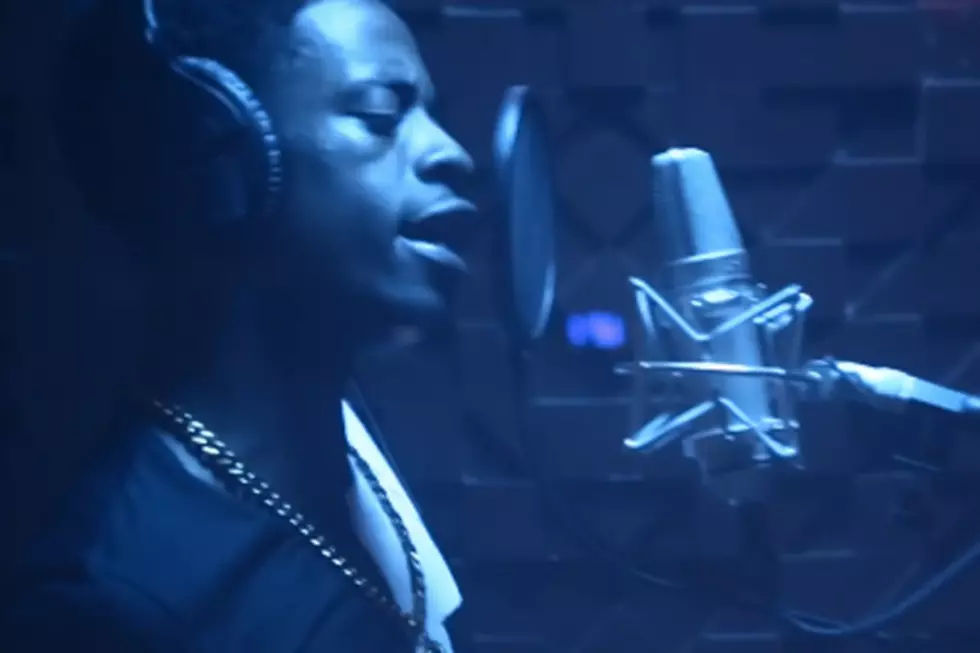 Rich Homie Quan Says 'No More' Mixtapes, Talks New LP & Collab Wish List [Exclusive Interview]
YouTube
Last month (Nov. 25), Rich Homie Quan found himself at Decatur's South DeKalb Mall -- just a few miles from his native East Atlanta -- to kick off his Feed the Streets campaign at "cool kid" store DTLR.
As local teens flocked to the front of the line, stealing glances of the city's newest hitmaker, members of Quan's promotional team prepped posters and gathered turkeys for waiting fans. They had no idea that this project he's promoting will be his third and final mixtape. "This the end of mixtapes, period," he tells The Boombox. "This my last mixtape. That's why it's so long, 'I Promise I Will Never Stop Going In.' Last mixtape ever. I ain't dropping no more."
That's a bold statement in a time where artists release tapes every month in an attempt to keep their names hot in the streets between albums. That's a concern for later though. Today, Quan is busy keeping fans happy.
The 24-year-old sits at the center of the bustling store wearing a toothy grin, diligently flicking his signature on matte posters. A couple tracks from the new tape, 'I Promise I WilI Never Stop Going In,' are being played in the background. They sound similar to Quan's previous work, but there's fresh production for a slightly different feel. "I don't wanna fix it, if it's not broke," he says later with a shrug.
While 'Type of Way' was one of 2013's biggest hits, can the T.I.G. signee do it again? "We had 'Type of Way' moving," Quan states. "So everybody was expecting a good mixtape, but for me, I always drop new music so it was nothing I had a problem with."
"Good music is just something that'll always happen," he says matter-of-factly. "But the type of stuff that was happening in my life? 'Type of Way' was taking off and I started seeing some things happen in my life that I hadn't seen before. So I'm talking about that on there and how much fun I'm having."
Watch Rich Homie Quan's 'Type of Way' Video
With so much attention on this newcomer's work, there's talk of whether or not he's officially signed to a major label deal -- there's no way he hasn't been toying with possible options over the past year. However, the southern rhymer isn't revealing any commitments at the moment.
So is Quan pleased with the ride so far? "Yes," he admits with a laugh. "You gotta keep your excitement up. It just goes to show you... Like, my last mixtape was more emotional, 'cause I was going through a lot then, but this mixtape is a lot more fun and the energy's crazy on there."
The 24-year-old rapper says that in recording the mixtape, the vibe of the studio sessions was strictly work. Yet that doesn't mean he didn't have a good time while in the booth. "When I did 'What Would You Do' at Patchwerk [that was one of my favorite sessions]," he shares. "Probably because the song was something everybody can relate to. That's the one that sticks out the most but my favorite is the first song, 'They Don't Know,' because it just sets up the whole tape."
Listen to Rich Homie Quan's 'They Don't Know'
Although his latest project has only been out for a few weeks, the 'Type of Way' creator says that he's already on to the next -- signed or not. There's no title or set features for his debut album because it's still very early. However, Quan has a sizable amount already knocked out. "I'm like, 40 percent done," he reveals. "And I'm trying to have over 150 percent worth of songs to pick from so I know that it makes sense."
Quan rattles off a long list of names that he wouldn't hesitate to log studio time with. "I wanna work with Drake, man," he says excitedly. "Miley Cyrus, Justin Bieber... It's not just so much rap. Like, I wanna work with Lady Gaga. Someone I know has some longevity. My whole vision is longevity. Everybody who's on top of hip-hop... From Common to Mos Def. In their own lane, like, Kendrick Lamar. Just everybody. I wanna f--- with everybody."
"Oh! I almost forgot one -- Boosie," he adds. "I wanna work with Boosie bad, man. When he comes home... A lot of his story coincides with mine and I know we can relate to a lot of the same things. That would be a beautiful track. A lot of those artists come from similar or worse situations than me. Who come from nothing, like me, and they just followed their dreams not getting deterred at all."
The man born Dequantes Lamar is still a new artist with the weight of expectation on his shoulders, but if you ask him, he's already at the finish line. "The biggest thing I'm proud of is becoming a man," Quan explains. "Living my dreams? Yeah, that's cool, but me handling my business, you feel me? Establishing a real dynasty and I'm at the head of it!"
"I'm glad that we have a positive movement," he continues. "All the money, the cars and all that, that's good, that's cool, but it's about the positive message that we preaching to the people and it's really touching them. That's the part I'm excited about. That's what keeps me striving everyday. To know I'm putting a smile on somebody's face who's really feeling my music."
Life is good for the homie.