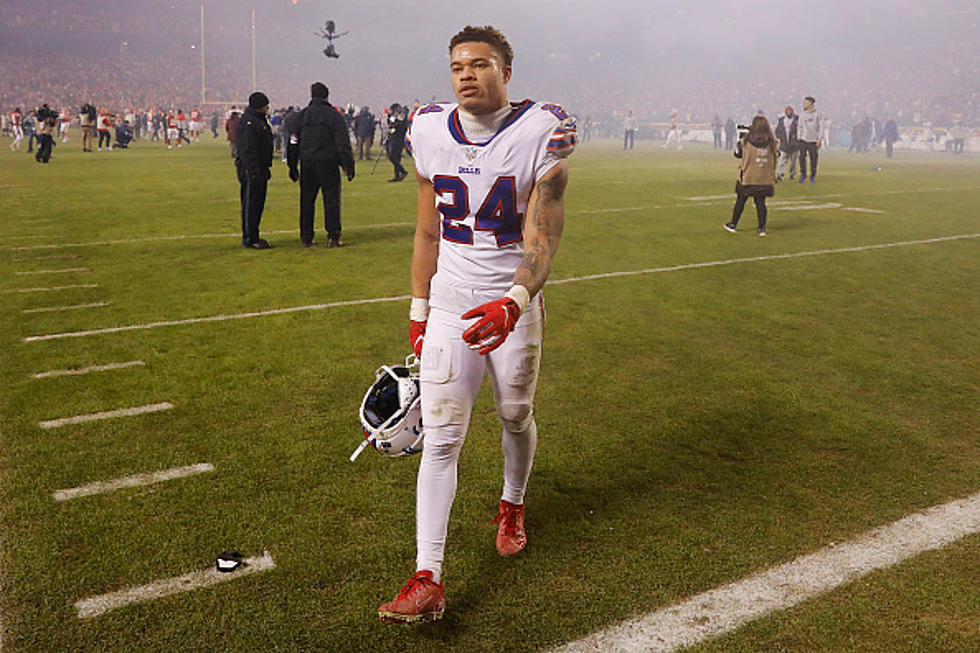 Open Letter To Buffalo Bills Fans Saying "Next Year"
Getty Images
Sometimes I harp on the fact I was born at such a horrible time for a Buffalo sports fan. My first football memory was the Music City Miracle, but it was the 2000 regular season that I started watching every game closely as a kid.
The 2000 season was the year the 17-year playoff drought started. Those 17 years were all I knew NFL football to be. Losing. Pain. Heartbreak. That's what life was as a Bills fan for my entire childhood, teenage years and young adult.
So, what we have been blessed with these last three years is a great thing. Josh Allen is a superstar quarterback that is in the top 2-3 quarterbacks in the NFL. He's perhaps the most physically gifted quarterback in history, and that's not an understatement.
Last night should have been us talking about Josh Allen being the leader in the clubhouse to win this year's Super Bowl title.
Allen completed 27 of 37 passes for 329 yards and 4 touchdowns last night, with another 68 yards rushing. He had nearly 800 total yards and 9 touchdown passes in two games, with zero turnovers. That's not just great, that's the best two-game stretch in NFL playoff history.
The Bills had last night won, twice; especially going up 36-33 with 13 seconds left. The Bills had two all-time great NFL drives, led by Josh Allen. Seriously, that first drive was things of legend, especially since the 27-yard touchdown pass to Gabriel Davis was on 4th and 13, and the fact that Allen pulled a rabbit out of the hat on the 2-point conversion to Stefon Diggs.
The Bills defense and coaching lost them the game, with what was an all-time bad defensive strategy on the Chiefs two plays to get into field goal range to kick the game-tying field goal. Why was Travis Kelce allowed to run so free? Why didn't anyone hit him off the line of scrimmage? I have less of a problem with not squib kicking, because of Mecole Hardman and Tyreek Hill back there, so I get it, but the defensive strategy is a choke job.
But the NFL overtime rules are awful. Yes, the Bills defense blew it, but the NFL overtime rules are terrible -- both can be true, it doesn't have to be one or the other.
The fact that Josh Allen did not get a chance to touch the ball in overtime is beyond ridiculous. That would be like a team hitting a home run at the top of the 10th inning and then they just end the game, without the other team a chance at three at-bats.
One thing I cannot stand the last 24 hours, and I've had this said to me a lot since last night, is the "they'll get them next year," or "next year is their year."
Or stuff like, "The Bills will be back" and "don't worry Bills fans, you have an amazing young quarterback and you'll win one."
I want to take that stuff to heart. Like, I REALLY want to take that stuff to heart. Deep down, I know Allen is amazing and that this team is likely very good again next season. But will they be as good as this season's team? Maybe, but good odds they are not.
We don't know what the future holds. Look at Dan Marino, one of the greatest quarterbacks of all-time, and one of the most gifted QB's ever. He went to the Super Bowl in his second season (lost) and never got back.
Even guys like Brett Favre and Aaron Rodgers. They won a Super Bowl not long after getting the starting job in Green Bay and never won another one. Jim Kelly, as we all know, never won one.
You just don't know. Aaron Rodgers, Brett Favre, Dan Marino, Jim Kelly and Drew Brees have THREE total combined Super Bowl titles between them all, in 75 combines years playing. It's very, very difficult to win a Super Bowl. Too much talent and different variables go into to it to assume anything.
Bills fans are perfectly okay to wallow in misery for a while. That loss on Sunday night was an all-timer. It's right there with Wide Right, No Goal. Game 7 2006, and all the other horrible heartbreaks in Buffalo sports history.
I feel for people like my dad, who has never seen the Bills win a Super Bowl and he's 60 and who knows how many more times he will have to watch his Bills go all the way.
Buffalo deserves a Super Bowl. Last night was awful. If you don't want to hear about "next year," neither do I and many others are feeling similarly.
Have These Free Agents Played Their Last Game As Bills?
Here Are The Buffalo Bills' Toughest Heartbreaking Losses
Here in Buffalo, we know what a heart-breaking loss means.
11 Pictures of Why We Love Josh Allen
The Buffalo Bills 2022 Opponents
The Buffalo Bills 2022 opponents are officially set.
LOOK: Things from the year you were born that don't exist anymore
The iconic (and at times silly) toys, technologies, and electronics have been usurped since their grand entrance, either by advances in technology or breakthroughs in common sense.
See how many things on this list
trigger childhood memories—and which ones were here and gone so fast you missed them entirely.
LOOK: 40 Discontinued & Special Edition Kellogg's Cereals
LOOK: Here is the richest town in each state
Just saying the names of these towns immediately conjures up images of grand mansions, luxury cars, and ritzy restaurants. Read on to see which town in your home state took the title of the richest location and which place had the highest median income in the country. Who knows—your hometown might even be on this list.
50 Most Popular Chain Restaurants in America
YouGov investigated the most popular dining brands in the country, and Stacker compiled the list to give readers context on the findings. Read on to look through America's vast and divergent variety of restaurants—maybe you'll even find a favorite or two.
Inside Amazon: A Detailed History of America's Biggest Online Retailer
Stacker
compiled a list of key moments in Amazon's history and its current business from a variety of sources. Here's a look at the events that turned an online bookstore into a global conglomerate and a self-made entrepreneur into the world's second-richest man.
Pac-Man Facts: 40 Easily Digestible Bits of Arcade-Game History
From his arcade-game fame to his own TV show and appearances on all kinds of collectibles, a look back at Pac-Man.