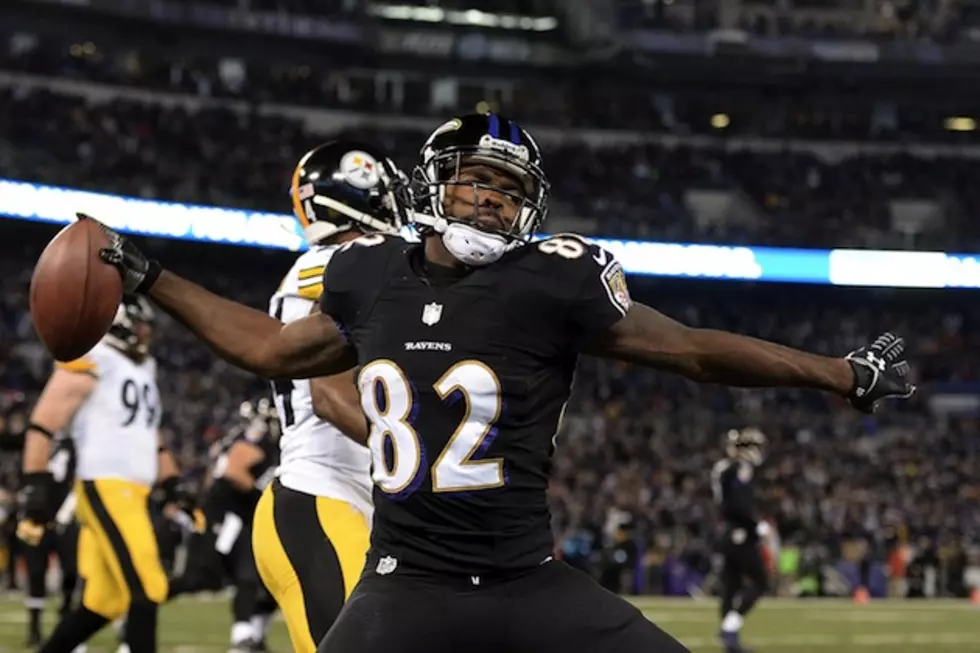 NFL Thanksgiving Day Recap 2013 — Ravens, Cowboys & Lions Win
Getty Images
Home teams Baltimore, Dallas and Detroit each won their respective games on Thanksgiving Day. Here's a recap of Thursday's NFL action:
Baltimore 22, Pittsburgh 20
Justin Tucker kicked five field goals, and the Ravens held off a Pittsburgh rally to beat the Steelers, 22-20, in Baltimore on Thanksgiving night. The Ravens (6-6) seized the lead in the race for the final AFC playoff spot with the win.
Trailing 19-7 early in the fourth quarter, Pittsburgh (5-7) rallied for two late touchdowns, including a 1-yard pass from Ben Roethlisberger to Jerricho Cotchery with 1:03 to play that brought the Steelers within two points. They failed to convert the ensuing 2-point conversion when Roethlisberger's pass slipped through the hands of Emmanuel Sanders in the end zone.
Joe Flacco passed for 251 yards and a touchdown for Baltimore. Torrey Smith had six catches for 93 yards and a score for the Ravens.
Roethlisberger completed 28 of 44 passes for 257 yards and two touchdowns.
Le'Veon Bell carried 16 times for 73 yards and a score for Pittsburgh. He left the game late in the fourth quarter for medical observation after absorbing a goal-line hit that jarred his helmet off his head.
Dallas 31, Oakland 24
DeMarco Murray ran for three touchdowns, and the Cowboys rallied from a 14-point first-half deficit to beat the Oakland Raiders, 31-24, on Thanksgiving in Dallas.
Tony Romo threw for 225 yards and a score for the NFC East-leading Cowboys (7-5).
Oakland (4-8) jumped out to a 21-7 lead near the end of the second quarter thanks to a fumble returned for a touchdown by Greg Jenkins and two rushing touchdowns by Rashad Jennings.
Dallas closed to within 21-14 at halftime on a 4-yard run by Murray with 10 seconds left to play in the half.
Romo and the Cowboys thoroughly dominated the second half, scoring 17 unanswered points until Sebastian Janikowski's 45-yard field goal with 35 seconds to play. The Raiders were unable to recover the ensuing onside kick, and Dallas ran out the clock for the victory.
Murray finished with 63 rushing yards for Dallas. Lance Dunbar carried 12 times for 82 yards to lead the Cowboys.
Oakland's Matt McGloin completed 18 of 30 passes for 255 yards and an interception. Andre Holmes caught seven passes for 136 yards for the Raiders.
Detroit 40, Green Bay 10
The Detroit Lions rolled up 561 yards of total offense and dominated the Packers, 40-10, to win their first game on Thanksgiving Day in 10 years.
Matthew Stafford passed for 330 yards and three touchdowns, and Reggie Bush ran for 117 yards and a score for the NFC North leaders, who annually serve as a host for one of the NFL's Thanksgiving Day games.
Detroit led 17-10 at halftime despite three first-half turnovers, including a fumble by Stafford that was returned one yard for a touchdown by Morgan Burnett in the second quarter.
The Lions pulled away from the Packers in the second half thanks to the passing of Stafford and the running of Bush and Joique Bell, who finished with 94 yards and a touchdown. Detroit's Calvin Johnson had six catches for 101 yards and a score.
Green Bay (5-6-1) was dismal on offense, managing just 126 total yards and giving up seven sacks on quarterback Matt Flynn. He finished with 139 passing yards, an interception and two fumbles.