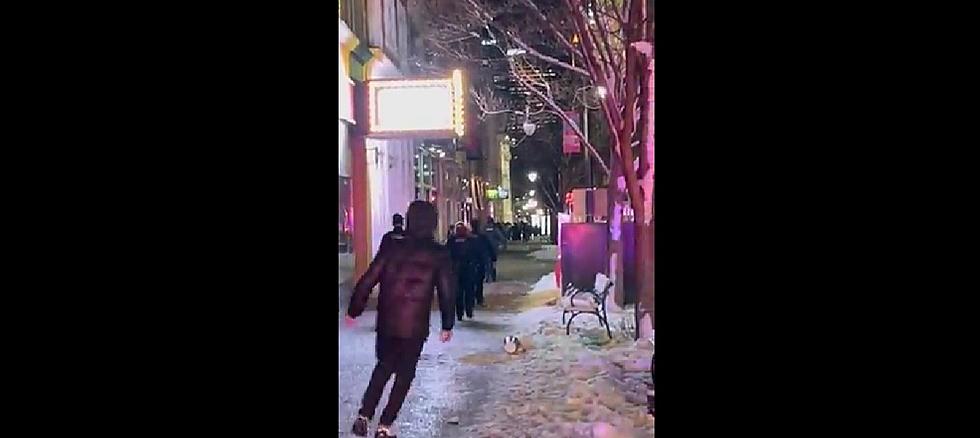 Massive Fight Involving Over 100 Kids In Downtown Buffalo [Video]
@716Babe via Twitter
More than 100 young people were involved in a fight in the theater district in downtown Buffalo recently. The video was posted to Twitter on Saturday, March 11, 2023. It was recorded outside of the AMC Market Arcade 8, located at 639 Main Street. According to WKBW, multiple Buffalo Police units from multiple districts responded. Based on what the people are saying in the video, there appear to have been multiple fights, with a huge one taking place as the person is filming. Thankfully, there are no reports of injuries. No one was arrested.
(Around 1:32 mark, you can see police running towards another huge brawl)
Fighting among the youth in downtown has also forced the library to change its hours.
Downtown Buffalo Library Changes Hours Due To Increase In Fights
Due to unfortunate circumstances, the Buffalo & Erie County Public Library's downtown branch will now close early due to fighting. The library has made the decision to cut its hours short because of safety concerns.
Buffalo & Erie County Public Library Director John Spears released a statement about the change in hours:
In an effort to safeguard library patrons and staff, beginning Friday, March 10, 2023, the downtown Central Library will reduce its open public hours during the week. The Library will now close at 3:00 p.m. Monday through Friday.

 

Unfortunately, incidents at the Central Library have now escalated to the point where we cannot provide the environment that our users expect and deserve. The problems we are experiencing with patrons of all ages, but especially youth, are being seen beyond just the Library, and we hope that these issues can be addressed across the entire community.

 

We want to be a part of the solution. It is our hope we can soon go back to serving all of the community in a safe space. After much reflection and discussion with administration, Library security, and staff, it was determined this is the best solution to adequately address untenable safety concerns we are seeing throughout the Library until a permanent strategy will allow for a return to our normal hours.
Spears told WIVB that there has been a drastic increase in both the frequency and severity of fights, involving, at times, up to 20 or 30 people. The violent altercations have put both library staff and the public in harms way. Because they have mainly happened on weekday evenings, the library made the tough decision to close early temporarily.
8 New York Counties Have Most Violent Young Criminals
Top 10 Schools In Buffalo With Violence On Campus