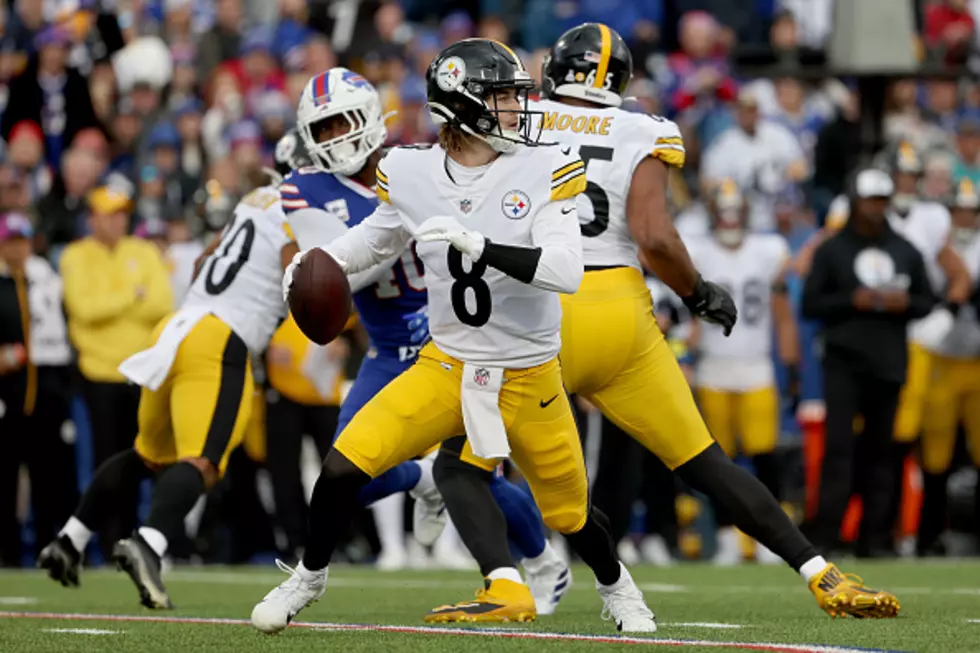 Kenny Pickett Thinks Bills Player Went After His Knee [VIDEO]
Getty Images
The Buffalo Bills were big favorites going into Sunday's game against the Pittsburgh Steelers at Highmark Stadium.
The Bills covered the 14.5 points they were favored by, defeating the Pittsburgh Steelers by a score of 38-3.
Josh Allen threw for 424 yards and four touchdowns. He left early in the 4th quarter for backup Case Keenum, since the game was in hand. Allen finished 40 yards short of breaking the record for most passing yards in a game by a Bills QB (Drew Bledsoe in 2002, 463 passing yards).
The end of the game was something many fans were talking about.
On the Steelers final drive of the game, rookie quarterback Kenny Pickett threw the ball incomplete on 4th down. After he let the ball go, Bills defensive end Shaq Lawson tackled him low and Pickett did not appreciate it.
Pickett proceeded to go after Lawson, which resulted in another scuffle and actually led to Bills edge rusher A.J. Epenesa being ejected because of contact with an official.
You can watch the replay below.
Pickett after the game said he thinks he (Lawson) went after his knee.
"I got to watch it again, but from my opinion, it felt like he went after my knee," said Pickett.
Lawson certainly went low on Pickett, so I understand why Pickett was upset. It didn't help the score was 38-3 but fans shouldn't be surprised Pickett was upset on that play, because I would be too if I was him.
The Bills now look ahead to Arrowhead Stadium, as they will play the Kansas City Chiefs next Sunday at 4:25 pm. It's the rematch of the AFC Divisional Game in January of 2022.
Check Out The 11 Most Underrated Bills Defensive Players In The Past 30 Years
I wanted to comb past the amazing defenses the Bills have had over the past 30 years and put the spotlight on some stellar role players who help lead the team to the playoffs and beyond. We are talking about players that maybe didn't get lots of love from the National media or made tons of Pro bowls, but we were still proud that they were part of the team.
Check Out The 11 Most Underrated Bills Offensive Players In The Past 30 Years
The Buffalo Bills have has some amazing players over the years. We all know the superstars so we wanted to put the role players in the spotlight with this list.
22 Famous Buffalo Sports Phrases Every Die-Hard Bills and Sabres Fan Knows
Being a sports fan in Buffalo is sometimes like knowing a different language. Here are 22 of our favorite Buffalo sports phrases you already know if you're a huge fan! And if you're new here, here's how to catch up.