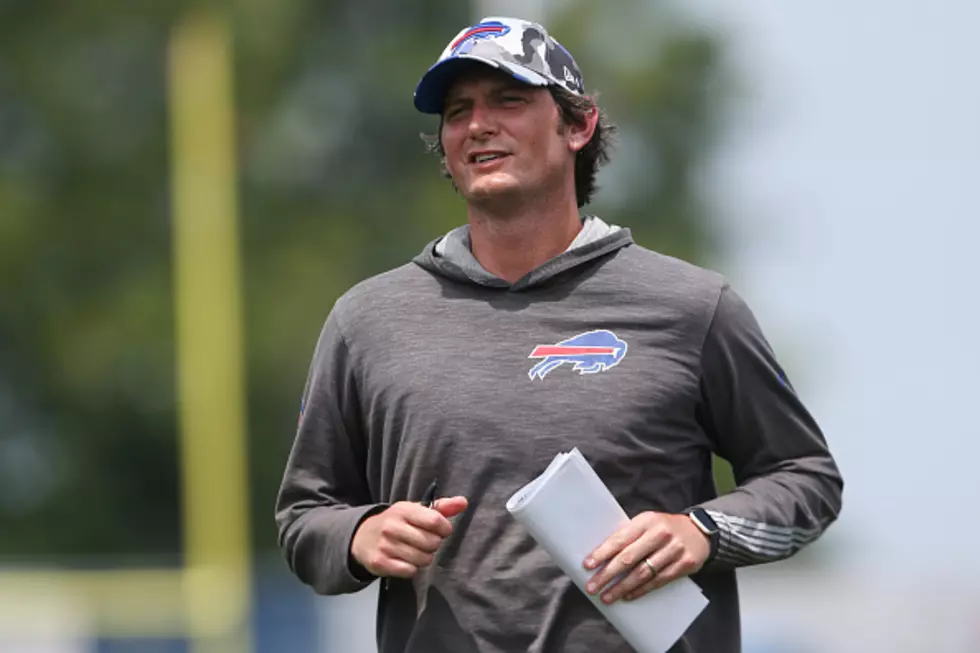 Ken Dorsey's "Smiling" Video During Buffalo Bills Win Goes Viral
Getty Images
There was a good amount of discussion this summer about new Buffalo Bills offensive coordinator Ken Dorsey.
Dorsey was promoted to OC after former OC Brian Daboll left to become the head coach of the New York Giants. Dorsey was with Daboll as the Bills quarterbacks coach since 2019 and had been the passing game coordinator in 2021.
To say things are going well so far for Dorsey as OC, would be a vast understatement.
The Bills blew out the Tennessee Titans by a score of 41-7 and now have a +55 point differential through the first two games of the 2022 season, which is the biggest point differential of a team opening the season against two playoff teams from the season before in NFL history.
Dorsey called a phenomenal game last night and he called a beautiful game against the Los Angeles Rams in week 1. Towards the end of the Bills 41-7 victory, Dorsey was shown on ESPN gathering his things and exiting the coaches booth.
You can clearly see Dorsey with a humble smile, which is making the rounds on Twitter.
This is from Bruce Nolan of the Bruce Exclusive podcast.
Outside of the Titans first offensive drive of last night, the Bills played a near perfect game. Josh Allen threw for 317 yards and four touchdowns, while Stefon Diggs caught 12 passes for nearly 150 yards and three of those touchdown passes.
Dorsey went a large portion of the middle of the game without calling a run. Dorsey called 21 straight pass plays from the second quarter to the third quarter. If you take out the carries for James Cook late in the game, when both teams had waived the white flag, the Bills passed on 80 percent of their snaps.
It's clear that Ken Dorsey was the right man for this team and the fact he's been here since 2019 shows just how comfortable he is with Allen and this offense.
Best Pictures of Josh Allen Proving He's A Superstar
Josh Allen is certainly living up to the hype after a show-stopping performance in Los Angeles.
22 Famous Buffalo Sports Phrases Every Die-Hard Bills and Sabres Fan Knows
Being a sports fan in Buffalo is sometimes like knowing a different language. Here are 22 of our favorite Buffalo sports phrases you already know if you're a huge fan! And if you're new here, here's how to catch up.
15 Things You Should Never Do at a Bills Home Game
Things that are a no-no to do at a Buffalo Bills home game.