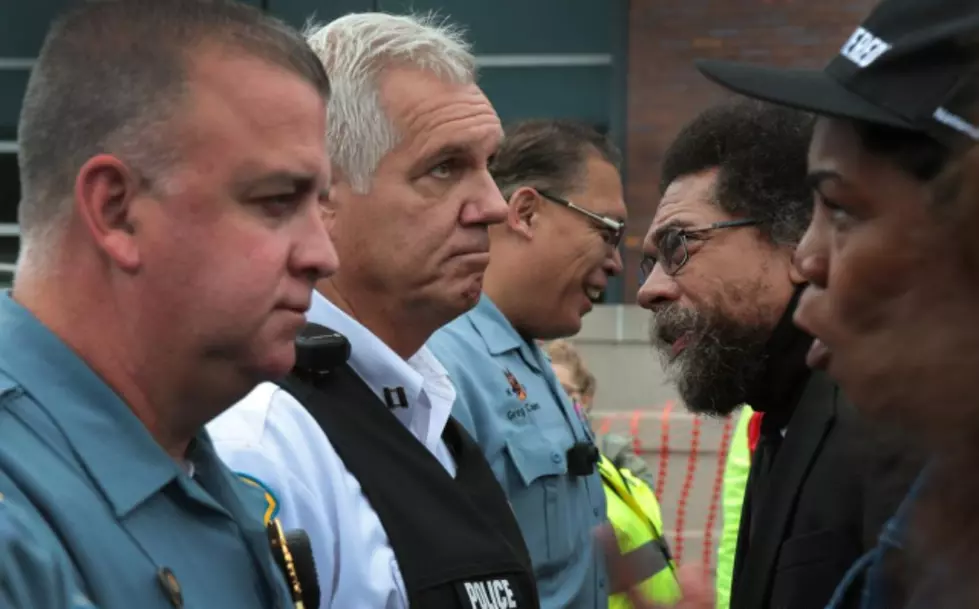 Dr. Cornel West Arrested In Ferguson Protest
Getty Images
We all know that for the last few months, one city has been left undone; Ferguson, MO. Ferguson was the site where a young unarmed teenager, Mike Brown, was shot and killed by police officers after shoplifting. Protests have been swarming the country and has even expanded to much of mass media and entertainment, with several individuals of status speaking up and telling their views on the situation.
One of the big voices in black culture, Dr. Cornel West, also participated in a protest,  telling his views on the situation; Which landed him in handcuffs:
Author and activist Cornel West was arrested while demonstrating in Ferguson, Missouri, on Monday.

West was in Ferguson as part of the "Ferguson October" rally, which has been attended by over 1,000 protesters.

Journalists in Ferguson tweeted photos of the incident Monday afternoon.

West had joined peaceful demonstrations at St. Louis University on Sunday night. Hours earlier, during a large mass protest service, West said that he came to get ARRESTED.

"It's a beautiful thing to see people on fire for justice, but I didn't come here to give a speech," West said during a discussion on Sunday night. "I came here to go to JAIL."
Powerful! I know a lot people felt "uneasy" about Dr. West after his rants against our first black President, President Obama, but you have to look at this situation and give him a bit of credit for risking his freedom for equality.