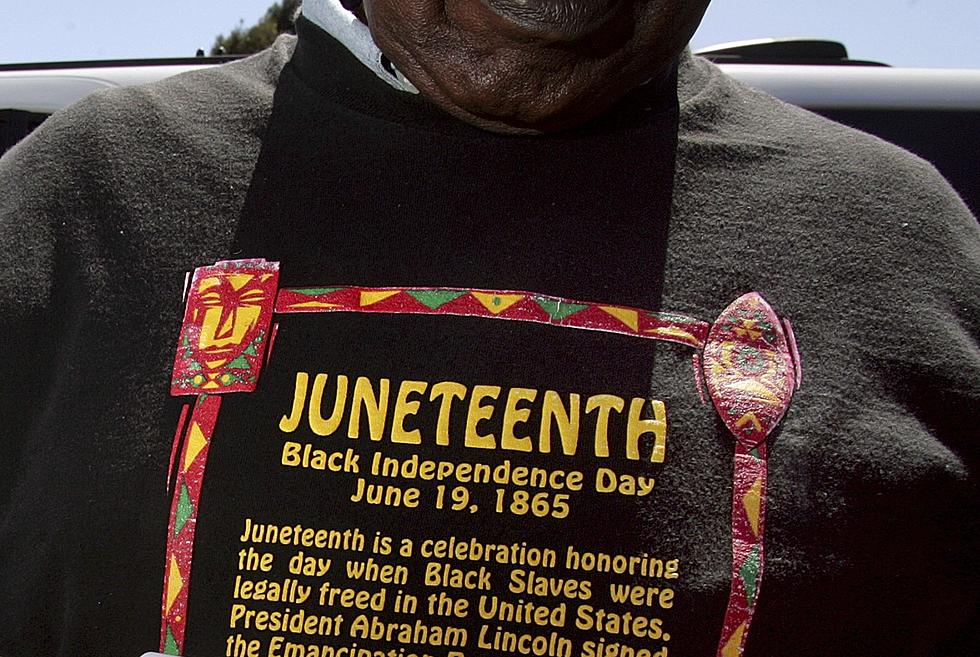 Community: Juneteenth Arts and Culture Stage Performers and Schedule
David Paul Morris / Getty Images
The 42nd Anniversary Juneteenth Festival is coming up this weekend, June 17th and 18th, and there are tons of activities happening at MLK Park as a part of the festivities! There will be lots of Buffalo-grown talent hitting the Arts & Culture stage on Saturday and Sunday! Check out the line-up and schedule here!
Times/Performers are subject to change:

SATURDAY JUNE 17, 2017
2:00PM- ACCESS TO AFREEKA W/ RASJOMO
JESSIE B.SIMPLE INTRODUCTION
2:30 PM- HISTORY OF JUNETEENTH PLAY
2:45 PM- JESSIE B. SIMPLE
2:55 PM- BROTHER TAHARKA
3:00 PM- AFRICAN AMERICAN CULTURAL CENTER
3:45 PM- MOHAMMED SCHOOL OF MUSIC
4:20 PM- GOODNE$$
4:25 PM- UNIA, BLACK PANTHERS, MOORISH SCIENCE TEMPLE, FOOD CO-OP
4:40 PM- RHONDA MINGO
4:50 PM- JILLIAN HANESWORTH
5:00 PM- HARLEM RENAISSANCE
5:20 PM- JESSIE B. SIMPLE
5:45 PM- JUST RESISTING
6:00 PM- KENYADA DAVIS
6:20 PM- MAHOGANY
6:50 PM- 4 B-LO
7:10 PM- GRIOT NATION/WBLK
7:20 PM- LOUIE FLAME
7:45 PM-WBLK, GRIOTS, JESSIE B. SIMPLE RAP UP RAMP UP
Get Ready for the 42nd Anniversary Juneteeth Festival:

SUNDAY JUNE 18, 2017
1:00 PM- KENYADA DAVIS
1:20 PM- DIVAS OF BUFFALO
1:35 PM- TREY DAVIS
1:45 PM- MJ
1:50 PM- MONTYY CAPEESH
2:00 PM- HISTORY OF JUNETEENTH PLAY
2:20 PM- JILLIAN HANESWORTH
2:25 PM- XANTANA
2:35 PM- JOYMEKA MUSIQ
2:50 PM- DE'LANEY DANIELS
3:05 PM- LEGENDARY
3:15 PM- LOU TURNNER
3:30 PM- OMGMERE
3:40 PM- DAVE STEWEY
3:50 PM- MARTIN SONCHILD
4:00 PM- "SUM'ER" –AKA-JESSICA MILLER-SINGER AND BAND
4:15 PM- FRAGRANCEANDJUAN COSMIC ENERGY
4:40 PM- SPADEO NATION
4:50 PM- KHALID ROSS
5:00 PM- DANIEL CORONADO
5:10 PM- LORRANCE PRINCE
5:20 PM- CURTIS VANCE JR.
5:35 PM- DIVINE AND DEBONIAR
6:00 PM- CASH IS GREEN
6:20 PM- ZAYDOK
6:40 PM- THE SCRIBE-GIANTS ON THIS EARTH!
6:45 PM- IGNITE!
Here are some other articles you might enjoy!
Listen to Yasmin Young weekdays from 2 - 6 pm inside the "2 To 6 Takeover" on The People's Station 93.7 WBLK!!
@AllThatYaz On Instagram
@DJYasminYoung on Twitter
DJ Yasmin Young On Facebook