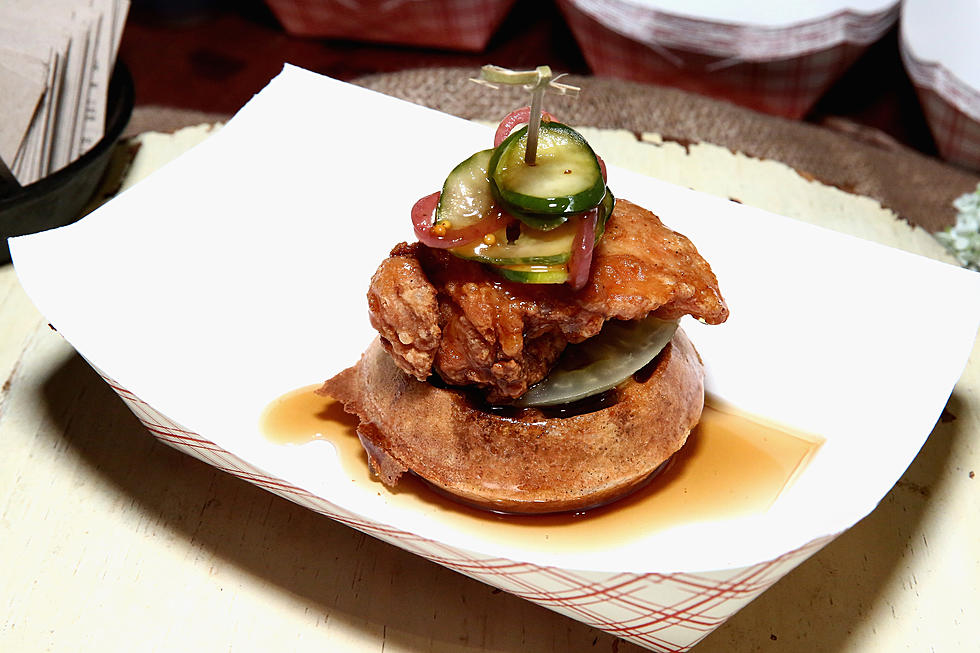 6 Must-Try Spots In Buffalo For Yummy Chicken And Waffles [List]
Astrid Stawiarz/Getty Images
Out of all of the places I have ever lived, Buffalo has the best cuisine, hands down. We are spoiled with so many great restaurants and dining options. Buffalo is truly a foodie's dream city. One thing I do miss about the south though is a good ol' chicken and waffle plate. There's something so seductive about a fluffy waffle served up with perfectly seasoned, crispy fried chicken. The sweet and savory flavors are the perfect marriage. If you also love a delicious chicken and waffle plate, there's no need to travel to Atlanta; we have spots in Buffalo that can meet your needs. Here are 5 must-try spots for chicken and waffle plates. Bone apple tea!
1. Solo Eats - 4-Stars
Solo Eats is located at 261 E Ferry St, Buffalo, NY 14208. They have a red velvet waffle and chicken plate for breakfast that's only $9.99. You can check out the menu here.
2. Bertha's Diner - 4.6 Stars 
Bertha's is located at 1430 Hertel Ave, Buffalo, NY 14216. The chicken and waffle plate comes with a Belgium waffle and two pieces of fried chicken, two eggs and gravy. It will set you back $13.95. Many customers have left rave Google reviews about its chicken and waffles,
@Clivia Gardens says
Chicken and waffles were light and tasty. The sweet and savory gravy was perfect! Buffalo is brimming with friendly people and the waitress at Bertha's is one of the nicest.
@Evan Perry agrees that the chicken and waffles are delish,
Cute little place nestled among shops lining a wide thoroughfare . . . I had the Super Fried Chicken and waffles and my wife had a custom omelette. Food was great! The chicken/waffles dish came with a house syrup and gravy mixture that was really really yummy. Service was great and prices were good too.

 
3. Buffalo Soul - 4.5 Stars
Located at 454 Pearl St, Buffalo, NY 14202, Buffalo Soul offers mouth-watering chicken and waffles. The $12 plate comes with a cinnamon waffle and hand-battered chicken.
@Dj Ndamix left a 5-star review on Google saying,
That chicken and waffles is comparable with Dames famous chicken and waffles. The greens uffff the greens, were delicious but the Mac and cheese stole my soul. The haddock was cooked perfectly. Friendly atmosphere and the food was amazingly good.
@Dameion Stanley also left a 5-star review,
Chicken &waffles were great. Im a first time customer who just came across this place because I was starving.

 
4. Freddy J's BBQ - 4.4-Stars
Located at 195 Grant St, Buffalo, NY 14213, Freddy J's offers a southern fried chicken and red velvet waffle plate for $11.49.
5. Brothers - 4.1-Stars
Brothers is located at 475 Ellicott St, Buffalo, NY 14203. It has chicken and waffles with two eggs for $14.95.
@Jordan Gaston gave Brothers' chicken and waffles a 5-star review,
We ordered the chicken and waffles and the chicken sandwich and both were awesome. Highly, highly recommend!
6. Dirty Bird Chicken N' Waffles - 4.6-Stars
Dirty Bird began as a food truck, but now has a brick & mortar location - 6004 Buffalo Ave, Niagara Falls, NY 14304. It has a variety of chicken and waffle dishes. The Dirty Bird Chicken n' Waffles plate features a Belgium waffle with fried chick. It's $13, including French fries. You can also order chicken n' waffles on a stick for $13. The BBW is Buffalo chicken, bacon and American cheese between two waffles. It's also $13. There are a few other chicken n' waffle options, including a stinger waffle-chopped. You can see the menu here.
4 Buffalo Restaurants For Delicious Seafood Boils
7 Restaurants in Buffalo with Must-Try Mac and Cheese
6 Must-Try Spots in Buffalo for the Perfect Wings on Game Day