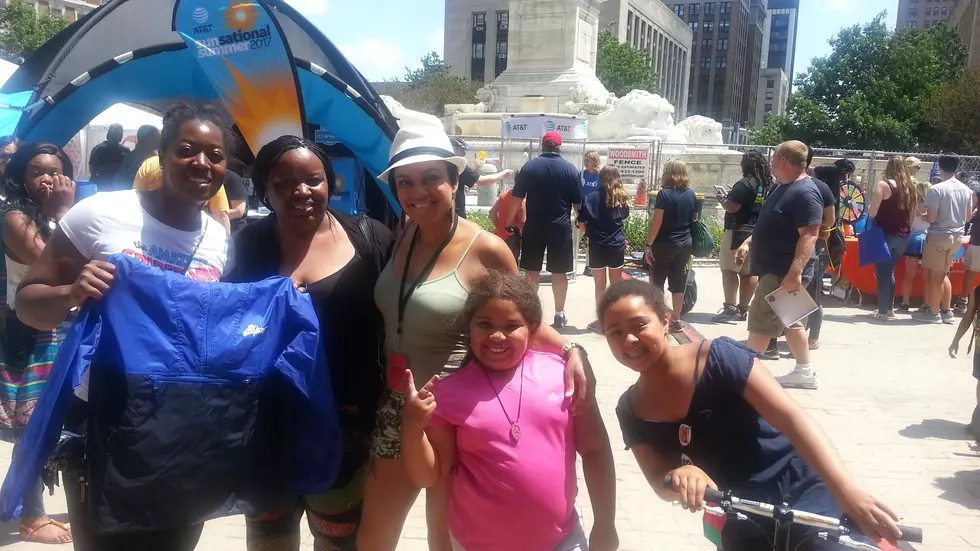 Check out the Pictures from the Taste of Buffalo [Gallery]
By Yasmin Young
I had an amazing time at the Taste of Buffalo, getting to meet the WBLK fam that was out and about! Check out all of the pics! And see who won this year!
The Taste of Buffalo presented by Tops today announced that several local restaurants were named award winners in a variety of categories at the 34th annual food festival. The judging took place this morning by a panel of representatives from the local media, political, and business sectors.
One new award was introduced this year. New York Beer Project won the Hometown Hero award for their mac and pork sandwich. The Taste partnered with Western New York Heroes to choose a local veteran family who selected this inaugural award.
Additional Taste of Buffalo presented by Tops winners include:
· Chair's Choice (chosen by 2017 Chair Ralph Basile): Buffalo Scotch Egg (chicken wing sausage, egg, cheezit, and panko crust) from Riverstone Grill
· Children's Choice (chosen by Jacob Loretz): Waygu Meatball with Carmelized Onion Sauce from Black & Blue Steak and Crab
· Pat Sardina Memorial Award for Best Comfort Food: Prosciutto Tortellini with Truffle Cream Sauce from Salvatore's Italian Gardens
· Lou Billittier Memorial "Rookie of the Year" Award and Best Overall Item: Peanut Butter and Jelly Cheesecake from The Cheesecake Guy
· Veteran Restaurant Award: Jerked Chicken from Caribbean Experience
· Best of Buffalo Award: Chicketta Slider from Osteria 166
· Best Meat Item: Dinosaur BBQ Wings from Dinosaur Bar-B-Que
· Best Seafood Item: Lobster Mac & Cheese from SEAR
· Best Dessert: Lemony Coconut Bar from Chrusciki Bakery
· Best Sandwich: ½ Reuben from Eddie Ryan's
· Best Red Wine: Rose Bud Peach from Niagara Landing Wine Cellars
· Best White Wine: Zia Minx from Spring Lake Winery
· Independent Health Foundation's Healthy Options:
o First Place: Watermelon Sorbet from White Rabbit Frozen Yogurt
o Second Place: Watermelon Gazpacho from Savor @ Niagara Falls Culinary Institute
o Third Place: Fresh Fruit Sorbet (Italian Ice) from Sweet Melody's
Here are some other articles you might enjoy!
Listen to Yasmin Young weekdays from 2 - 6 pm inside the "2 To 6 Takeover" on The People's Station 93.7 WBLK!!