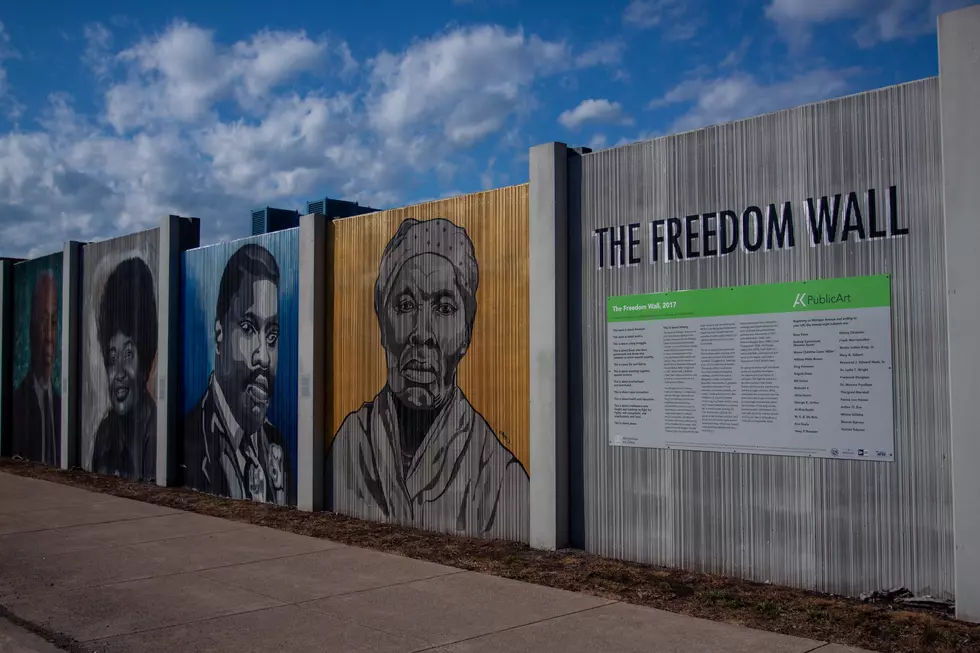 Buffalo's Freedom Wall To Receive More Than $300,000 in Improvements
Ed Nice Jackson / Townsquare Media
Thanks to an appropriation from New York State, the Niagaran Frontier Transportation Authority (NTFA) is set to make a number of improvements to the Freedom Wall.
The Buffalo News is reporting on a press conference that occurred on Thursday, May 6, 2021 where officials announced the updates that the NFTA is due to make with the funding received from the NYS Legislature.
Officials from the NFTA were joined by New York State Senator Timothy Kennedy, members of the Michigan Street African American Heritage Corridor Commission (MSAAHCC), and the East Side Garden Walk (ESGW) to go over what the $366,000 appropriation will be allocated to.
What Changes Can Be Expected?
The funds will be used to hire a local architecture firm, Watts Architecture and Engineering, to plan and design some infrastructure changes. Those changes will include rebuilding the sidewalk area between the Freedom wall and the curb, installing some LED accent lighting to the portraits, and replacing worn parts of the sidewalk, curb, along with accessibility improvements.
In addition to these improvements, the NFTA is seeking improvement and input from the public about these planned improvements, or if there are other things that should be focused on. You can click here for the survey to give them your comments.
What Is The Freedom Wall?
According to the Albright-Knox Art Gallery, the Freedom Wall is a public art installation that was commissioned by the Albright-Knox in 2017 in partnership with the NFTA and the Michigan Street African-American Heritage Corridor. Located at the corner of East Ferry Street and Michigan Avenue in Buffalo, the Freedom Wall features portraits of 28 individuals who were indispensable to civil rights in America. The portraits were created by Edreys Wajed, Julia Bottoms-Douglas, John Baker, and Chuck Tingley.
9 Must See Public Art Street Murals in Buffalo
Beaches and Lakes Around WNY
LOOK: See the iconic cars that debuted the year you were born
10 Dangerous Intersections In Western New York
See the Must-Drive Roads in Every State
[gallery gallerytitle="9 Cheap All-Day Parking Areas in Downtown Buffalo" galleryid="11:505721" showthumbs="no"