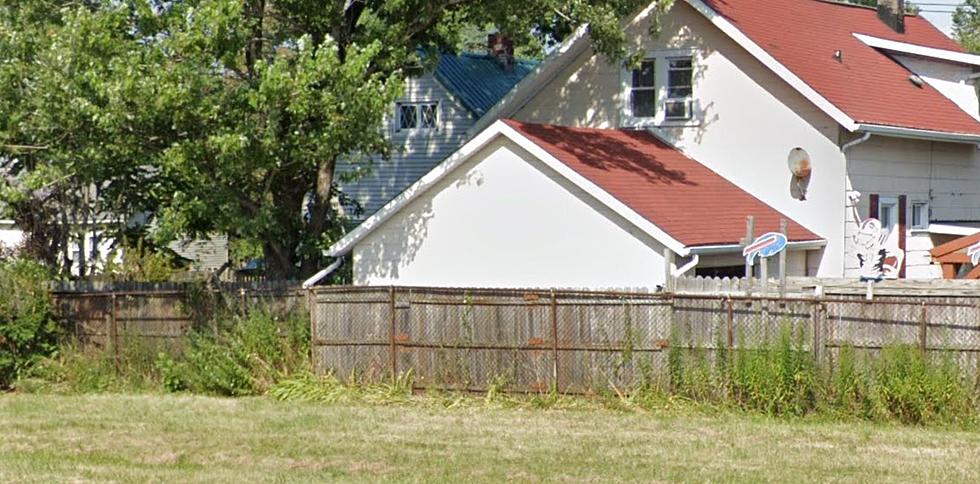 Iconic Buffalo Bills House Along the I-90 in Cheektowaga
Credit: Google Maps
There's nothing quite like Western New York during the fall. September-December (and hopefully January), turns into Bills country and you can't go more than 30 seconds without seeing something Bills-related driving down the road or walking into a store.
I grew up in north Amherst and we had family in West Seneca and the City of Buffalo, so oftentimes, my dad and I would drive down the 90 and back along with the 90.
When I was a kid, I remember driving by this house that was decked out in Bills decorations and even some Sabres stuff.
I drove by this house on Saturday afternoon on the way to a wedding and they had even more Bills stuff out for display, including a giant inflatable Bills player, who looks like he's from the 2000s -- the blue stripe, red helmet Bills years (the drought Bills).
Anyway, there are also tons of Bills logos, signs, and even flags that let people driving down the I-90 that they're in fact in Bills country.
Has anyone else seen this house? I'm sure most people have. It's just before the 33 along the I-90 eastbound heading towards the I-290.
I've seen Bills stuff decorating this house since I was a kid, so it's been going on for at least 20-something years. It's a trademark of that part of the thruway.
$3 Million Home In Elma Looks Like It Belongs in a Hollywood Movie
Explore this mesmerizing home
for sale
in Elma!
Step Inside This $2.5 Million Mansion In Niagara County
Pac-Man Facts: 40 Easily Digestible Bits of Arcade-Game History
From his arcade-game fame to his own TV show and appearances on all kinds of collectibles, a look back at Pac-Man.
KEEP READING: Here are the best places to retire in America