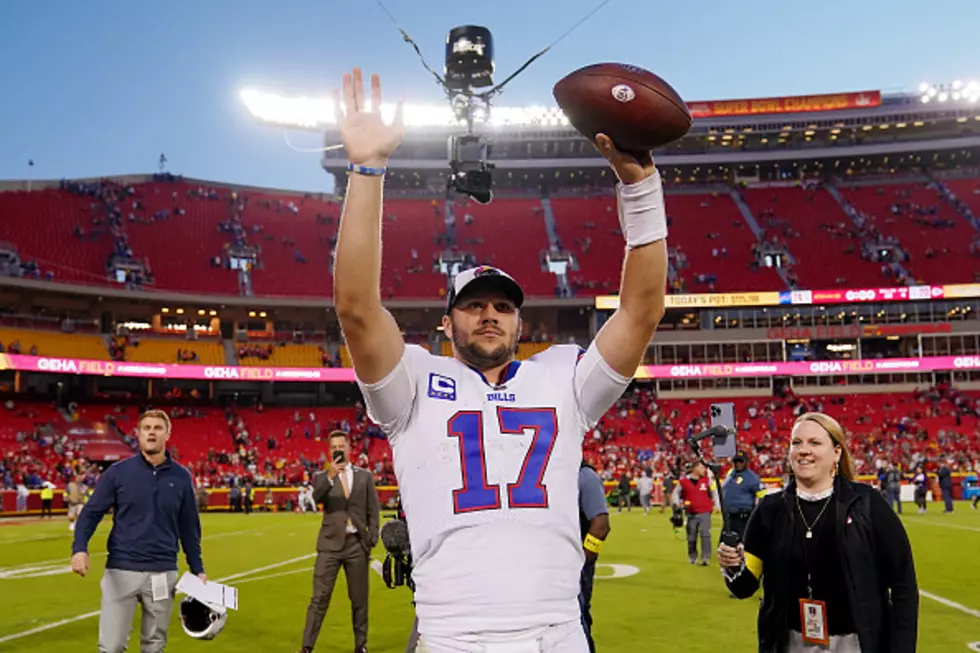 Bills Win and Von Miller's Last Play Should Get Way More Credit
Getty Images
The Buffalo Bills have beaten Patrick Mahomes, Travis Kelce, Andy Reid and the Kansas City Chiefs in the last three years, which was almost to the day last October during the 2021 season...but after the way the AFC Divisional game ended in January, Bills fans wanted this badly.
The Bills came through.
Buffalo beat Kansas City by a score of 24-20 at Arrowhead Stadium in what may have been less high scoring than fans thought, but just as riveting as we expected.
The Bills had self-inflected setbacks in this game, especially in the first half, however the Bills came through when they needed it -- on the last drive of the game.
Allen threw a 14-yard touchdown pass to Dawson Knox with 1:04 left in the game and set the stage for another last drive by Mahomes vs. the Bills defense.
It ended far differently this time.
Mahomes threw an interception to Taron Johnson on the first official pass of the final drive and even though Johnson should get a ton of credit for coming off his man in coverage for the interception...Von Miller is the player who originally caused the Bills to win.
Mahomes was flushed out to the right by Miller, which led right into Matt Milano and forced Mahomes to throw the intended pass to rookie Skyy Moore and ended in a Johnson pick.
Yes, Johnson made an unbelievable play on the pass but without the pressure by Miller, that never even happens.
As for the offense, there were struggles throughout the game but the Bills scored when they needed to and Allen threw three touchdown passes -- one to Gabe Davis, one to Stefon Diggs and the last one to Dawson Knox to win the game.
The Bills are now 5-1 and are alone at the top of the AFC standings. Football Outsiders tweeted last week that with a win, the Bills had a 68 percent chance to finish as the number one seed in the AFC.
The Bills defense played well, outside of the JuJu Smith-Schuster touchdown and Travis Kelce.
The Bills now head into the bye week and will next play the Green Bay Packers on Sunday Night Football at Highmark Stadium on October 30th.
15 Things You Should Never Do at a Bills Home Game
Things that are a no-no to do at a Buffalo Bills home game.
16 Buffalo Bills With Some Of The Best And Worst Nicknames
15 Hilarious Buffalo-Themed Coffee Mugs For Bills Fans And More
In honor of National Coffee Day, here are fifteen sweet mugs to hold your hot cup of joe while proclaiming your love for Bufflalo.