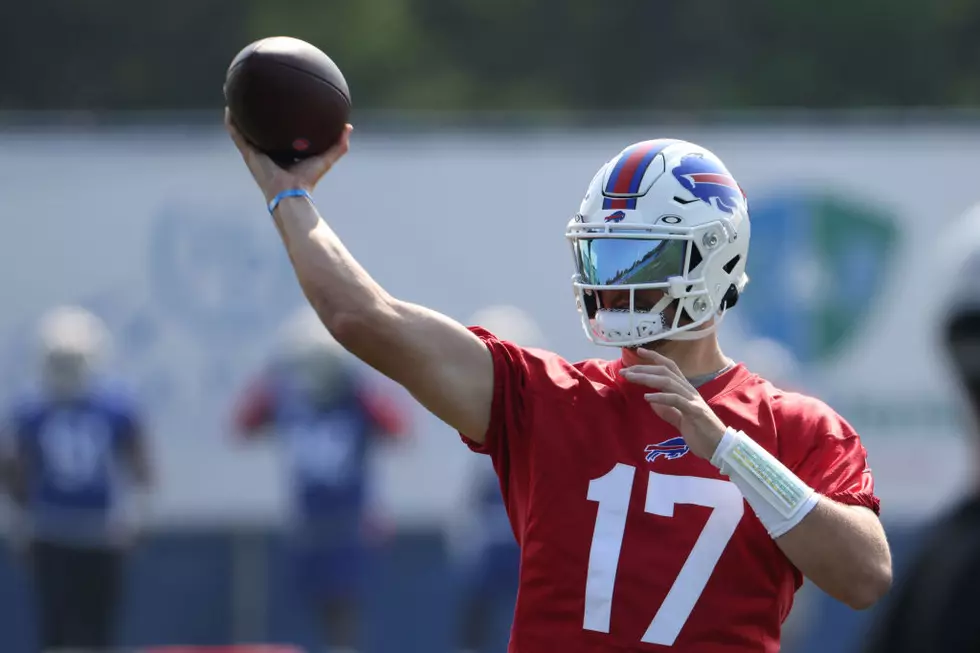 Bills Training Camp Back At St. John Fisher in Rochester
Getty Images
As we inch closer to the 2022-23 NFL Season, the hometown team announces they are returning to St. John Fisher University for this year's NFL training camp that kicks off on Sunday, July 24, 2022.
The COVID-19 pandemic put a pause on a lot of things over the last two years, public access to watch the Buffalo Bills practice is one of them. With the Bills coming back to St. John Fisher, this marks the first time they've truly had a public training camp since the 2019-20 season.
Tickets to training camp are free of charge and start to become available on Wednesday, July 13, 2022. There are no paper tickets this year, all attendees will be required to have a mobile ticket.
Current season ticket holders can start to request their free tickets starting at 10 am on Wednesday, July 13th. After that, on Thursday, July 14, 2022, registered users of the Buffalo Bills Mobile App can request their tickets from 10 am to 1 pm. After 1 pm on Thursday, July 14th, tickets will be available to the general public.
The Bills are limiting training camp tickets to 4 per account, so make sure you get in as soon as possible.
Like in previous years, you will not be able to park on the St. John Fisher University campus for training camp. The Bills have set up parking at Sutherland High School and Mendon High School and they are providing free shuttle bus service to and from the practices.
You can find more information about Buffalo Bills Training Camp this year right here on the Bills website.
Buffalo Bills Public Training Camp Schedule
Sunday, July 24 at 9:45 am
Monday, July 25 at 9:45 am
Wednesday, July 27 at 9:45 am
Friday, July 29 at 9:45 am
Saturday, July 30 at 9:45 am
Monday, August 1 at 9:45 am
Tuesday, August 2 at 9:45 am
Thursday, August 4 at 9:45 am
Friday, August 5 at 5:30 pm

practice at Highmark Stadium - Return of the Blue and Red

Sunday, August 7 at 11:45 am
Wednesday, August 10 at 9:45 am
Thursday, August 11 at 9:45 am
3 Reasons The Buffalo Bills Should Move Training Camp to Canada
While Rochester has been a good home for Buffalo Bills Training Camp, it's time to make more fans North of the border.
Every Buffalo Bills Starting Quarterback Since Jim Kelly Retired
Just how many different quarterbacks has Buffalo had since Jim Kelly retired in 1997? A lot! Here are all of them.
Ryan Fitzpatrick, Through The Years
FitzMagic has been felt throughout the NFL for 17 years