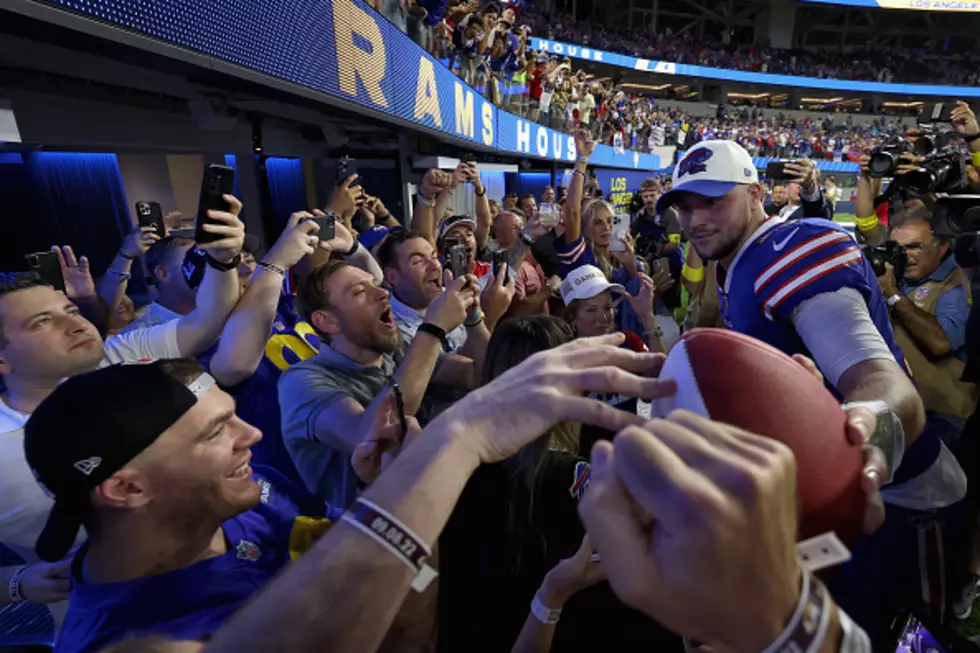 Buffalo Will Get a Very Cool Feature With New Bills Stadium
Getty Images
The Buffalo Bills made some big news on Thursday morning and it was something we have been waiting for since the start of the year.
The Bills released two photos of stadium renderings this morning, which gave fans their first look at what the new stadium will look like in Orchard Park.
It will be built directly across the street on Abbott Road from Highmark Stadium and an estimated cost of $1.4 billion. It will be open-air and feature a canopy that will cover roughly 65 percent of the fans in attendance.
The stadium is expected to open in the fall of 2026, with construction beginning in 2023.
The new Bills stadium will have new and state-of-the-art features, with one that we have started to see with other stadiums -- most notably with the Dallas Cowboys stadium in Texas.
Standing room seating.
Bills EVP Ron Raccuia told WIVB that there will be "gathering areas around the whole stadium," which look to be in the end zones and corners of the stadium.
The rendering showed fans the "Legends Deck."
It's unclear of whether or not this will be a ticketed area and how much it will be to stand in these areas, but it's a feature that we have never seen for the Bills or Sabres, so something to look forward to.
The parking is something the Bills are still working on and will be something to keep an eye on for when the new stadium is being built, since it's being built where current parking is for Highmark Stadium.
The memorandum of understanding still has to be finalized between the Bills, Erie County and New York state.
Bills Mafia's Wishlist For The New Buffalo Stadium
The Bills are building a new stadium and here is a wishlist from Bills Mafia.
22 Famous Buffalo Sports Phrases Every Die-Hard Bills and Sabres Fan Knows
Being a sports fan in Buffalo is sometimes like knowing a different language. Here are 22 of our favorite Buffalo sports phrases you already know if you're a huge fan! And if you're new here, here's how to catch up.
17 Recipes They Have To Put In The Bills New Cookbook