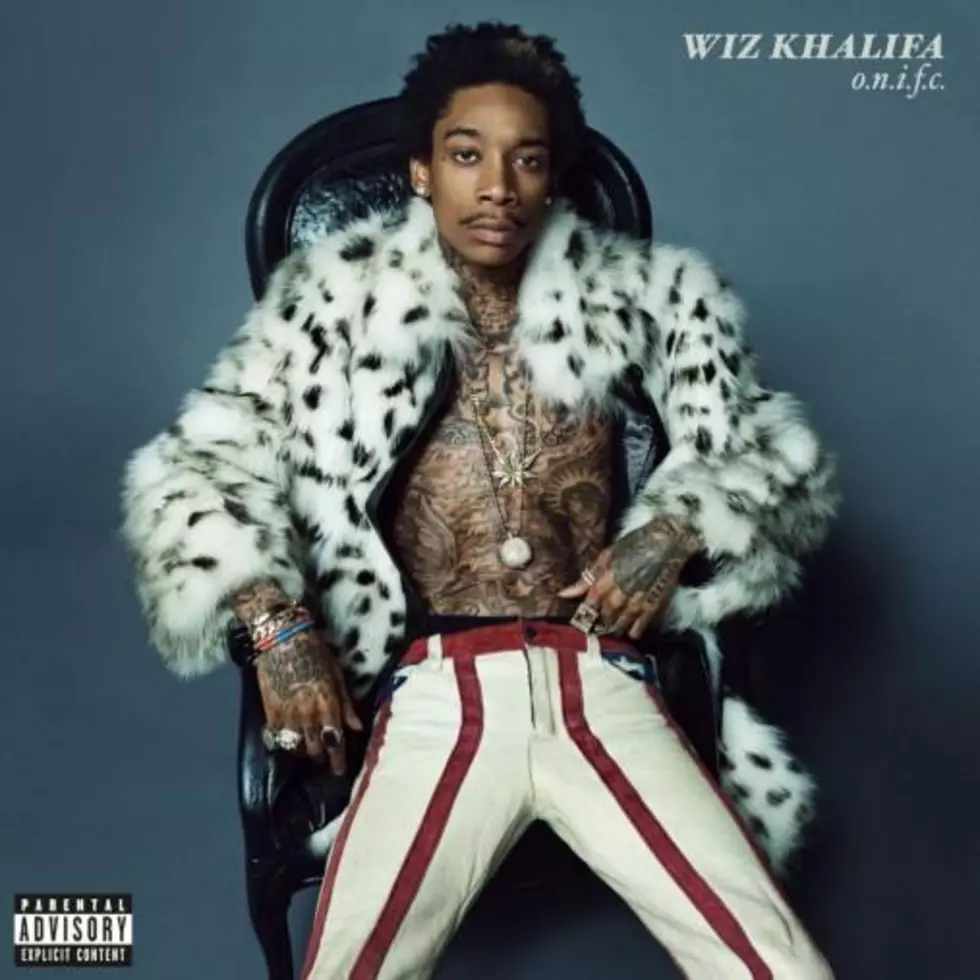 Wiz Khalifa's Album Artwork, John Legend Tour Dates, New Kid Cudi + More [HIP-HOP HEADLINES]
Atlantic Records
This week's headlines have sparked more buzz on Twitter and Facebook than those of recent weeks. Between dis tracks from rookie female emcee Azealia Banks to Dipset's Jim Jones and Wiz Khalifa's wardrobe on his new album cover, everyone has something to talk about!
ALBUM ARTWORK: Wiz Khalifa's O.N.I.F.C. Wiz channels his inner Jimi Hendrix on the cover of his upcoming album O.N.I.F.C., which drops September 18. The cover sparked quite the conversation on Twitter, leading the Philly rapper to respond via his own Twitter account, telling fans and haters alike:
The Cover Art Should Give You Confidence And Let You Know You Can Fully Be Yourself In Front Of People No Matter What They Say Or Think

— Wiz Khalifa (@RealWizKhalifa) August 8, 2012
MIXTAPE: Hit-Boy's HITstory. Hit-Boy followed in the steps of his mentor Kanye West by taking the leap from producer to rapper and releasing his mixtape, HITstory. If you're unfamiliar with Hit-Boy as a rapper, watch the official video for "Jay-Z Interview," which gives cinematographic hints at Kanye's debut "Through The Wire."
TEASER: John Legend's New Album, Tour. R&B singer John Legend released a video announcement to his fans with the details of his upcoming album, Love In The Future, along with track previews and dates for his upcoming tour, which begins October 16!
NEW MUSIC: Azealia Banks -- "Succubi". Harlem rapper Azealia Banks has never had a problem expressing her opinions. She's gotten into Twitter altercations with the likes of Nicki Minaj and T.I., and now she's diverted her energy towards fellow Harlem rapper and Dipset member Jim Jones. Banks has some pretty strong words for Jones, but the real test is seeing whether or not Jimmy will retaliate.
NEW MUSIC: Kid Cudi ft. King Chip -- "Just What IAm". Kid Cudi gave his fans a midnight premiere yesterday, with a new track from his anticipated album indicud. On the track is fellow Cleveland rapper King Chip, who most might recognize as Chip Tha Ripper.
ALBUM TEASER: Earl Sweatshirt reveals possible collaborations for debut album. Odd Future member Earl Sweatshirt has been working hard on his debut solo album since his return to the music scene. This week, the 18-year-old lyricist hinted towards artists who worked on his debut album. If you're not familiar with Earl Sweatshirt, he's one of the most heralded members of OF and was sent to Coral Reef Academy in Samoa, a school for at-risk teenagers.
NEW MUSIC: DJ Khaled ft. Nas, Scarface & DJ Premier -- "Hip Hop". One of the most anticipated tracks on DJ Khaled's album Kiss The Ring has finally hit the Internet for fans to hear. You can download the song, which features hip-hop legends Nas, Scarface and DJ Premier and is produced by the J.U.S.T.I.C.E. League.